The Lake District's Wild Nature
'It is beautiful as it is, there's nothing else we should do.'
On 1 June, Chevening Scholars from all across the country gathered for an arty and sweety day in one of the most cinematographic British districts: the Lake District.
From Penrith train station, Cheveners embarked into more than an hour of incredible green mountain landscapes towards Grasmere, the first stop of our tour. There, they were welcomed at Dove Cottage, the former home of the English poet William Wordsworth.
Inside of the 300-year-old house, we were taken through the rooms where Wordsworth and his family lived for a short period, but enough for him to discover the essence of the local nature and its people.
One of the rooms is covered with The Times paper from 1800 for thermal insulation purposes (left). Wordsworth "at his best", according to one of the tour guides (right).  
Wordsworth's writing was inspired by ordinary people: poor people such as shepherds or gipsies. He was passionate about the wild nature of the countryside, and his home is an outstanding example of it.
His Poet Laureate certificate signed by Queen Victoria is framed in his bedroom; he was appointed at 73 years old. 'A very late recognition,' said our tour guide. 'His work on nature poetry was strange for people, unpopular.' This is the reason why his work did not sell well.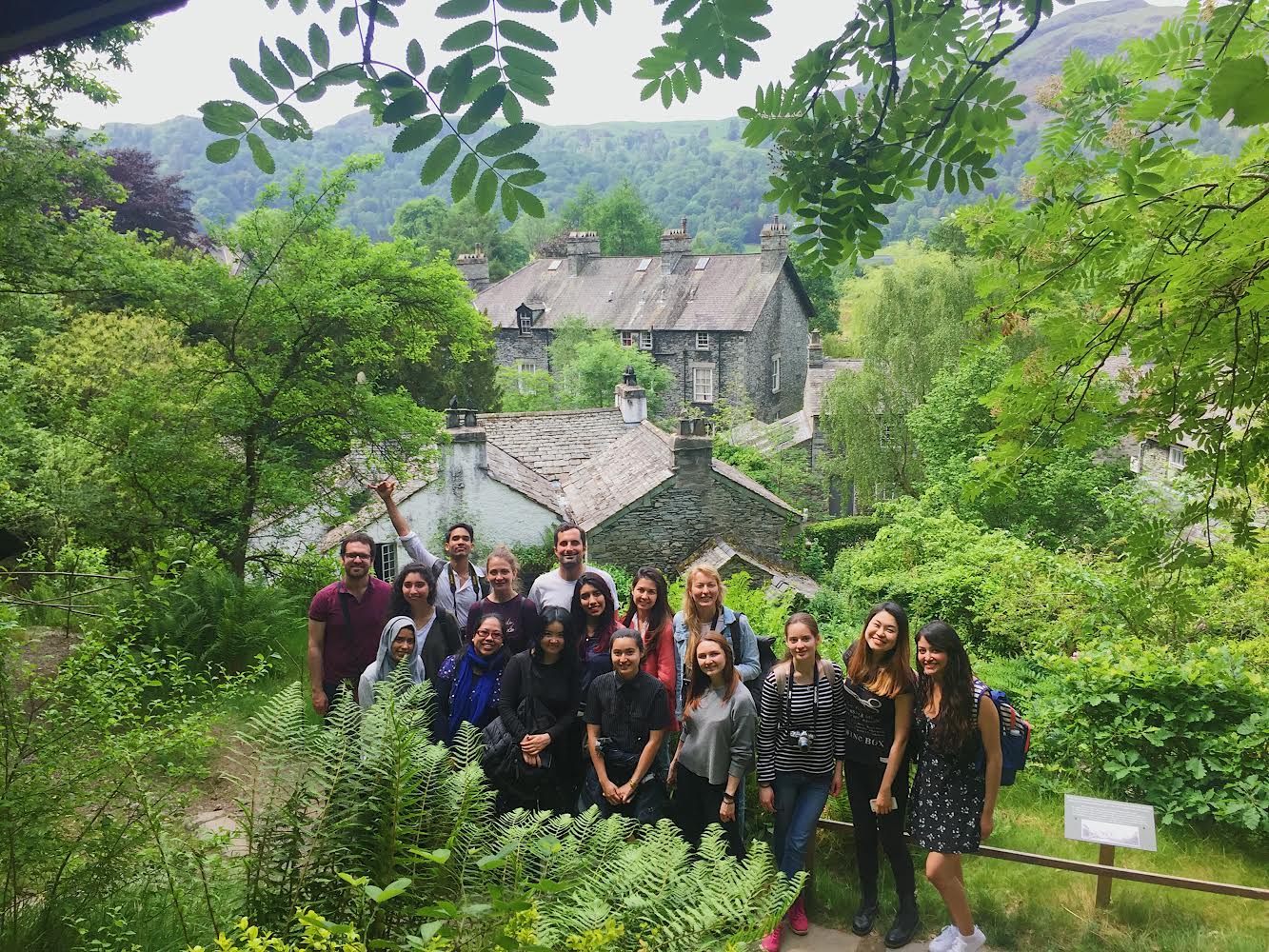 The cottage seems to have been planted there and is surrounded by a lush garden that we explored with our fellow scholars.
Despite the pessimistic forecast, we enjoyed a hot day, and indeed we found a lake in the Lake District.
We wrapped up the day back in Penrith with a grand afternoon tea served at The George Hotel, a glorious building from the eighteenth century. The traditional menu included classic finger sandwiches and sweet treats like Victoria sponges, scones, shortbreads and brownies. What a feast!
As we were enjoying this quintessentially British tea time, Manchester Metropolitan University's Dr David Cooper introduced us to the basics of the Wordsworthian legacy of Romantic poetry in the 'Republic of Shepherds', as he called the Lake District.
The poet made the area relevant - away from the rest of the country, from London and Edinburgh - and created a harmonious (idealised) rural community. 'Aesthetics, sublime, beautiful and picturesque,' said Professor Cooper. 'He established key ways of seeing the Lakes,' which also attracted many landscape painters to travel through the Lakes and fall for the 'charm of the wild Lancaster.'
According to Dr David Cooper, William Wordsworth's legacy later was crucial for this culturally privileged space to be protected by the National Trust and its recognition internationally. Last year, the Lake District became a UNESCO World Heritage Site.