Taking part in the Global Scholars Symposium 2018
'To me, navigating uncertainty means the quest for knowledge. While uncertainty is typically a liability in human endeavours, the progress of fundamental science builds on uncertainty.' 
- Dr Michelangelo Mangano, theoretical physicist, CERN, keynote speaker
'Scholars must develop institutions for the world of the 21st Century. We need to remember this meeting as the meeting that changed the world.' 
- Luis Ocampo, former Chief Prosector of the ICC (2003-2012), keynote speaker
---
The Global Scholars Symposium (GSS) is a landmark project that Gates and Rhodes scholars collaboratively founded in 2008, which aims to connect postgraduate scholars and influencers from diverse fields and across the globe.
Since the inaugural symposium, the GSS has expanded to include scholars from 51 countries and nine prestigious scholarships. The GSS is made possible by a generous endowment given by the John McCall MacBain Foundation, with the continued support from the Rhodes Trust and the Gates Cambridge Trust.
Other scholars have participated throughout the years (including Commonwealth, Fulbright, etc.), however this is the first time that a Chevening Scholar has served as a member of the Executive Committee.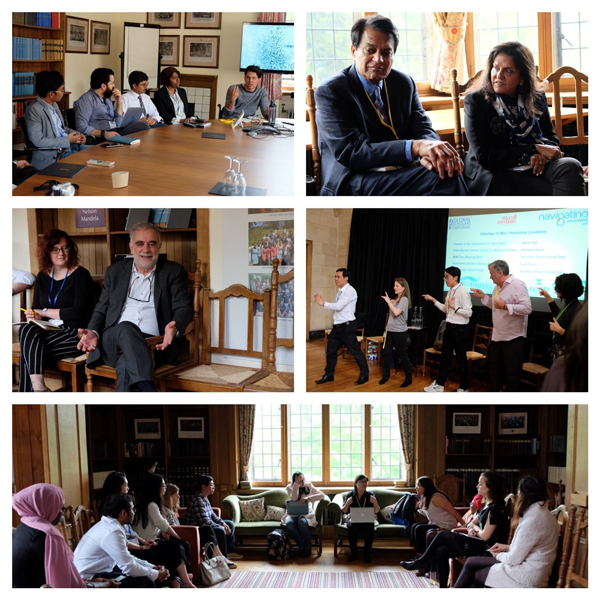 Under the theme of 'Navigating Uncertainty', this year, the symposium took place at Rhodes House, at the University of Oxford, from 11 to 13 May and brought together leaders whose professions and passions draw them towards uncertainty, from many disciplines and themes, including the arts, science, business, political/social issues, and even mortality. The symposium aimed to provide useful tools and new approaches to dealing with uncertainty.
In his opening keynote, the first Chief Prosecutor of the International Criminal Court (ICC), Luis Moreno Ocampo, challenged scholars to collaboratively design new institutions to tackle the crises of the 21st century world.
Bringing together speakers from the banking industry, entrepreneurship and academia, the business and economics panel highlighted contrasting perspectives and provided rich content on universal basic income, business design and the future of banking and cryptocurrencies. Day one concluded with Lynne Marlor's reflection on the challenges and opportunities new payment platforms and block-chain technologies have brought to the banking industries.
On day two, delegates reflected on what makes the human experience meaningful. Satish Modi, philanthropist and author of In Love with Death, spoke about the role of grief, faith, joy, trust, money and humility in embracing the fundamental uncertainties of life and death.
Meanwhile, the arts and humour panel demonstrated the transformative power of artists and the arts in helping us to deal with trauma and loss through humor, theatre and poetry. On the mortality panel, hearing from Hermione Elliot, end of life care provider; Professor Simon Dein, consultant psychiatrist; and Venerable Miao Lung, a Buddhist Dharma teacher, delegates were reminded to connect with one another through recognising the mortality and the vulnerability of each and every one of us.
On the last day of the Symposium, Dr Michelangelo Mangano, senior physicist at CERN, drew vivid examples from his career to illustrate how navigating uncertainty is the bedrock of the quest for knowledge and scientific discovery. In his keynote, Dr Mangano assured delegates that while uncertainty can be a liability in some human endeavours, science thrives amidst uncertainty, using innovation to push human knowledge to the very edge of what can be known and understood.
Following this thought-provoking talk, the astrophysics panel led delegates to contemplate the mysteries and wonders of outer space, at the same time reminding them of how scientific exploration has led to astonishing discoveries applied in everyday life.
The GSS concluded with Romania-based journalist Laura Stefanut's presentation of labour exploitation under the 'made in EU' label, uncovering the ways in which women in eastern Europe endure low pay, long hours, and gruelling work to make clothes for luxury western brands. On our social media platforms, the conference organizers asked consumers to research where their products come from and whether the work put into its productions meet basic standards of universal human rights.
GSS 2018 also provided ten workshops led by Rhodes scholars and speakers. In these small group interactions, delegates explored in-depth topics including migration, #MeToo, algorithmic decision-making, strategic thinking, post-truth, universal basic income, policy advocacy, theatre of the oppressed, international criminal justice, and philanthropy.
The success of GSS 2018 attests to the value of bringing scholars from diverse disciplinary and cultural backgrounds. Through heated debates and respectful disagreements, scholars deepened their understanding of the pressing social, political, cultural, and scientific challenges confronting today's global society.
They were pushed to identify and acknowledge diverse and potentially contested values through engaging with their peers. They built connections and formed fellowships across institutional and disciplinary boundaries, which will fuel future projects for social change. The delegates walked away with not only words of inspiration from industry leaders, but also creative and positive approaches to navigating uncertainty, ready to embrace and capitalise on uncertainty in their own lives and pursuits.
Additionally, the fellowship that was formed through the Chevening and other scholars' inter-scholarship communication created a strong community, with networks that will likely continue into the future.