Study at the University of Leeds on a fully funded Chevening Scholarship. Find out more.


Leeds is one of the largest higher education institutions in the UK and part of the Russell Group of leading universities.
They are also one of the main centres for postgraduate teaching in the UK, with over 5,000 postgraduate students from over 148 countries.
Who do the University of Leeds support?
The University of Leeds welcomes applications from all Chevening-eligible countries in any subject.
This year, the University of Leeds is also generously co-funding a number of Chevening Awards available to applicants who wish to study one of these specific programmes:
MSc Energy and Environment
MSc Materials Science and Engineering
MSc Advanced Chemical Engineering
MSc Water, Sanitation and Health Engineering
MA TESOL
MA Education
MSc (Eng) Electronic and Electrical Engineering
MSc Geographic Information Systems
LLM International Trade Law
LLM International Banking and Finance Law
MSc Economics
MSc International Business
MA International Communication
MA Global Development and Education
MA Global Development
MA Global Governance and Diplomacy
MA Social and Public Policy
MSc (Eng) Transport Planning and Engineering
All applicants who wish to be considered for an award at Leeds are encouraged to select the university as their first preference within their Chevening application.
University of Leeds student experience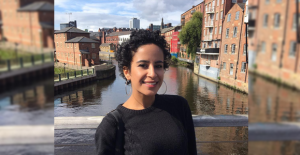 Name: Haleemah Alaydi
Country: Jordan
Course: Writing for Performance and Publication; 2017/2018
'Not only does the university provide you with high-quality teaching, but Leeds is also a city known for its culture and artistic spirit.

'Leeds is definitely the right place to immerse yourself in the British culture. The city has provided me with everything I ever wanted to experience, from the West Yorkshire Playhouse, which houses gripping, live theatre, to the tranquil countryside and the lively city centre.

'Leeds is a truly enchanting place to the extent that you cannot be alone. In Leeds, you can still enjoy your favourite dishes, from Middle-Eastern to Indian cuisine. The city is very vibrant with food, culture, and people.

'If you want to enjoy a multicultural city, then you should definitely consider Leeds.'
Find out more about being a postgraduate international student at Leeds:
Chevening and the University of Leeds
The University of Leeds has hosted Chevening Scholars since 1983, taking in 1,162 scholars in that time.
Leeds says:
'We aim to attract outstanding students with leadership potential from across the world to our study programmes, with an emphasis on diversity, ensuring that they create a distinctive and internationally relevant experience for all students.

'By partnering with Chevening, we are able to increase knowledge and opportunity for international scholars, who are then able to take this knowledge back to their own country and act as worldwide ambassadors towards the UK and the University of Leeds.

'The partnership brings exceptional scholars to the University of Leeds, who can build and sustain our cultural partnerships to enhance the student experience and to open up new opportunities for scholarship and research.'