Rio Tinto is a leading global mining group that focuses on finding, mining, and processing the earth's mineral resources.

It was first incorporated as a business in 1873 in Spain. With headquarters in the UK, Rio Tinto is strongly represented in Australia and North America, and also has significant businesses in Asia, Europe, Africa, and South America.
Their businesses include open pit and underground mines, mills, refineries, smelters, and power stations, including a significant hydropower portfolio, as well as a number of research and service facilities. Rio Tinto also owns and operates infrastructure that takes their products to customers, including railways, ports, and ships.
From their diverse portfolio, Rio Tinto supplies the metals and minerals that help the world to grow. Their major products are aluminium, copper, diamonds, gold, industrial minerals, iron ore, thermal and metallurgical coal, and uranium.
Rio Tinto's vision is to be a company that is admired and respected for delivering superior value, as the industry's most trusted partner.
Their operations give them the opportunity to create mutual benefit with the communities, regions, and countries in which they work, and their metals and minerals are transformed into end products that contribute to higher living standards.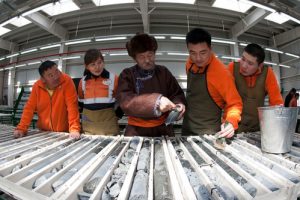 Chevening and Rio Tinto
Rio Tinto says:
'Our business is founded on knowledge. Partnering with universities and colleges helps us build the human resources to shape the future of our industry. We believe we are most likely to achieve our common aim of responsible global growth if we support talented people in developing countries to realise their potential. Among those we assist will be future leaders, important to the industries and communities in which we operate.'
Rio Tinto specifically supports the Master of Laws in Mineral Law and Policy at the University of Dundee. This programme helps enhance the rule of law in countries where Rio Tinto operates, by training promising students who will in future lead improvements to legal and regulatory regimes in their countries relating to mineral exploration and development.
Who do Rio Tinto support?
Rio Tinto currently support scholars from:
Botswana
Brazil
Chile
China
India
Indonesia
Kazakhstan
Laos
Mongolia
Namibia
Peru
Serbia
Zambia
The Chevening/Rio Tinto Partnership Award supports applicants to the following programme:
Applicants should only apply for a Rio Tinto/Chevening Scholarship once they have received an offer from the university.