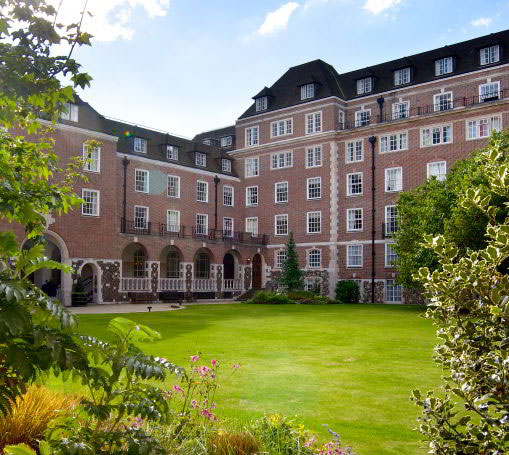 Goodenough College will offer one award for the upcoming year to an applicant from any Chevening supported country studying a one-year master's at any London university.

Goodenough College provides award-winning student accommodation for postgraduates in the heart of London. The College is an independent educational charity, with ANUK accreditation. Since 1930, it has been providing a home for outstanding international postgraduates and their families, irrespective of background, helping to foster mutual respect, global citizenship and social responsibility.
Read about the scholar experience at Goodenough College
The Goodenough community comprises around 700 single students, couples and families from over 70 countries, with a wide range of religious, cultural and ethnic backgrounds. Members (students and their families are known as Members) study diverse disciplines – from medicine to music – at many of London's most prestigious universities including University College London, London School of Economics, The Courtauld Institute of Art and the Royal Academy of Music. Each year a large number of Chevening Scholars choose to live at Goodenough.
The College's outstanding communal facilities make socialising part of daily life (the facilities include dedicated music and art rooms, two outstanding libraries, access to the Mecklenburgh Square Garden, two bars, several shared kitchens, common rooms, and communal eating facilities at the historic Great Hall and Freddie's Café).
The College provides a mutually supportive community where all are equally valued and respected. Members are encouraged to share their talents, knowledge and experience, contributing to a rich and varied programme of College and Member-led cultural, social and academic activities, such as: lectures, faculty dinners, visits to cultural institutions, personal skills development weeks and a huge array of sporting, cultural and musical activities.
In common with Chevening, Goodenough College helps some of the brightest and best postgraduate students from around the world. The College gives them a supportive space in which to live and study, while they are gaining a world-class education in some of London's best universities. The College's goal, in line with Chevening's, is to enable scholars to return home equipped with the skills, knowledge, and a global network to make positive, lasting change in their areas of expertise, their communities and their countries.
Read more about Goodenough College