A Chevening Fellowship is a unique opportunity for professionals from around the world to spend time in the UK and boost their career. Hear from our Chevening Fellows on why you should apply for a fellowship today.
Chevening Fellowships are short courses, research, or professional placements hosted at institutions across the UK. Our fellows have shared what their Chevening experience means to them.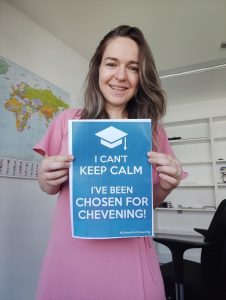 Melike Batgiray Abboud was selected for the Chevening Oxford Centre for Islamic Studies Fellowship in 2023.
A PhD Researcher at the Max Planck Institute for Legal History and Legal Theory, Melike can't wait to start her programme in the UK:
'I am so honoured and excited to have been chosen for the Chevening Scholarship. It is a dream come true to have the opportunity to study at a top UK university, network with global leaders, and gain the skills and knowledge I need to make a real difference in the world.'
Rifthi Ali completed the Chevening South Asia Journalism Fellowship at the University of Westminster in London.
During his time in the UK he got the unique opportunity to visit BBC Northern Ireland:
'The visit was a great experience for me, and I shared my lessons from the trip with my fellow journalists in my home country, Sri Lanka.
My Chevening Fellowship experience provoked my critical thinking and provided me with new insights on leadership. As a journalist, I got the opportunity to visit many leading media institutions in the United Kingdom. These visits were my memorable opportunities that I will remember for the rest of my life.'
Deepika Raghuvanshi got the opportunity to spend time at the University of Oxford with the Chevening Research, Science, and Innovation Leadership Fellowship.
'Participating in the Chevening Fellowship programme was an incredibly transformative experience for me
While in the UK I sharpened my professional skills and formed lifelong friendships with my fellow Cheveners.'
The following Chevening Fellowship programmes are open for applications until 7 November 2023:
Don't leave it until the last minute to submit your application – apply today and boost your career.