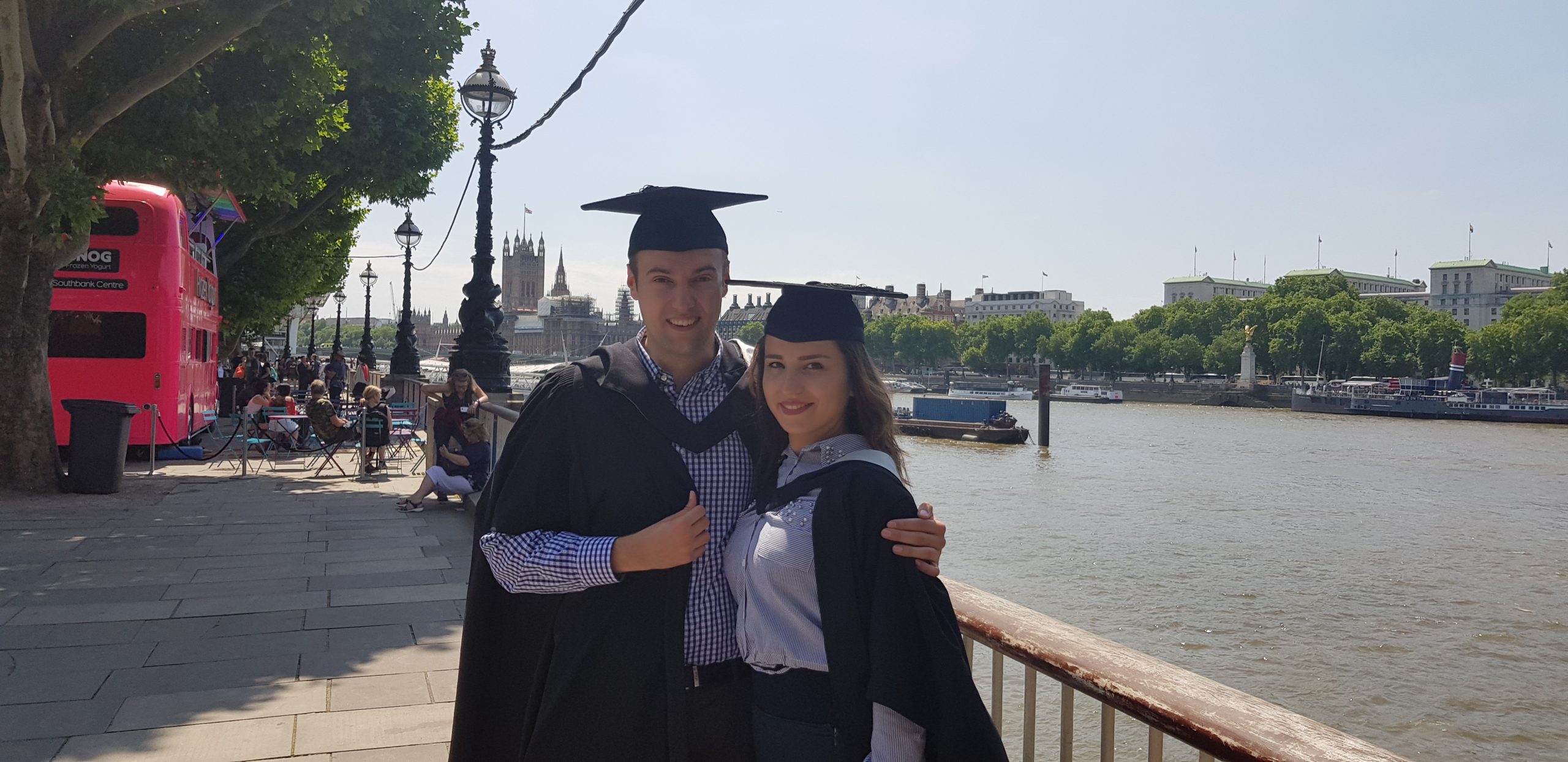 Chevening unites scholars across the globe, but for some the bond goes far deeper.
This article is taken from Distinction – the Chevening Magazine
---

Nadire and Sabin
North Macedonia, Kosovo
Nadire and Sabin met at a guest lecture at University College London (UCL) in 2016. They soon discovered they were not only on the same scholarship programme but shared a Balkans heritage. Before long, they were arranging frequent study dates and going to social events together, including Chevening ones. As they spent more and more time in each other's company studying, sightseeing, and supporting one another, their friendship grew. But as their Chevening experience drew to a close, Sabin realised that he might never see Nadire again. He decided to ask her on a date to the National Gallery and their romance blossomed. A year after leaving the UK, they returned for their graduation ceremony. Sabin had another question to ask his girlfriend. He proposed to Nadir eat the Shard, explaining, 'No other place in London is closer to the limitless sky – our limitless love.' Nadire of course said 'yes' and the happy couple wed on 9 November in North Macedonia.
---

Eika and Siddharth
India
Eika and Siddharth's Chevening experience inspired one another. Having both built up their international corporate careers, Siddharth enrolled on the Chevening Rolls Royce Science, Innovation and Leadership (CRISP) programme. 'My three months at the University of Oxford were transformational, 'he recollects. During his time there, his wife Eika came to visit him and fell in love with Oxford. 'I was deeply intrigued with the Chevening experience that Siddharth spoke so passionately about,' explains Eika. 'Then a few years later I was selected for the Chevening Gurukul Fellowship, allowing me to absorb the Chevening experience fully. 'Having both now returned to India, they've enjoyed contributing to the deep sense of Chevening community, partaking in everything from social impact initiatives to alumni efforts. Their desire to make an impact beyond their corporate careers has led them to create a hyper-learning project called '52Red Pills' where ancient Indian wisdom meets contemporary knowledge to improve health, wealth, and wisdom.
---

Telva, Julieta and Anita
Brazil
Telva Barros was 44 when she applied to the UK government's awards programme to study drug prevention at the University of Portsmouth. Back in 1992, the programme was very different and Telva spent six months in the UK as a visiting scholar, leaving her three small children at home in Brazil. It was difficult to be away from them (there was no Skype then) but she knew that this opportunity would benefit her family and country, which at the time was engulfed by an HIV epidemic fuelled by drug use. Inspired by her mother's stories, Julieta was keen to study in the UK too. After building up her professional knowledge, she received an award to study Air Transport Management at Cranfield University. It's not surprising that with two strong women to look up to, Julieta's sister Anita then applied for the award, studying Conservation and Rural Development at the University of Kent. To mark her 70th birthday, Telva revisited Portsmouth with Julieta and Anita to meet with her former university supervisor and other staff. 'This is a special week in my life, so we're going to celebrate in England,' she said.
Read more articles from Distinction