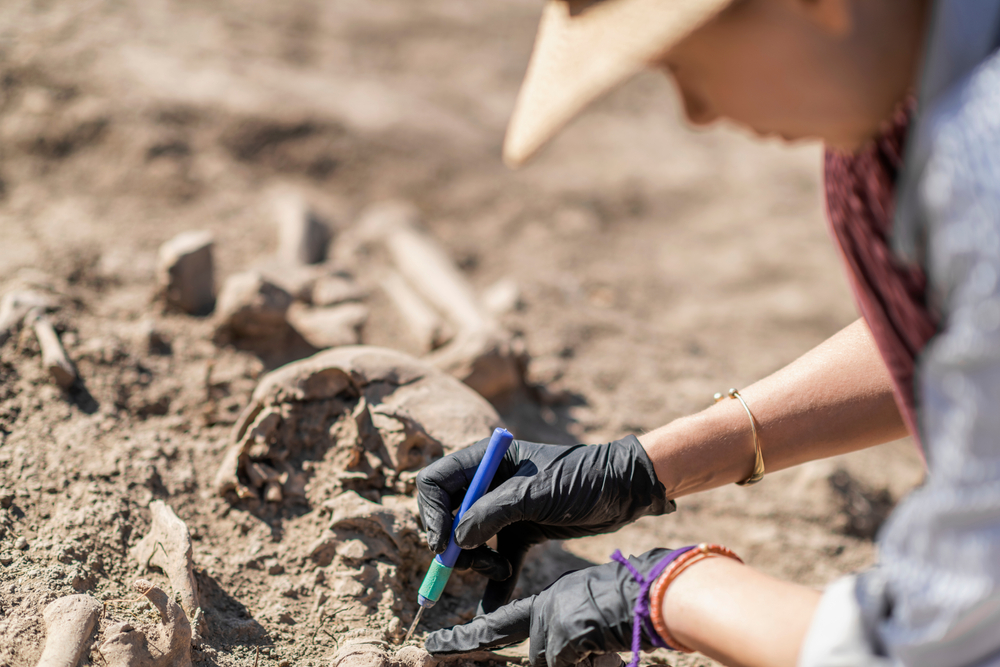 What's happening in the UK this month, both online and in-person?
16 – 25 July, online and in-person
Edinburgh Jazz Festival was established in 1978 and has been running annually ever since. This year's event will run from 16 – 25 July and will be held virtually and in person. The festival aims to concentrate on musical excellence and to champion spontaneous creativity and music making in Edinburgh.
---
17 July – 1 August
The annual Festival of Archaeology will this year be running from 17 July – 1 August. This year, the theme of the event is 'Exploring local places' and everyone is being encouraged to find out about the archaeology around themselves. There will be digs, talks, and walks to help you discover what is around you.
---
6 July, 19:30 – 21:00
The Royal Geographic society will be hosting an online lecture which is open to all about building, health, hope and happiness through the power of nature. Tom Brown will outline the methods used by Green Light Trust to have such lasting effects on the lives of the people they support. During the talk, you will hear from the people the trust supports and learn about its novel approach to measuring its impact.
---
13-15 July
The Luna Cinema is returning to Marble Hill from 13 July – 15 July with a line-up of classic and feel-good films to make your summer. After months of staying indoors watching movies on the small screen, it is time to head outside for an unforgettable big-screen experience.
Throw in great food, a full bar, both with click and collect service, and of course giant screens with incredible state of the art sound, and you have yourself your perfect summer's evening out.
The programme of films for 2021 includes the ever-quotable teen flick Mean Girls, action-adventure 80s classic The Goonies and Whitney Huston's romantic thriller The Bodyguard.
---
Go back in time and get closer to the action as rival knights compete in the ultimate test of strength and skill at the Bolsover Castle Knights' Tournament this July. Arrows will fly, swords will clash and the winner will be decided in the Grand Melee finale. Immerse yourself in medieval life in the encampment, where you can meet people from the Middle Ages, witness hand crafts, weapon repairs, cooking and life at camp.
---
24-25 July
Have you ever held or fed a bird of prey? No? Well here is your chance. Chesters Roman Fort and Museum in Hexham are hosting a 'Roman Falconry' event to get close to these majestic birds.
In a world ruled by gods and goddesses birds were very important within the Roman belief system. See birds of prey up close, find out why birds were so popular in the Roman era and watch incredible falconry displays. Find out more here.
---
The playful world of Looney Tunes has taken to the streets of Manchester, with a colourful walking tour of the iconic characters popping up around the city. Featuring eleven of the studio's most beloved characters, from Bugs Bunny to Daffy Duck, the exploratory street art will have QR codes hidden within each piece, revealing a virtual map and the opportunity to discover what else is new from the Looney Tunes. Get your walking tour map here.
---
Take a trip down the rabbit hole to explore one of the best loved books in children's literature at this immersive exhibition with theatrical staging. It moves from the early origins of the Alice in Wonderland story to the myriad adaptations and interpretations the world has seen in the 150 years since Alice's Adventures in Wonderland was published. The exhibition runs through the rest of the year and is already a hit so get your tickets here.
---
3 – 18 July
This open-air festival will transform Watford outdoor spaces into places of wonder and excitement, with 15 shows and activities, on four sites, across three weekends. Make some music with junk and faces from clay, see exhilarating dance exhibitions, take away bespoke poems, hear live music and stories inside a whale, meet some bees and a clown, and see an aerialist in a giant red beating heart. All events will be free however some will be ticketed to stay Covid compliant.
---
Throughout July
Pyramids, sphinxes, temples and shrines: breathtaking views of these ancient and often iconic landmarks, captured by pioneering Victorian photographer Francis Bedford on a journey he made with the future King Edward VII, feature in the Barber's first ever online-only exhibition, Sights of Wonder. These remarkable photographs from the Royal Collection, exhibited alongside extracts from the prince's own journal, contemporary newspaper and magazine articles, explore how these sites and cultures, and the concept of empire – were perceived in the Victorian era.