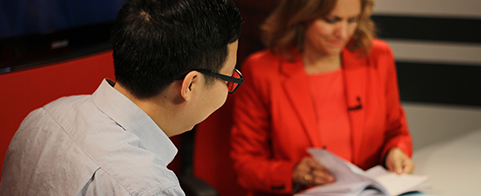 The Chevening Workshop series continued, as 19 scholars took part in an exclusive media training workshop using the world class facilities at the University of Salford.
Put on to give those that are either media practitioners, or interact regularly with the media in their professional lives, the chance to improve their skills, the scholars had access to Media City – home to the biggest names in British media, including the BBC and ITV.
Activities for the day were designed to help scholars increase their confidence in interviews, learn how to control their message, make the most of relationships with journalists, and gain an understanding of creating their own media content. 
To achieve those goals, scholars were given the chance to carry out some radio and TV interviews with award winning broadcasters Caroline Cheetham (BBC) and Elaine Willcox (ITV), and tried their hands at making television packages with ITV Correspondent Matt O'Donoghue.
As they rounded off the day, they also had the chance to hone their press release skills in a session with communications expert and lecturer, Sarah Chapman.
All of the scholars really relished the opportunity to practically experience a range of media situations, and work with experienced and high profile industry experts.