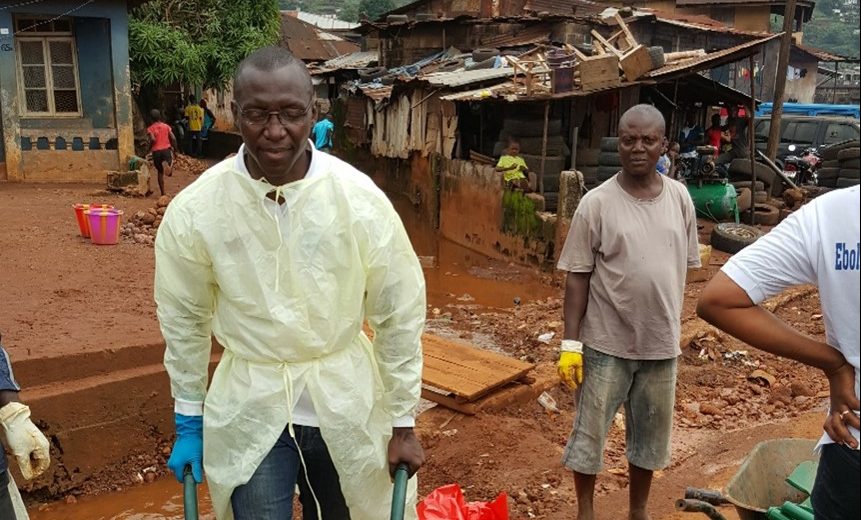 Evans Lyndon Baines-Johnson was awarded the Chevening Scholarship in 2015 from Sierra Leone, in West Africa. Before studying Governance and Public Policy at the University of Sheffield, Evans was involved in the 2014 Ebola response as part of an international NGO. This experience was the starting point of a rewarding and fulfilling journey as a volunteer, turning into the catalyst for the career he is now pursuing.
A bit about me
Hello, I am Evans – let me introduce myself a little bit. I completed my MA in Governance and Public Policy and returned home. I started working with the Environment Protection Agency and later for the Mayor's Delivery Unit at the Freetown City Council where I currently serve as an Environmental Policy Analyst leading in Environmental Management, Disaster Risk Reduction, Urban Greening programs and urban flooding mitigation. I serve as the Project Coordinator for the Mayor's flagship reforestation drive; #FreetownTheTreeTown project that is planting 1 million trees in Freetown.
My volunteering journey
My volunteering journey started back in October 2014 at the height of the Ebola epidemic in Sierra Leone when a lot of people were dying; doctors and medical professionals and most people leaving the country or staying at home. I opted to volunteer at the Ebola response centre where I served and rose to the position of Quarantine Management Pillar lead. Leading a team of 42 volunteers we developed systems for implementing public health preventative measures which ultimately led to a reduction in cases of transmission of the Ebola virus.
When I went to UK, I immediately joined student volunteering at the University of Sheffield on various causes to promote diversity and inclusivity of the curriculum. I later joined the Sheffield SEED Project as the Leader for Student Engagement Project. I spent more than 75 hours on this project leading student engagement and promoting cultural diversity for an inclusive curriculum. I led focus group discussions, cross-cultural events sharing and sampling and breaking cultural myths. This experience helped me understand the values of given back to society and supporting worthy causes. We help various charity groups raise funds for causes that will help save children in vulnerable people in many parts of the world. My volunteering experience was recognised by the Chevening Secretariat for which I was awarded a gold star in June 2016.
How you can receive from giving back
My volunteering experience helped me when I returned home and possibly set out the career path I am currently in. When I returned home, looking for a job was a challenge. But I saw an opportunity to volunteer for a sanitation program I saw on TV that was a citywide cleaning campaign. I soon became the Operations lead for the Operation Clean Freetown campaign. After 3 months, I was rewarded with a contract which was very good. When the current Mayor was elected in 2018, I was called to be part of her team to work on the #TransformFreetown agenda in the Environmental Management cluster.
My volunteering experience has ignited a passion for environmental protection, sanitation and hygiene and protection of our forests that were being depleted. Today, this is my career path and passion.
The favourite experience as a volunteer is doing what I am passionate about without expecting financial reward. The smile I see in people's faces when you help them. The satisfaction that comes with you helping humanity and vulnerable people. My most study volunteering experience has been working with people in informal settlements and slums. I was among the first volunteers to be at the scene of the August 2017 landslide in Freetown setting up the first command center to register survivors and coordinate search and rescue.
That experience was the most painful but satisfying of every experience I have ever had. It created the pathway to protect the environment and save lives.
Volunteering has always been a way of giving back to society. Giving my time to support the sick, distressed or helping vulnerable communities recover from disasters and build resilience after disasters is always something I hope to achieve through volunteering.
I am very passionate about volunteering and still give my time to volunteer at every given opportunity. I always encourage people to volunteer as this can be a pathway to a career as I have experienced first-hand.