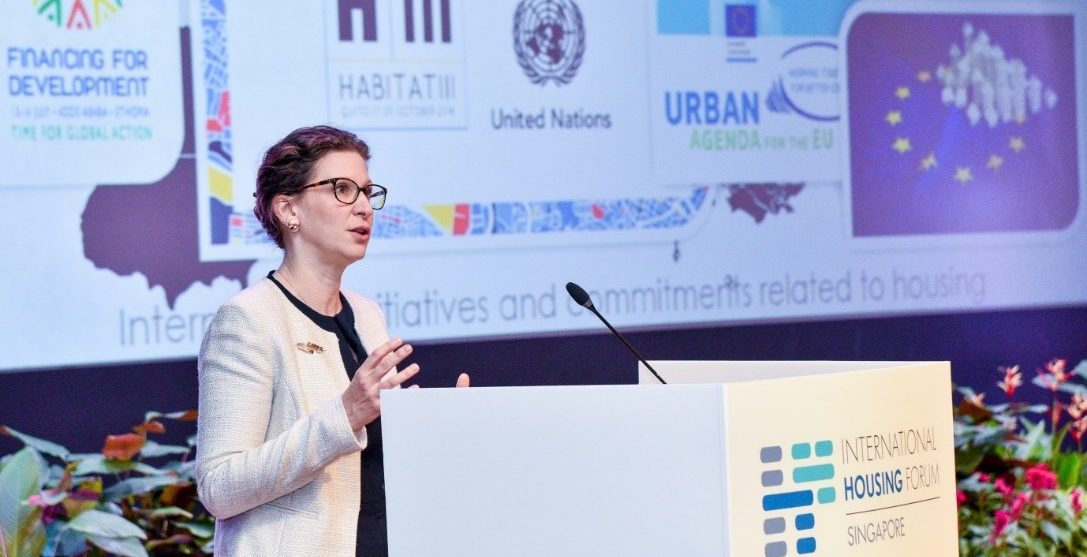 Orna Rosenfeld, 2006 Chevening Alumna and recent winner of the British Council Social Impact Alumni Award, shares an insight into her work in 56 countries, where she advises governments, selected cities and leaders of international organizations on affordable housing and international urban development.
Tell us a little bit about yourself.
I was fortunate to be raised in a multicultural and multilingual European family with extended family ties in North and South America, the Middle East and South Asia. My family background, combined with international education, developed a sense of global belonging early on as well as a sense of global responsibility.
I have called and call five countries my home: Yugoslavia, where I was born, Israel, United Kingdom, Hungary, and France where I settled in 2012.
How did you start working in such a niche field such as affordable housing and policy?
A journey through global crises ignited my interest and forged my dedication to affordable housing knowledge, policy and investment,
In the 2000s, I worked on large scale urban development projects in Israel as a principal architect.  I designed and helped delivery of over 6000 affordable homes.
However, the dot-com bubble burst and the recession that followed in start-up dominated countries such as the USA and Israel, made me concerned. I have experienced first-hand the scale of impact a global economic recession can have on the construction, real-estate and housing sector.
I saw my profession's limits to deal with an economic crisis and its shortcomings in addressing changing housing needs.
That is when I decided to learn more about the ways to counter global crisis and recession in the housing sector. That search for knowledge led me to Sheffield and Westminster Universities. In 2012 when I was awarded a Doctorate in London, the effects of Global Financial Crisis on the housing sector were palpable.
However, the affordable housing question per se attracted little international political focus or efforts, it was the banking sector that did. I remember attending a conference at the UN Headquarters in Geneva and calling for action on affordable housing.
I highlighted that many people in the United Nations Economic Commission for Europe (UNECE) member states are in difficulty to attain and sustain the access to housing and that the question no longer applied only to the assumed low-income countries and their no-to-low-income groups, but to all. I argued we were all affected by the housing crisis. It was in that moment that the UNECE invited me to consult for them and research housing trends and challenges in the 56 of their member states in the Global North.
What makes you passionate about inclusive urban development?
Inclusive urban development is the idea that the opportunity and benefits of urban and related economic development should be widely shared by all segments of society. However, many places fall short of that ideal.
Living in politically complex environments such as the Western Balkans and the Middle East during my formative years, made me critically aware that interculturality, diversity, and inclusion are not to be taken for granted. These complex environments forged my dedication to contribute to the common good as well as I could.
My dream early on was to connect my architectural and humanitarian work, and latter policy work in pursuit of inclusive urban futures.
What is one of the biggest challenges associated with your work?
That is an interesting question, I never thought of my work as being challenging.
I have never followed a 'job' or work per se. Quite to the contrary, I made the issues that I thought were challenging and vital to address 'my work' at different times in my career. This commitment to making challenges visible (eg. lack of affordable housing) and surmountable (for others who may not see them that way at least at the beginning) and addressing those same challenges is what pulls me forward and inspires me to act and work.
If you could communicate one important message about your work to the Chevening community, what would it be?
I have been always keen to connect with fellow Cheveners, and considering the year we had, that is the most important message.
The complex nature of urbanisation across the globe, the current disruption caused by the COVID-19 crisis, and the seemingly insurmountable challenges of transforming urban futures require efforts across diverse disciplines and geographies. I deeply believe that it is important to open conversations about what the future after COVID-19 can be.
I am launching video and podcast series called INCLUSIVE URBAN FUTURES conversations that bring together world renewed city leaders, experts, and practitioners. Our mission is to ignite creative discussions and explore emerging questions on what the inclusive future of cities can be.
The inspiring force behind my career remains the global network of phenomenal people I have met during my studies in the United Kingdom. It is easy to imagine working with 56 countries when one has friends from 103.