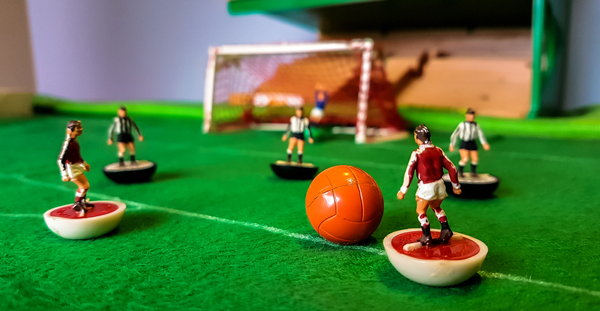 Manchester City will be hoping to add another trophy to this season's collection when they play Watford today in the final of the FA Cup.
The FA Cup (the 'FA stands for Football Association) is the oldest national football competition in the world. Plenty of magnificent goals have been scored in the 147 years since the contest began in the 1871/1872 season. Here are five of my favourites (including one from a Liverpool player – my favourite team!)…
Peak Ryan Giggs
Manchester United vs Arsenal
FA Cup semi-final replay, 1999
Sir Alex Ferguson on Ryan Giggs: 'I remember the first time I saw him. He was 13 and just floated over the ground like a cocker spaniel chasing a piece of silver paper in the wind.'
What a poetic description. And what a brilliant goal to settle a match, in extra time, between the fiercest of rivals.
Ronnie Radford's rocket
Hereford United vs Newcastle United
FA Cup third round replay, 1972
This one shows just how much football has changed in England over the last four decades. That utterly dreadful pitch. A pitch invasion immediately after the goal. Hot-pants instead of shorts.
It's a beautiful goal. The ball bobbles about in the mud, but sits up perfectly for Radford to unleash a screamer into the top corner from 30 yards.
Trevor Sinclair gets on his bicycle
QPR vs Barnsley
FA Cup fourth round, 1997
This goal won BBC Match of the Day's 'Goal of the Season' award. It's no surprise why.
Steven Gerrard lets fly
Liverpool vs West Ham
FA Cup final, 2006
Deep into injury time, the score is 3-2 to West Ham. Liverpool desperately need a goal. A hopeful ball is headed away from the penalty area. It's bouncing around, 35 yards out from goal; there's only one man who you want to strike that ball: Steven Gerrard.
Running at full tilt, just look at the technique. The ball arrows into the bottom corner of the goal, and Liverpool go on to win the final on penalties.
A curling pearl from Norman Whiteside
Manchester United vs Everton
FA Cup final, 1985
A stylish end to a team goal, as Whiteside bends a cultured finish around the goalkeeper, just inside the post. Note also Mark Hughes's lovely through ball, struck sweetly with the outside of his foot in the build-up.