Chevening Alumnus tackles inequality by improving access to knowledge
Chevening Alumnus and a multinational team of volunteers launch Global Share, an online platform that equips people to improve their employability prospects. We find out more.
Abd Alsattar Ardati is a Chevening alumnus from Syria who studied Management and IT at the University of St Andrews in 2018. Before undertaking his scholarship, he conceptualised a new social enterprise.
Abd was excited by new opportunities to provide access to knowledge for disadvantaged groups through online resources. He understood that this could change lives. And so, in 2021, Abd Alsattar and a multinational team of volunteers launched Global Share, an online platform that shares knowledge, paths to personal development, and equips people to improve their employability prospects.
Breaking social barriers
The Global Share team is composed of talented MENA citizens spread throughout countries such as Syria, Yemen, Tunisia, Cyprus, Palestine, and Egypt. Their participation in the project furthers their own knowledge and experiences by giving them the opportunity to create innovative software and projects of high social impact relevant to their areas of expertise.
"There are significant equity and information gaps, and community biases", says the Global Share team. For instance, despite their academic achievements and general qualifications, many women, especially in the STEM fields, markedly fall behind their male peers in employment opportunities, leadership positions, entrepreneurship, and salary. This engenders limited work placements, fewer internships, and academic opportunities. This inequality is aggravated by the lack of networking opportunities with industry leaders, entrepreneurs, and prospective employers.
True to their vision of breaking social and information barriers through technology and sincere, dedicated human effort, the Global Share volunteer team organised the Equity in Information Age Leadership (EIAL) online conference in March 2022. This brought together women in the MENA region to enable them to connect, inspire, and shine a light on their needs and achievements within STEM fields.
The Chevening Alumni Programme Fund (CAPF) supported Abd Alsattar and the team to expand their vision for the conference concept and its ambition to make a greater social and professional impact.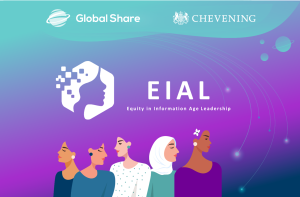 Leveraging the Chevening alumni network
The EIAL Conference was organised by a team of volunteers led by Tunisian alumnus Maroua Beddadi in collaboration with Abd Alsattar. The two first met in 2017 at a Tunisian regional Junior Chamber International conference, and reconnected in the UK while undertaking the Chevening Scholarship.
The EIAL conference collaboration was the fruit of a long-standing friendship and shared passion for social entrepreneurship.
Aiming to promote and support aspiring women leaders in technology from MENA, the conference delivered a rich programme highlighting exceptional women who are making a difference in their respective fields.
Facilitating conversation about women in STEM
Sessions included discussion about female presence in STEM and entrepreneurship, reflecting on the challenges women and girls face in these important areas.
With the help of Mahmoud Khalil, the Programme Manager at the UK Office for Syria, and other MENA Chevening Officers, the team ran a session on Chevening women in STEM. The session saw a discussion imbued with support and encouragement, notably by Chevening alumni, who shared the impact of Chevening on their careers, which inspired fresh Chevening Alumni and future Cheveners.
Other discussions shed light on the knowledge and gender gaps on Wikipedia. Attendees were also informed of new opportunities to support skills development in digital media, research and critical thinking, helping bridge knowledge gaps.
The conference was a range of prominent women leaders from the MENA region share their insights and expertise. This included Ms. Rim Aljabi, Prof. Noor Shaker, and Ms. Zohra Slim, who shared important information about intellectual property rights and different licensing options available to protect and add value to work and careers.
Speakers from the Global Share team also shared their experiences working on their social platform and showcased interesting volunteering opportunities.
What's next for Global Share?
Through diligent work and kind cooperation from both speakers and the audience, the conference was a success, providing 500 participants with learning and networking opportunities. Aattendees came away with greater focus, knowledge, and personal and professional connections. Audience feedback shows that the conference helped attendees become more determined to forge ahead in their careers and participate in the lives of their societies more than ever.
The team have taken their goals one step further by offering the attendees workshops to hone their skills and help them overcome the barriers ahead. A series of follow-up workshops centred around the conference's themes was planned, with the first hands-on workshop conducted on 23 April in collaboration with Dr Kirsty Ross from the IDEA Network at the University of St Andrews.
On 30 April, Ms Hayidy Hazem and Mr. Motaz Seif, from the Baianat Intellectual Property Egypt Office collaborated with Global Share to conduct a workshop on intellectual property and licensing in MENA. Additional  workshops are in the works and will be offered soon in collaboration with the UK Office for Syria and pertinent organisations in the areas of leadership, networking, career planning, open knowledge and data, as well as cybersecurity, to counter technology-facilitated violence against women, in communities where women are victimised the most. Abd Alsattar has shared their kind words on the event:
"Thank you to everyone who participated in this conference for change, for a more equitable future. I would like to express my gratitude for everyone's participation, with special thanks to the Cheveners and future leaders who joined us from many corners of the world. I hope to see you all again soon, joining Global Share or its future events."
Chevening Alumna Beatriz Buarque wins the Luxembourg Peace Prize for her work in combatting online extremism. Read her story.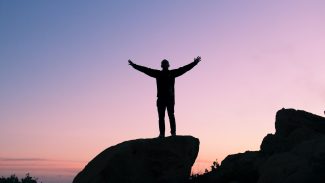 Our experiences shape who we are. Our successes, failures, monumental moments and everyday occurrences, all guide our life decisions and shape our identities. How can we use our experiences to help us succeed professionally?
Chevening Alumni come together to talk about climate change and loss of biodiversity. We talk to them about what they learned.