Noor Huda Ismail is a peacebuilder, writer, and filmmaker who specialises in de-radicalisation and counter-terrorism. After completing a master's in international security at the University of St Andrews in 2005 on a Chevening Scholarship, Noor returned to Indonesia and began using the knowledge acquired through his studies to launch bold new initiatives to rehabilitate former terrorists. This June, Noor released his second documentary, The Bride, which examines how ordinary Indonesian women can become swept up in Islamic extremism. We spoke to Noor about his innovative efforts to counter extremist ideology and the social impact of documentary-making.
How did you become involved in the study of radicalisation?
I have a strong personal connection to this issue. The 2002 Bali bombing, which left 202 people dead, was a turning point in my life. I was covering the story as a journalist for the Washington Post and it was in a press conference that I realised that my former roommate from Islamic boarding school had been involved in orchestrating the terror attack. Since that day, I have fixated on the question: what would compel an individual to become involved in terrorism?
During my Chevening year, I travelled to Northern Ireland to conduct my master's research and made contact with a tiny NGO that helps former terrorists reintegrate into society. Observing their work, I was inspired to emulate their activities in my own country. In 2008, I established the Institute for International Peace Building, with the aim of de-radicalising former convicted terrorists and helping them to re-enter mainstream Indonesian society through a variety of social enterprise activities. My work always revolves around three target groups: women, youths, and internet users. To engage them, I use the voices of reformed terrorists and their family members through documentary film. I believe that documentaries are a powerful tool for social change as people can relate easily to stories shared through this medium.
Your new documentary explores how vulnerable Indonesian women can become radicalised by extremist groups. Why did you choose to focus on the stories of women?
My new documentary explores the stories of three female Indonesian migrant workers who are seeking love through social media. In the process, two of these women become brainwashed and are lured into joining ISIS by male extremists. Luckily, they were apprehended by the Indonesian security forces before they could be compelled to carry out terror attacks as suicide bombers.
There are three reasons why I chose to investigate the radicalisation of women, with a specific focus on Indonesian migrant workers. Firstly, these women, earning steady wages in higher-income Asian countries, are seen by ISIS recruiters as prime targets for financial support. Secondly, the intense social pressures placed upon these women to find husbands, by their families and communities, make them more susceptible to manipulation and indoctrination by extremists. Lastly, as migrant workers living in developed countries with strong internet connections, these women have ready access to social media and are exposed to an overwhelming tide of ideology and content, often for the first time. Without the ability to critically assess this information, a small minority of women are gradually brainwashed by ISIS propaganda.
Through this film, I hope to promote awareness of the importance of digital literacy, critical thinking, and the impact of gender politics in countering violent extremism. I place particular emphasis on the role of the family and community to counteract terrorism, and also to help former terrorists reintegrate back into society after their release from prison.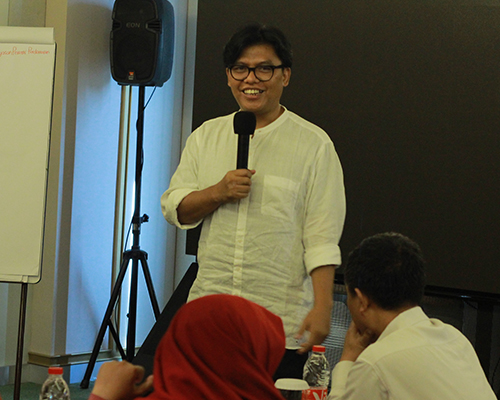 What can society do to combat radicalisation?
Radicalisation is a very complex process and there is no silver bullet to tackle the issue. However, there are ways for society to address radicalisation. Of primary importance is the promotion of strong community cohesion, celebration of diversity, and encouraging individuals' sense of belonging. This will decrease people's desire to seek out alternative communities in radical spaces. We can conduct social intervention on three levels: at a micro-level, focusing on individuals and the role of the family; at a meso-level, highlighting the role of society, community, and state; and at macro-level, on a global scale, acknowledging the role of international agencies like the United Nations.
We don't live in an ideal world but we can start taking small steps towards making it better. I believe that we should offer a second chance to individuals who want to escape from a life of terrorism. No one was born a terrorist. Empowering these individuals to reform does not only help them, but also helps our community, since their voices can be harnessed to challenge those who are still on the path of violent extremism.
What role can social media play in this process? Can social media be used in a way that is beneficial in terms of promoting peace?
Social media is a double-edged sword. On the one hand, it plays an important role in spreading ISIS propaganda by offering a sense of belonging for potential recruits. However, we can use social media to spread peace as well. I aim to produce 'good' content to inspire people and increase their understanding of important issues. Terrorism does not grow in a vacuum; it is a product of a broken community. Therefore, the state alone will not be able to solve this issue; it requires community recognition, ownership, and proactivity. Producing alternative narratives on social media is one way that we can effectively challenge terrorist propaganda and ideas.
Noor is currently a visiting fellow at Rajaratnam School of International Studies, Nanyang Technological University, Singapore.