The Greening Western Balkans' Environmental Conference took place in Skopje at the end of October, with the intention of tackling climate change head on. Gjakush Kabashi gives us an account.
The environmental issues faced by the Western Balkans countries have drastically increased over the last few years, raising the demands of the citizens and the civil society, primarily due to the worrying health and economic costs. This was one of the reasons why the Macedonian Chevening Alumni Association (MCAA) organised the Greening Western Balkans' Environmental Conference, in Skopje, North Macedonia. Our idea was to present positive examples that could work in tackling the environmental challenges.
To this end, we were joined on 26 October by fellow Chevening Alumni and other speakers from Belgium, Bosnia and Herzegovina, Bulgaria, Croatia, United Kingdom, as well as Mexico through a videolink. It was the first time that a Greenpeace speaker from the regional chapter had presented in North Macedonia, something which drew a lot of attention.
The conference tackled the key drivers raising environmental awareness from all relevant perspectives, beginning with the classical approach, and closing with the modern drivers and future paths. The key conclusions were that the causes of environmental problems are individual, but that the solutions must be built together as a society; it is necessary that all tools at hand are used at once. It is absolutely necessary for every expert to try to consider environmental perspectives within their field of work and contribute toward a more sustainable future.
With the financial support of the Chevening Alumni Programme Fund (CAPF), we ensured high visibility of the event, which was opened by the Minister of Environment and Physical Planning, as well as the British Deputy-Ambassador.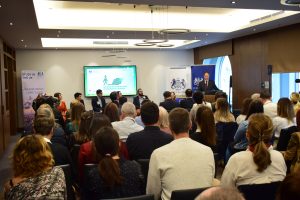 The paperless conference utilised recyclable paper for the invitations, and provided all documents in a digital, online format. MCAA's conference might have been the very first without folders and printed agendas, leading by example in reducing the environmental costs of the conference.
MCAA is now designing a follow-up to this conference – the high attendance on a sunny Saturday ahead of the pollution season has only proven that this topic is on the very top of the agenda of professionals, civil society, and other stakeholders. The tools of behavioural science, as well as challenging big environmental issues in front of the courts were among the most attractive topics, followed by great discussion, as well as broader promotion after the conference through blogs and social media.