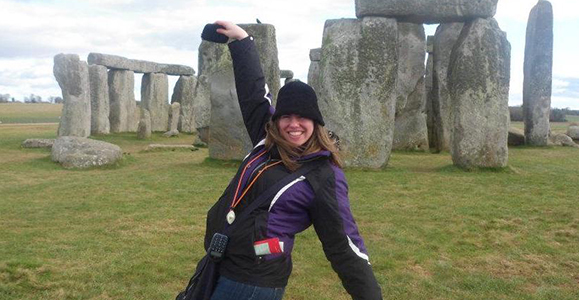 With over 160 countries and territories taking part in Chevening, there are many Chevening officers and other staff at post working hard on promotion, scholar recruitment, and alumni engagement. This month, we meet Miriam Stern who works as a Chevening officer at the British embassy in Santo Domingo.
What and where did you study in the UK?
I did a Master of Laws (LL.M) in International Financial Law at King's College London, in London.
How did your experience of being a Chevening Scholar prepare you for your role?
As a previous Chevening Scholar, I am delighted and honoured to now be a Chevening officer. Being able to give back to the community that gave so much to me is like a dream come true. Experience-wise, on one hand, I think a Chevening Scholar should have leadership and networking skills, both essential qualities that I've needed in my role as Director of Communications and Chevening Officer in the Dominican Republic. On the other hand, and I think this is essential, having been a Chevening Scholar allows me to have a deep understanding of the Chevening process. I lived it. I know what it's like to apply for a Chevening Scholarship; preparing statements, waiting for answers during each stage of the application, and going to the interviews. I also know how great and life-changing the scholarship itself is! This all allows me to happily promote the scholarship using my fantastic experiences in the UK, to empathise with the candidates, and make sure that I give it all the passion it deserves. 
What were the biggest surprises when you became a Chevening Officer?
The moment I got to the embassy, I had to work with the long lists, selecting those lucky candidates that would make it to the shortlist. It was surprising, yet extremely delighting, to be on the other side of the process, and that gives you a much better idea of all the hard work and effort that goes into making sure that the scholarship process runs effectively and smoothly. I also love working with the Chevening Secretariat. It's such an amazing, friendly, and well-prepared team. In particular, my International Liason Officer, Catriona MacArthur, has been so much help and it has been great working with her. It's extraordinary to be able to work from the Dominican Republic with this fantastic team in London in order to select the future Chevening Scholars. It is an extremely gratifying and lovely experience!
What advice would you give scholars leaving for their year in the UK?
I think scholars should be prepared to have the experience of a lifetime. They should go to the UK with open minds, ready to study, but it's also important that they make the most of their time there. They should go to seminars and workshops in their respective areas, and they should also learn the cultural aspects of the United Kingdom. I would advise future scholars to do some research on the UK so that, the moment they get there, they enjoy every minute of that life-changing year. In my case, I am a big history fan. I'd done so much reading on the Tudors, for example, and it was brilliant being able to walk the corridors of Hampton Court Palace, which the infamous Henry VIII used in the 16th century. In short, I'd advise future scholars to study hard, have fun, make friends, create memories, travel a lot, get to know the culture. Oh, and always leave the house with an umbrella!
What advice would you give to other Chevening officers given your experience as a scholar?
I would advise other Chevening officers to enjoy the process. As a Chevening officer, you have the unique position to change a person's life through the Chevening Scholarship, and you also become a witness to how much of an impact this opportunity has on an individual. I think Chevening officers should always try to give their job a personalised touch and make scholars feel like they've got their backs during the process. Connecting with the Chevening Scholars is extremely important! I will never forget Denise Ruiz, the Chevening officer who supported me during my Chevening experience, and I'd like to be just like that with future scholars: accompany them and make them feel like they have a support system before they leave for the UK, during their time there, and once they return. As Chevening officers, we have the potential to positively change a life! Let's make the best of this amazing job and choose the brilliant Chevening Alumni of tomorrow. Their success is our success!