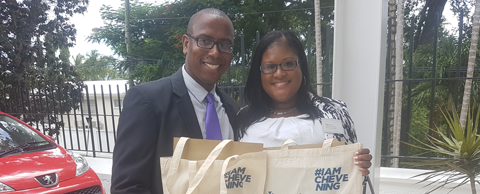 Scholars in the spotlight – Tommy Descartes and Melissa Hippolyte-Descartes
It's very challenging to win a Chevening Scholarship, and even more difficult for a husband and wife to both win a scholarship!
Melissa and Tommy are from the beautiful Caribbean island of Saint Lucia and are both studying an MSc in Economics and Econometrics at the University of Nottingham.
We caught up them to find out how they felt about their double scholarship success, as well as what they're hoping to achieve from their studies and their time in the UK.
---
Congratulations on being awarded two Chevening Scholarships. How did you feel when you found out that you had both been succesful?
After the interviews we were optimistic that we were both strong candidates but felt that the Chevening process would allow for only one of us to be selected given that we were husband and wife. Therefore when we were both successful we were ecstatic and pleasantly surprised. It proved that the Chevening Scholarship is merit-based and we were grateful that being husband and wife did not adversely affect the outcome.
Chevening: Tell us about what you were doing in your country before you came to the UK.
Tommy: Before coming to the UK, I held the position of Deputy Director at the Ministry of Social Transformation with responsibility for policy analysis with regards to poverty reduction and social protection.
Melissa: Before coming to the UK, I held the position of Technical Coordinator at the National Competitiveness and Productivity Council with responsibility for developing policies and programmes aimed at spurring productivity and economic growth in Saint Lucia
We also volunteered in various capacities at the community level, and were actively involved in youth, sports, and community development.
Chevening: Why did you choose the courses that you are studying in the UK?
Our experience working as Economists with the Government of Saint Lucia has given us an appreciation for the economic, fiscal, and socio-economic challenges facing small island developing states. These complex challenges require that policy advisors be equipped with the technical skills to diagnose and recommend relevant and timely policy advice. Therefore, we chose to study for an MSc in Economics and Econometrics at the University of Nottingham because we believe the rigorous training offered by this course will equip us with the necessary skillsets to work towards effective and innovative policy solutions to the challenges faced by states like ours.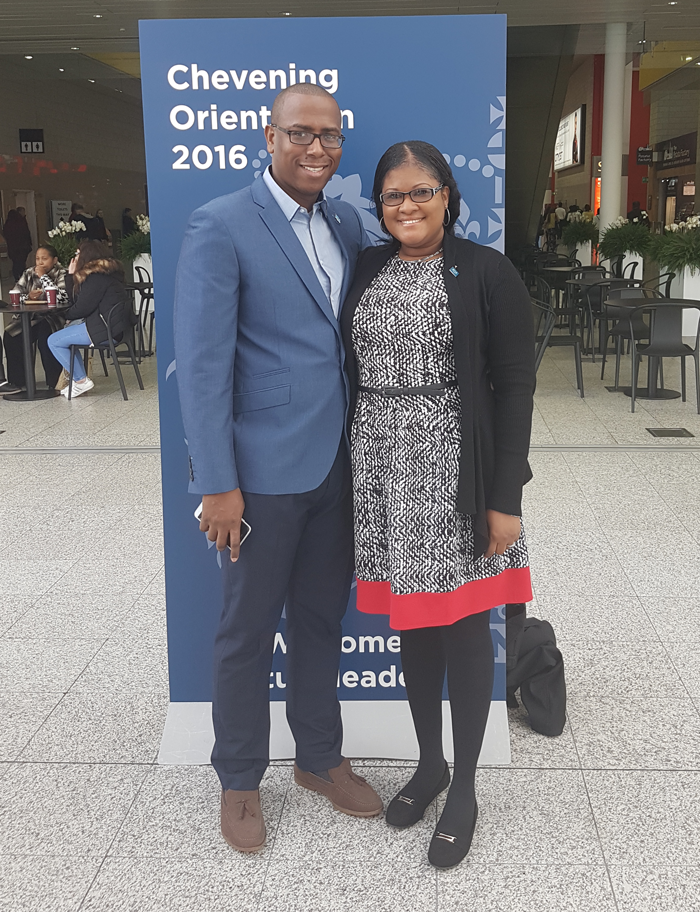 Why did you both decide to apply together for a Chevening Scholarship? Have you applied before?
Tommy: We chose Chevening because of the reputation, prestige and alumni network associated with the scholarship. We decided to apply together because we felt that we both were equally qualified and we thought that applying together would increase the probability of either one of us being chosen.
Melissa: This was our first time applying.
What were your first impressions of the UK and how are you settling into life here?
We were happy to see how relatively green many areas were relative to development. At first, it took some time adjusting to the transportation system, the currency, and the weather but we are now settling nicely and enjoying being in Nottingham.
Tell us about your hobbies and interests outside of study.
We love to travel and discover new places and cultures so we hope to take the opportunity of being in the UK to see as much of the country and Europe as possible.
What are you hoping to achieve during your time in the UK?
We hope to excel in our studies while forming a lifetime network of friends and colleagues from around the world. And of course, we would like to see as much of Europe as possible.
What do you plan to do when you return to your country after finishing your Chevening Award?
We plan to return to work in our various capacities better equipped to tackle the developmental challenges in our country. We also plan to advance the work of the Institute for Empowerment and Development Initiatives (IEDI), a non-profit organisation we co-founded. Its aim is to strengthen the governance framework by providing a platform for informed, transparent, and objective policy dialogue in Saint Lucia.
Tell us an interesting fact about yourselves.
Tommy: I played cricket at the national level for my country together with the previous West Indies cricket captain Darren Sammy.
Melissa: Yoga and meditation are my secrets to managing stress and staying focused.