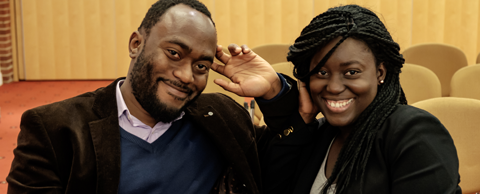 Scholar in the spotlight – on the radio with Naa Ayeleysa Quaynor-Mettle
Our scholar in the spotlight this month is Naa Ayeleysa Quaynor-Mettle from Ghana, who's studying an MA in Globalisation, Business and Development at the Institute of Development Studies, University of Sussex. 
Naa has got involved with student radio and has started co-hosting a show on University Radio Falmer, the student-run radio station of the University of Sussex Students' Union.
We wanted to find out a bit more about Naa's show…
---
Chevening: Tell us about your radio show:
Naa: Time With… is a mid-week, campus-run, drive-time radio talk show. It's aimed at giving Sussex students – especially international students – a voice and the platform to discuss topical issues as well as to publicise exciting events going on in their societies or respective countries. I co-host the show with Tosin Adebisi, senior staff in Sussex's International Office.
Chevening: What do you talk about, or have you talked about, on your show?
Naa: We talk about everything, including:
Football (the Africa Cup of Nations 2017, just finished).
Valentine's Day and why we celebrate it, we hosted a show on the theme of love.
International Women's Day: #beboldforchange. We interviewed the Executive Director of Camfed in Ghana, who told us more about a leadership programme in STEM (science, technology, engineering, and maths) education for girls in Ghana. It was hosted collaboratively by the UK, Australian and Canadian governments in Ghana to mark the day.
Gender and women's empowerment.
Celebratory events happening on campus, for example One World Week, Ghana Independence Day, Holi, and more.
International development issues
Informal chats in the studio and phone-in sessions with students from Nigeria, Cameroon, the Philippines, and Kenya, the USA, and India.
A special edition in collaboration with The Arena, an organisation based in Kenya aimed at creating opportunities for young people. The Arena, in partnership with the University of Sussex International Students Office, launched a video competition for high school students.
The music we play is predominantly Afrobeat and songs themed on the topic of the show. For example we played lots of Hindi music to celebrate Holi festival, which just ended.
How are you enjoying being involved with student media?
I love it! It's a fantastic opportunity to be a part of a movement which is giving students a voice. It's promoting positive causes and creating safe spaces where students can chill, chat, and be heard. It's almost therapeutic!
Where can we listen?
University Radio Falmer is the radio station of the University of Sussex Students' Union and you can listen online here. Our show is live on Wednesdays from 17:00 to 18:00 and can be streamed online via the link.
Here is the link to the Soundcloud where we've just started editing and uploading podcasts.
How are you enjoying life in the UK?
I am having a great time here in the UK. I have made lots of friends, toured the UK, and participated in many events. Despite the school workload which has been quite stressful, and the weather (which is brightening up a lot these days), the experience has been brilliant!
What are you studying and why is that important to you?
MA Globalisation, Business and Development. I am passionate about youth development and the increasingly important roles that businesses have to play in the space of development. On this course, I get to research topics including skills development and youth in enterprise as tools for development.
Sussex University Institute of Development Studies was recently named number one globally for development studies. A wealth of resources and knowledge in this field are available and I feel incredibly lucky to be studying here!
What were you doing in your country before you came to the UK?
I worked as a consultant, running events and working on projects in the social entrepreneurship space. Additionally, I founded and ran a small social enterprise called Africa's Signatures Services, a catering and hospitality agency aimed at providing short-term contract jobs for young people within the catering and hospitality industry.