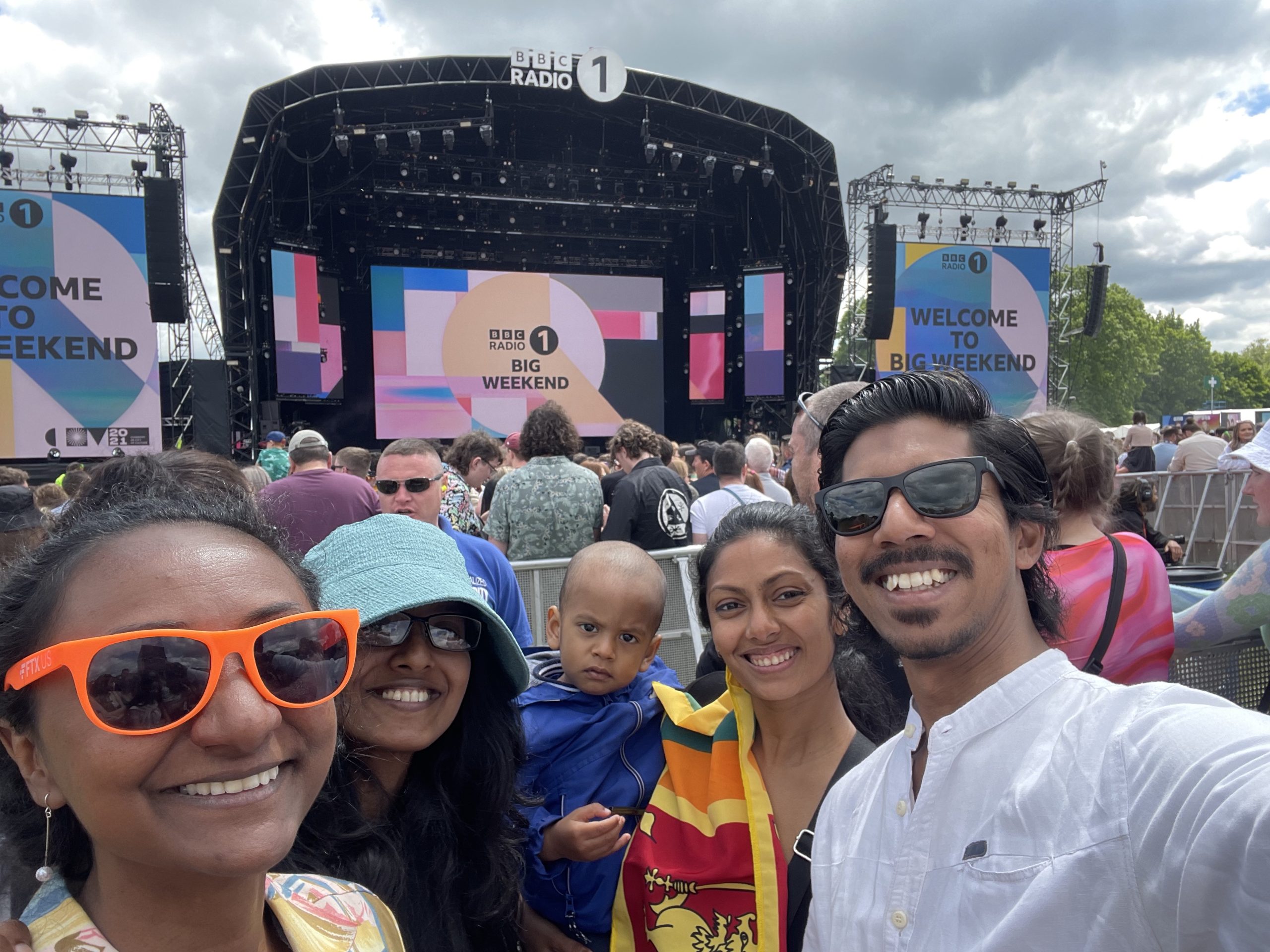 SCHOLAR BLOG: The best music event I attended whilst studying in the UK
To celebrate the return of Glastonbury Festival in June, we asked Cheveners to tell us about the best music or cultural event they have attended whilst studying in the UK. Here is what they had to say...
Mevan Peiris at Radio 1's Big Weekend, Coventry
BBC Radio 1's "Big Weekend" was back after a hiatus of a couple of years and as luck would have it – it was being held right opposite my apartment in Coventry. With Ed Sheeran and Calvin Harris coming on the same day to our neighbourhood, we knew we had to make it!
Incidentally, it was en-route to the Chevening Summit in March that myself and two other scholars from Sri Lanka – Ruwanthi and Niroshi, waited patiently in an online queue 40,000 participants long (just like any other British queue!) and finally managed to secure our tickets.
On the Saturday morning, the usually sober War Memorial Park in Coventry had been transformed into a carnival. We walked through Ferris wheels, DJ booths, selfie backdrops, dance stations, mobile toilets, well setup bars
and various vendors to get as close to the impressive main stage. Amidst roaring cheers, Ed Sheeran walked onto the stage as the opening act and the crowd went wild! With no band, backing tracks, stage set or fancy show starters, he managed to enthral the audience with his soothing voice and astounding musical prowess.
He explained between songs how the looping machine at his feet worked, that every decibel of sound on stage was live. He would perform each musical element of a song and loop it so it repeats, layering guitar, keyboard, drumming (with his hands on the guitar) and beat boxing, to create the oh-so familiar tracks that have occupied No.1 spots in the UK and around the world. A truly phenomenal artist and performer, he made the entire concert worthwhile and memorable for us. He even sang our toddler to sleep, which if you are a parent – you would agree to be no mean feat!
Central Cee, Joel Corry, Aitch, Yungblud, AJ Tracey performed on the Main Stage, while Sigrid, Mimi Webb and an impressive line-up of artists performed on the "Future Sounds", "Introducing" and "Dance" stages throughout the day. While my retro taste in music didn't stretch far enough to truly appreciate all the artists on stage, judging by the enthusiasm of the crowd – I was definitely in the minority! We quite enjoyed Annemarie's performance, especially the popular "2002" – which was a more familiar track in our playlists.
Once darkness fell everyone watched in eager anticipation as the large solar panel- like awning mid centre stage was lifted to reveal Calvin Harris – the finale for the night. Flame throwers and fireworks shooting into the sky while the crowd reverberated louder and louder with the music. The rave was at its peak, with the jumping crowd creating silhouette waves vibrating to the music. It was unreal! The ambience was really captivating with beacons of light following the rhythm, creating visual imprints of that moment in light and sound.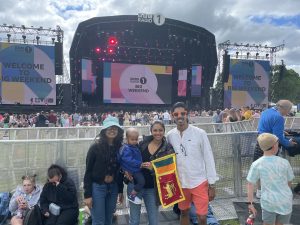 Eliana Valdez at Metronomy, Rough Trade
I took the district line from the station near my house, got off at Aldgate East and walked down the infamous Brick Lane. Listening to "Things will be fine" by Metronomy, one of the best British bands I know. The sun was shining and making the colours of the walls more vivid. The wind was playing with the leaves on the streets and forcefully peeling off the posters so as not to forget the ones underneath. People came in and out of the second-hand shops with a new style. I thought to myself how much I love east London. Suddenly I saw the concert venue. I was there!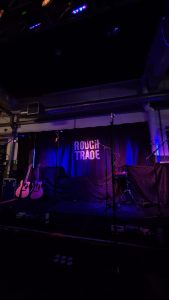 I take out my headphones, and there is a change of music (to retro) as I walk into Rough Trade East and receive a Metronomy album signed by the band. I met my friend Victor, another Chevener from Brazil, and together we went to the front row. An intimate concert full of emotions where the artists played their music and answered the questions of the public. My life is full of emotions every day. Still, to this day, I feel the power of the
music and my experience in the UK connected perfectly.
When they started playing "Love Factory", I thought of all the friends I am making in this experience. "Her love is like a factory" resonated with me and took me on an inner journey, thinking about all the love we all have inside. When I heard "Things will be fine", I was overcome with a feeling of hope and happiness because even though this year is one of the most amazing experiences in the world, we face many challenges, and we feel the uncertainty. However, hearing these lyrics, watching them playing in front, so real: things will be fine, I constantly repeat to myself!
The best part was getting to talk to Metronomy after the show. I talked to Joseph about song writing, and he told me that consistency is a crucial skill for composition. And not just for writing music but also for everything in life! Gigs are an incredible way to communicate with people. As a performer and cognitive neuroscience student, I love to learn about how music engages brain regions related to emotion and makes people experience chills when listening to music. It is fantastic to be part of these moments, feeling those emotions during events like this in my Chevening journey.
Music is powerful, whether it allows you to make incredible connections with people or whether it takes you on a journey to remembering memories with your loved ones. During these inner journeys, you realise the meaning of life and gives you strength when you need it. It is my favourite form of communication and will always be part of my life as a student, professional, and human being. Because we all are a love factory and things will always be fine.