With funding support from the Chevening Alumni Programme Fund (CAPF) and the British Embassy in Podgorica, the UK Alumni Association of Montenegro (MAUK) successfully held its 4th Innovation Forum in December 2021. Titled "Reshaping Montenegrin Cities with YOUth". The 4th Innovation Forum was aimed at raising awareness on inclusive, participatory, and youth-led urban planning and encouraging young perspectives and innovation in the field of urbanism in Montenegro.
The event brought together decision-makers, representatives of local Montenegrin municipalities, architects, urbanists, and young people to discuss innovation in urban planning to inform the creation of healthier, accessible, environmentally friendly, and culturally affluent cities for youth.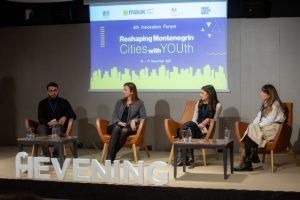 The Forum was opened by the Deputy Head of the British Embassy in Podgorica, Steve Arrick, Minister of Economic Development in Montenegro, Jakov Milatovic, and MAUK representative, Chevening Alumna from Montenegro Ksenija Martinovic.
The opening was followed by presentations of Chevening Alumni and experts on urban planning innovations tackling mental health, accessibility for and inclusion of vulnerable groups, climate change and environment protection.
Urban planner Aleksandra Milentijevic presented urban planning practice in London and the role of citizens' participation in planning, in particular inclusion of vulnerable groups and young people. Daniela Ribero Guariero, a Chevening Alumna from Brazil, talked about climate change issues in urban settlements and their effects on cities, along with a presentation on innovative tools designed to reduce these effects. Sofija Begova, Chevening Alumna from North Macedonia, shared the experience from Skopje in engaging the young people in planning, results and the process behind this engagement.
Finally, Iva Ivanovic, Child and Adolescent Psychiatrist, talked about mental health issues in urban areas and how good urban design has a positive impact on mental health. The series of presentations was followed by a fishbowl interactive discussion, moderated by Ivana Boskovic, a Chevening Alumna from Montenegro, on how the presented urban planning practices work for 'YOUth'.
The second part of the Forum was dedicated to an interactive workshop led by Mario Ramondi and Angelica Francisco from the organization Humankind. The workshop engaged young people, key stakeholders, and decision-makers who together utilized interactive city walks to explore tools and practices, such as urban95, for creating more youth-friendly cities that are accessible for all. They also learned about innovative urban planning tools and solutions for urban issues and how to shape a human-based and kind urban future.
Since its establishment, MAUK has been working on raising different topical issues in Montenegro, paving the path for qualitative changes within society. Like previous Innovation Forums, the 4th Innovation Forum "Reshipping Montenegrin Cities with YOUth" ensured that the knowledge and experience from Montenegrin Chevening Alumni are capitalized through fruitful discussion and by providing the concreate innovative solutions and ideas for urban planning issues.
The recording from the first day of the Forum is available here.