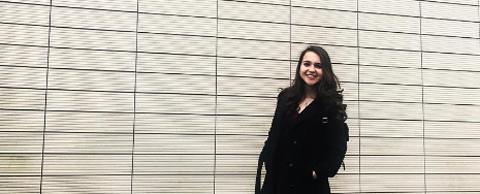 Seeing the previously grey city turning all into colours is a unique experience. The past months were tough as daylight was scarce and the days were very short, but since may began, the sun never wants to go down! Flowers, birds, and squirrels are again all over the place accompanying me through My Chevening Journey.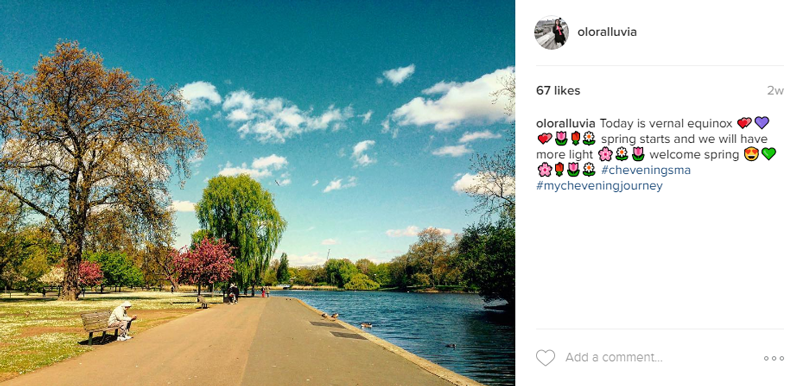 During this month, very important things happened. One of those, was that the world celebrated and honoured the existence of women with the International Women's day. On 8 March, I had the pleasure of being immersed in a cosmopolitan city in which day by day, we are constructing progress. I mention this as I found remarkable the amount of women that are in the Chevening community.
I find impressive how women around the world are being empowered and are able to empower other women, especially to reach education by means of scholarships. I am very proud (and it is worth to mention) about all the women which are with me in this journey, I am very proud of them all and I am sure each and every one of them is going to be a step forward in their countries in development and in equality. You can read more about these women in my blog post about them.
On 17 March we celebrated Saint Patrick's Day! This is a cultural and religious celebration devoted to Saint Patrick, who is Ireland's patron because he converted pagans to Christianity. However now, it is mainly a cultural celebration where people gather all dressed in green and dance some 'Sean Nós' which is a very joyful typical dance.
I gathered with some of my fellow Latin American Cheveners as we were very excited to celebrate something new… Latin American people are usually good dancers, however Sean Nos is very hard.
On 12 March I had my first Holi Celebration for welcoming spring. I come from a tropical country with no seasons and I am impressed about the joy that comes along with spring. The Hindu society of my university, University College of London, organised the most colourful festival for sharing this joy.
People wearing white gathered around the campus and began singing and playing with coloured powder (which by the way, was very hard to take off afterwards) until we were all left with a rainbow in our skin and our clothes, the only visible white afterwards, was the white of teeth showing after very big smiles. I feel honoured to be part of experiences like these.
I have never been to India and probably it will be a long time until I go (but hopefully I will! We have plenty of Indian scholars whom are not only amazing people but also speak great things about India). I have participated in two big Hindu cultural events, just because I am living in one of the most cosmopolitan cities in the world. The feeling is just magnificent.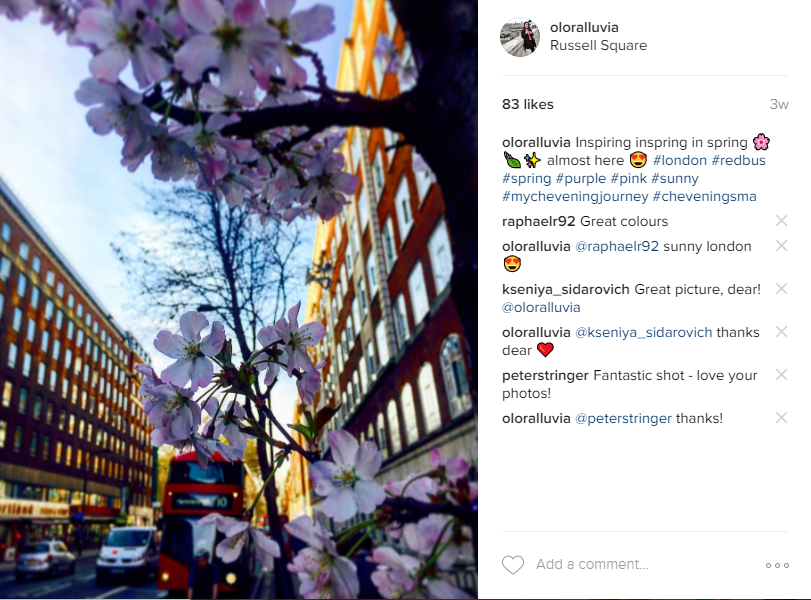 On 22 March, I attended Cardiff University for a Chevening event called Best of 'British Presents… Cardiff'. This experience was just UNBELIEVABLE. Cardiff Scholars are the most incredible people as they organised a group to welcome us to their city. They assured everyone was hosted and that we can set up a meeting for getting to get to know each other.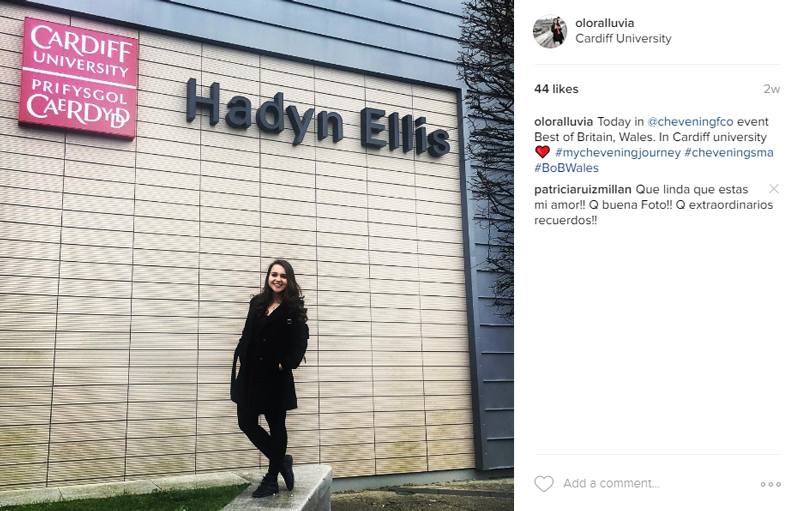 I arrived to Cardiff on the same day of the event and began saying hello to everyone I knew. I have attended plenty of events and I am familiar with some faces now. However, even the new faces were very smiley and welcoming, that by the first hour, we were a big group speaking about our courses, about our families, about our thoughts.
We took a crash course on Welsh, which is one of the two official languages in Wales (the other one is English). Welsh is a Celtic language and it's part of a very important heritage of humanity as it has been preserved through history and is still spoken and used. I have to say that by the moment, I tried my best to learn lots of words, but now I can only remember two (very handy) sentences which are 'Wyt ti'n siarad Saesneg?' (meaning 'do you speak English?') and the most important one of all (especially for a Colombian like me): 'Dach chi eisiau dawnsio hefo fi?' This means: 'do you want to dance?'
After our Welsh lesson, we took another lecture for understanding the National Assembly for Wales and its relationship with the English Parliament, and finally we went to the National Assembly itself!
I spent the night in Cardiff as one of the scholars (who I am very thankful to!) Olga Tsetkova (a very inspiring Belarusian journalist) organised a reception for us in one of the oldest Welsh restaurants and made us try the national drinks. I have never felt more welcomed in a city before, but these scholars, led by Olga, made each one of us feel like home (a very Celtic home).
My Chevening month ends as it has been: full of colours. Jogging through Regent's Park with a beautiful sun over me, I can see all the tulips growing side-by-side. With this weather, it's been very hard to take the decision to sit in the library. However, we are all facing our final terms and the last part of our Chevening journey, in which we have to be still better than we have been the rest of the year.
I end my month feeling very grateful for being here, feeling very proud of being a woman in science, and proud of my fellow women scholars, with lots of expectations about what is coming in the final term: the dissertation but also the spring colours, and soon, the summer!
Best luck for everyone in your exams, enjoy the sun!