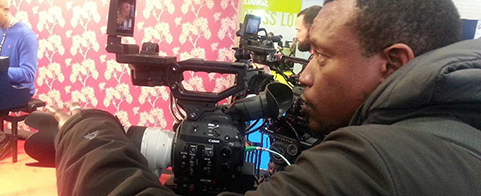 From the time I left Barbados in September 2015 and moved to the beautiful city of Cardiff, I made a promise to myself that I would make the most of this time in the United Kingdom, and I am. Yes, the main reason I am here is academic, but I had no intention to be cooped up in the library of University of South Wales (USW) all day, everyday, studying.
So, February 2016 rolled around, and it was easily one of my busier months. It started with a BAFTA Career Clever event which featured a panel discussion with Bethan Jones and Jo Pearce: producers of the BBC series War and Peace and was followed by the screening of the series finale of War and Peace. What was nice about the screening is that some of the stars of the series were also there. Becoming a student member of BAFTA is one of the best decisions I've ever made, because not only does it allow me to go to certain cinemas free of cost from Monday to Thursday, but I also get the opportunity to attend special events, this being one of them.
February would also see me travel to London on two occasions to conduct auditions for the Master's project which I am producing. It is a comedy entitled 'Dear Jane' and tells the story of Dr. Jane Harte: a world renowned marriage counsellor whose world is turned upside down when her husband leaves her. Things are made even worse when her emotionally unbalanced sister Rhonda moves in with her. There were so many wonderful actresses who came and were a part of the auditions. It was really difficult to choose. In the end, the director and I selected two actresses who we believe would be suitable for the roles of Dr. Harte and Rhonda.
On February 16th I travelled to Blackwood to help out with a promotional campaign for the Wales International Documentary Festival. My role was to aid in the filming of a short documentary about Blackwood and its environs as we went around interviewing various store owners and people on the street. It was interesting to hear the stories of Blackwood in the past as it compares to Blackwood of today. It was also interesting for me to get my hands on the filming equipment which is always exciting!
Later in the month, my wife and I spent a weekend in Gowerton. It was cold, wet and miserable but it was a beautiful landscape. We wandered around the countryside and visited Gower beach which was really different to the beaches we have back in Barbados. It was placid and was not as vibrant, however, many people were enjoying the seaside.
Coming on to the end of February, I had another trip to London. This time I attended the BVExpo 2016, a large exhibition of the latest in audio visual technology held at ExCeL London. I felt like a kid in a toy shop, albeit a toy shop where the toys cost £200,000. Again, I wasted no time in getting my hands on the equipment.
At the end of the month, our teachers organised table reads for everyone in USW's Film Producing master's programme and they got some students from the Royal Welsh School of Music and Drama to perform our scripts. It was really interesting hearing the scripts being read aloud and getting feedback from everyone.
February 2016 was definitely an eventful and enjoyable month. As I try to juggle my school work and my extracurricular activities, I wait with eager anticipation to see what the future holds. Thank you Chevening!