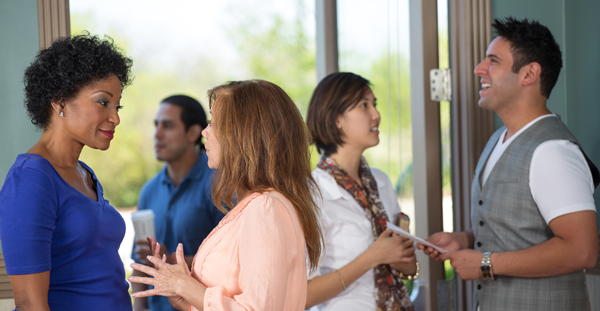 In today's world, it is important to have good networking skills. However, how do you find and make contacts, as well as make them work for you?
Here are 10 top tips I learned during an eye-opening professional networking and communication workshop organised by Chevening at the University of Birmingham. The workshop allowed me to learn more from professionals, academics, and Chevening Alumni, and left me with the skills to make more of future networking opportunities.
1. It's not just about the benefits but also about the process of human relationships
Focusing only on benefits will not allow you to truly enjoy your interaction.
2. Online networking is highly important
Such networks as LinkedIn, AngelList, or Zerply enable you not only to stay connected with people you get to know during the event, but to grow your professional network using smart matches and joining professional groups.
3. After meeting at the event, write a message to your new contact
You may write something like this: "Dear X. I was delighted to meet you at the X conference. I was also inspired by the project on X you are working for. I might be able to help you with X part of the project."
4. Stay connected at least two times a year
"Dear Y, how have you been? I hope your project on Y going successfully. How is Y part of the project? Do you need any specialists? I have got an expertise in X in this field. "
5. The power of weak links can be great
You never know what contact may become valuable for you. The person you speak to today might be a future Barack Obama!
6. Be assertive without being arrogant
Assertiveness is a manner of standing up for your own needs and views, whereas arrogance can mean acting in an overbearing, aggressive manner which could violate the rights of others at the expense of your own advancement.
7. Understand cultural differences
We all come from different cultural backgrounds and respecting this is important in networking.
8. Ask open questions
Yes/no questions usually lead to short answers. Such a method to start a conversation can totally kill a conversation. On the other hand, open questions lead to more detailed answers and an interesting conversation.
9. Listen more and talk less
The ability to listen has always been valued at all times and in all cultures. Successful networking is no exception.
10. Smile
What can be more welcoming and conducive to conversation than a sincere smile?