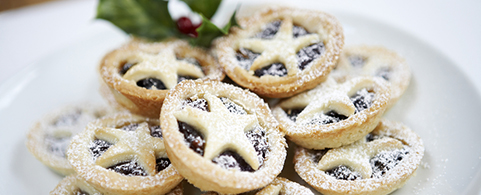 We get quite excited about Christmas here in the UK and we have some great tips for you to help you enjoy the Christmas festivities! Why not sample some mulled wine or make some mince pies for your friends with our recipe?
Christmas markets
Christmas markets are very popular in the UK as they make a great day out and are a really good way to get into the Christmas spirit. Classic Christmas music is always played, such as Jingle Bells and White Christmas, and visitors can often ice-skate and visit Santa's grotto. Christmas markets are a great place to buy some traditional gifts for family and friends, as well as treating yourself to a festive snack and a hot drink. 
Think that sounds like fun? Visit one this Christmas.
Christmas carol services
A popular part of Christmas in the UK is a Christmas carol service. This is where a congregation, usually a choir, sing Christmas songs to the public. They really capture the Christmas atmosphere and we particularly enjoy carol services. We've listed three that you could attend, although it's likely that you will find one at your university or in your local community.
Mince pie recipe
Mince pies are a traditional, sweet pastry enjoyed by many around Christmas time. The pies are usually made from shortcrust pastry and filled with mincemeat: a sweet combination of dried fruits, apples, sugar, suet, nuts and spices. There's a great article about the history of the mince pie, and if you fancy having a go at making your own, you can follow our step-by-step recipe!
Ingredients
225g cold butter, diced
350g plain flour
100g golden caster sugar
280g mincemeat
1 small egg
icing sugar, to dust
Method
To make the pastry, rub 225g cold, diced butter into 350g plain flour, then mix in 100g golden caster sugar and a pinch of salt. Combine the pastry into a ball – don't add liquid – and knead it briefly. The dough will be fairly firm, like shortbread dough. You can use the dough immediately, or chill for later.
Preheat the oven to 200C/gas 6/fan 180C. Line 18 holes of two 12-hole bun tins, by pressing small walnut-sized balls of pastry into each hole. Spoon 280g mincemeat into each pastry-lined hole.
Take slightly smaller balls of pastry than before and sculpt them into lids, big enough to cover the pies, with your hands. Shaped pastry cutters work well for this. Top the pies with their lids, pressing the edges gently together to seal – you don't need to seal them with milk or egg as they will stick on their own. (The pies may now be frozen for up to 1 month).
Beat 1 small egg and brush the tops of the pies. Bake for 20 minutes until golden. Leave the hot pies in the tin for 5 minutes, then place them on a wire rack to cool. To serve, lightly dust with icing sugar. They will keep for 3 to 4 days in an airtight container.
We hope you enjoy our mince pie recipe – send us your pictures on Instagram on Twitter using #IamChevening!