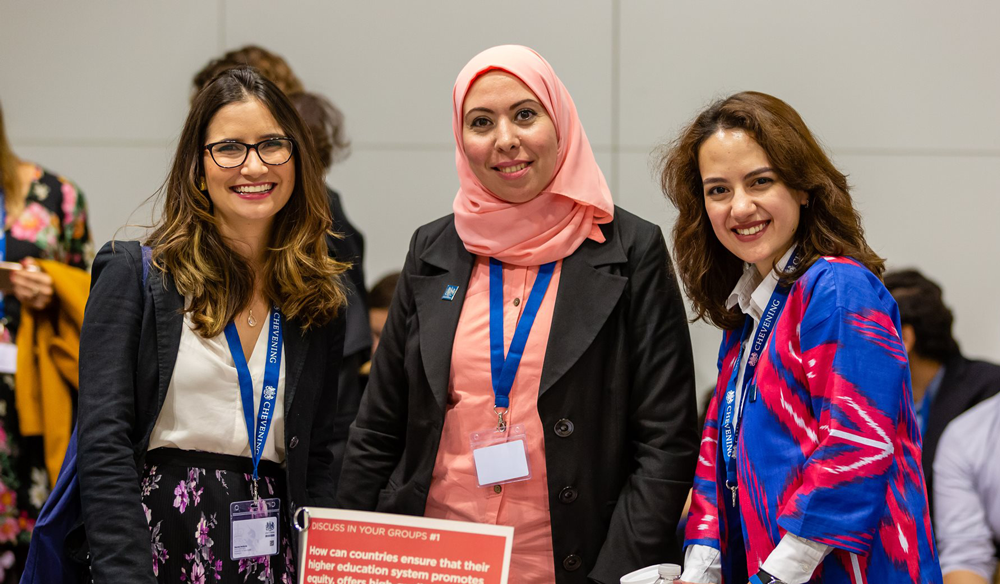 There are lots of events up and down the country in celebration of International Women's Day. Here, we've included a round-up of the best, so if you want to feel that feminist glow – look no further!
Most events are free, but some charge a small entrance fee. Check the links for further information.
---
London
---
Feminist Book Society: How to own your story
In ever-changing times, it is increasingly important to be given space to own our truth. Join co-founders of The Feminist Book Society, Katy Loftus and Eleanor Dryden, as they speak to three amazing writers (Rosanna Amaka, Ann Napolitano and Tracey Thorn) who, through differing and brilliant work, explore their own story and teach us to own ours.
When: Wednesday, 19 February, 18:30
Where: Waterstones, 82 Gower Street, London, WC1E 6EQ
---
Brief History of Vulvas in Art
From prehistoric Venus figurines, to Gustave Courbet to Georgia O'Keeffe, the vulva has made appearances in art and literature for centuries. Join Director of the Vagina Museum, Florence Schechter for a whirlwind tour of the oldest subject of art humans have: the vulva.
The Vagina Museum is the world's first bricks and mortar museum about the gynaecological anatomy. They have a busy Spring schedule, check out this link for more information on other talks, workshops and late exhibition openings: https://drive.google.com/file/d/1NxEQ2qAy4KY9W1gR5KS5uOI1fT7HkTW9/view
Where: The Vagina Museum, Unit 17 & 18 Stables Market, Chalk Farm Road, London, NW1 8AH
When: Saturday, 22 February, 19:30 to 21:00
---
Feminist Perspectives on Islamic Sacred Texts
Feminist engagement with Islamic sacred texts is rich and diverse. But how do feminist scholars make space for multiple visions of gender equality in Islam? And how does their work filter into communities and mainstream religious spaces? Renowned academics Amina Wadud, Ziba Mir-Hosseini and Suhraiya Jivraj come together to discuss for International Women's Day. Chaired by Latifa Akay of the Inclusive Mosque Initiative.
Where: Knowledge Centre, The British Library, 96 Euston Road, London, NW1 2DB
When: Friday, 6th March, 19:00 -20:00
---
Working Women of the East End
On this walking tour your professional and experienced tour guide will aim to change the way the East End is seen, both by highlighting the Women involved in the area's vibrant history but also by giving Women, like those killed by Jack the Ripper, a voice by telling their story.
The walking tour will include the stories and locations important to the 'first feminist' Mary Wollstonecraft, the women who were victims of the Whitechapel Murders 1888-1891, the East London Suffragettes including Sylvia Pankhurst as well as the Match Strike of 1888, plus much more about what life was like for a Women throughout the East Ends History.
When: Most days, 10am and 2pm
Where: Tower Hill Underground, exit via ticket hall, EC3N 4DJ
---
Chelmsford
---
Because we're worth it! On Changes in Advertising, Gender and Society
How have men and women been portrayed in advertising and does it matter? What can we do to change the current trends? Dr Magdalena Zawisza-Riley will take you on her research journey into the land of psychology, richly embellished with visual media examples you may recognise. Based on her new book 'Advertising, Gender and Society' she will discuss the consequences of advertising content for you and for the society.
When: Thursday 12th March, 19:00
Where: Anglia Ruskin University, Bishop Hall Lane, Chelmsford, CM1 1SQ
---
Edinburgh
---
Wander Women: Women's Day Bonfire and Swim
A celebration of womanhood on International Women's Day, with a beach bonfire and sea swim!
Where: Portobello Beach, Edinburgh
When: Sunday, 8th March, 5pm-7pm
---
IberoDocs & Womenbeing Panel Discussion on "Women Taking Risks in Arts"
Part of the 7th Edition of IberoDocs (the Ibero-American Documentary Film Festival in Scotland (26th Feb- 15th March), this event is a stimulating and informative conversation with a selection of talented Scotland based artists, lead by Noe Mendelle, Director of SDI.
After the panel, join the festival's closing party. Meet at Akva (Fountainbridge) from 6pm, for an evening of feminist video-art with selected films curated by FEM TOUR TRUCK, Fado live music with the presence of Mariana Moreira, and network and dance with us to songs with the special flavour of the warm Ibero-American culture.
Where: Edinburgh College of Art, Main Building E22 Lecture Theatre, 74 Lauriston Place, Edinburgh, EH3 9DF
When: Wednesday, 11th March, 14:00-16:00
---
Oxford
---
The IR Thought of Claudia Jones
Claudia Jones was a Trinidad-born journalist and activist. A prominent feminist and communist, her best-known writing is "An End to the Neglect of the Problems of the Negro Woman!", which reflects what would come to be known as intersectional analysis.
Deported from the United States in 1955 for her political activities, she moved to Britain, where she started the UK's first major black newspaper, West Indian Gazette, in 1958. This was a major contributor to the rise of consciousness within the Black British community. Jones is perhaps best remembered as the founder of the Notting Hill Carnival.
When: Tuesday 10th March, 17:30 -19:00
Where: St Cross College, 61 St Giles', Oxford, OX1 3LZ
---
Manchester
---
Why is Climate Justice a Feminist Issue?
An evening of lively discussion hosted by The School of Social Sciences at the University of Manchester. Enjoy browsing stalls, participating in an interactive panel discussion, and networking at the reception. Guests include: Guppi Bola, Tina Rothery, The Nanas, Zarina Ahmed,Emma Greenwood, and Kate Metcalf.
When: Wednesday 11th March, 18:00 – 21:00
Where: Alliance Manchester Business School, Booth St, Manchester, M15 6PB
---
Sheffield
---
The Smile Club
Come on love, cheer up, it might never happen. Welcome to Smile Club. Life's so much better when you smile. Everyone knows that. So go on – give us a smile. Meet Lisa, a Smile Club attendee. Lisa's been through it all and she now knows – beyond a shadow of a doubt – that nobody likes a girl who makes a fuss; nobody likes a girl who can't take a joke.
She knows too, that life is simpler when you let things go. And she certainly has. All of it. Join Lisa as she presents the perks and rewards of being a Smile Club Member. Hear about her descent into dejection, rage, and bloody violence, before her remarkable transformation into the smiley, well-adjusted human you see before you today.
When: Saturday 14th March, 19:45 – 20:45
Where: Theatre Deli Sheffield, 202 Eyre Street, Sheffield, S1 4QZ