Chevening interviewed current scholar Katlego Kai Kolanyane-Kesupile from Botswana about LGBT History Month and what it means to her.
Katlego is currently pursuing a Masters in Human Rights, Culture and Social Justice at Goldsmiths, University of London and provides a valuable insight into LGBT, and particularly trans, visibility and rights, her own story, and the events on offer during this month. 
For further information about LGBT History Month click here.
---
It's LGBT History Month here in the UK! What is the purpose of LGBT History Month, and how are events like these important to you?
It's a period of time used to draw attention to the histories which have contributed to the liberties and presence of LGBT populations today. It's a matter of giving people a chance to look into issues they may otherwise not readily have access to. I think LGBT History Month is particularly important for the enlightenment of youth, whether queer identifying or not, as it helps them realise that some struggles they face today are ancient and are in need of resolve, and that some freedoms which they may take for granted, bear with them back stories of perseverance, pain, and gross injustice. 
Are there any particular events/activities that people can attend if they are interested in learning more about LGBT history?
I've always said that 'I work to create a world where ignorance is an option not a state of being', and thankfully, the UK has a healthy selection of events over the month through to March. A useful resource for people is www.lgbthistorymonth.org.uk where there are listings of events across the UK – from art exhibitions and theatre performances in London, to quizzes in Oxford, to talks in Stockport.
I definitely recommend that everyone gives themselves the gift of watching a queer themed theatre production – for the human engagement and entertainment – because there's some phenomenal work out there.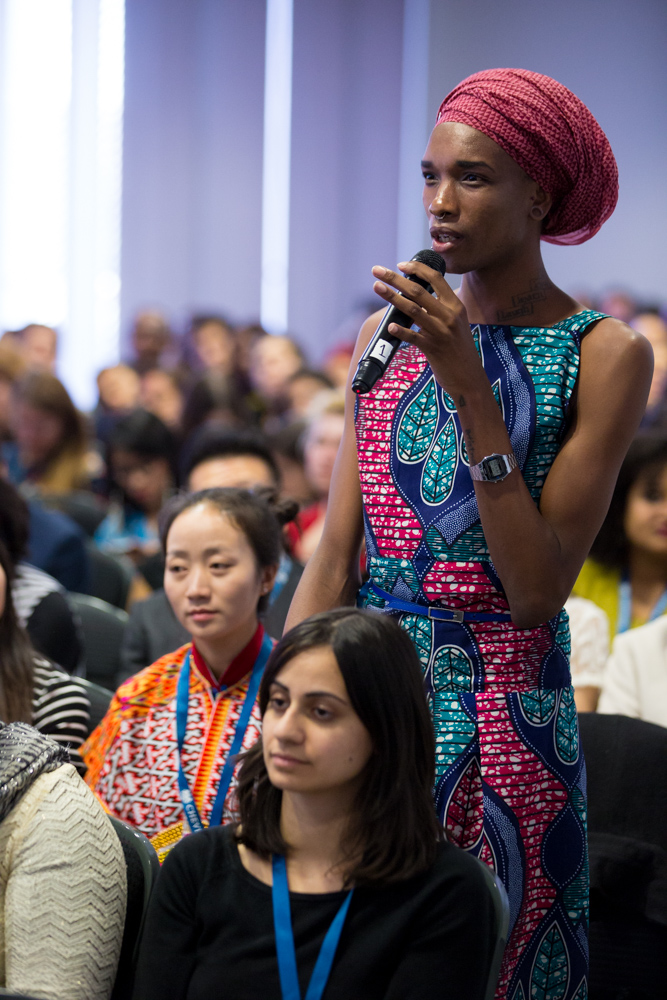 What types of activities have you been involved in to help the LGBT community back in your home country of Botswana?
In 2013, after having risen to popularity on a national televised singing competition, I became the country's first openly trans* identifying public figure out of necessity to set my own path and have access to telling my story as best I could. This lack of visibility is something many LGBT people suffer from and struggle with themselves – especially considering the rhetoric of queerness being abnormal and ungodly; something I have worked hard to challenge publicly.
Thankfully, I have been enabled by colleagues in the media and art industry to continue to effect change and dispel the fearmongering many are subjected to – understanding that advocating for LGBT, especially trans* visibility and dignity, has to be an inclusive process.
As a storyteller, I also understand the need for dialogue, and so I founded the Queer Shorts Showcase Festival. It's a theatre festival showcasing LGBT-themed short plays as prompts for community engagement and builds on the collection of queer centred work from Botswana. I also produce and host a podcast which brings people together to talk about gender and sexuality-related myths and misunderstandings which may impede the ways we connect to one another in contemporary society. I've worked with religious institutions teaching about the dynamic nature of sexuality and gender, I have served as a counsellor and peer educator. To date, one of my proudest achievements was writing, directing, producing, and acting in a film about being trans* in today's Botswana. This was well received and has been screened as an educational tool in Botswana and South Africa.
How do you feel your Chevening Scholarship (and the experience of studying your course in the UK) will benefit you when you return to Botswana?
Being named a Chevening Scholar was testament to my notable gifts and the need to invest further in their development, yet it was also a great reminder that queer academics from Africa are still facing major barriers to accessing higher education, more so in fields of study which are not necessarily in the mainstream.
Through me joining such a prestigious network – in addition to other awards I have been given over the years – I believe that the proverbial 'lavender ceiling' imposed on queer people of excellence continues to be challenged and cracked. I have become a living possibility for many people who think being 'too/so different' sets you at a disadvantage. Having worked from grass roots level all the way to directing an award show under the office of the President of Botswana, I know that my breadth of knowledge of the people of Botswana as well as the clout afforded to me by the Chevening Scholarship, will strengthen the networks I am able to manifest for myself, build for others, and sustain for future generations with regards to queer visibility, rights, and the quality of living standards in the country.
I find that Chevening is a good segue for me as I have already moved from simply being a classically trained performing artist, to using my skills as a tool for social change and advocacy. What I will need more than anything is sustained and cohesive support from Cheveners in my own country as well as across the world. Together we can actively disprove those who underestimate queer people; because while I may be skilled at breaking through doors, that shouldn't be the only thing I do.
---
The Foreign and Commonwealth Office is proud to support equal rights for #LGBT people and works to ensure all can live free from discrimination.
Statistics correct as of June 2016.