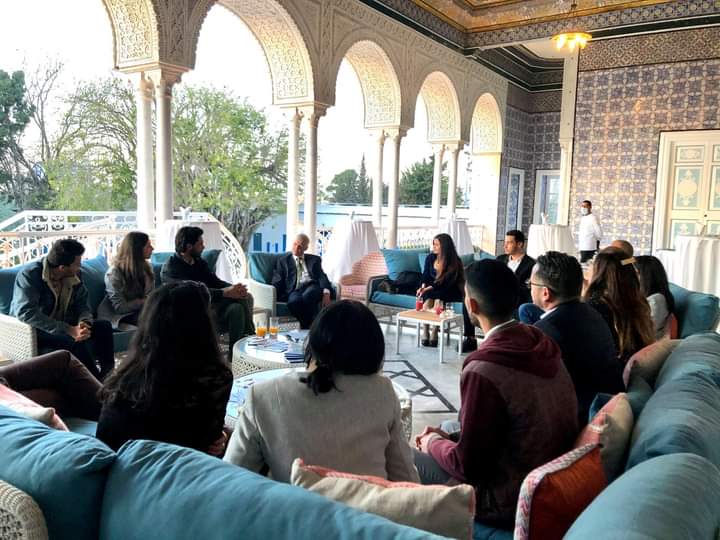 January 2021 marked the start of the Tunisian chapter of the mentoring scheme – 'The Chevening in Tunisia – Mentoring programme'. Ran by the British Embassy Tunis, the initiative started as a 3-month CAPF (Chevening Alumni Programme Fund) initiative that overcame the unprecedented challenges brought by the pandemic. Chevening Officer Tasnim Abderrahim tells us all about it.
How did this project come to life?
Chevening is a key programme for us as we work on strengthening links between the UK and Tunisia. At BE Tunis, we are keen to find new, ambitious ways to grow the Chevening network in Tunisia, and create opportunities for our alumni to share what they have learnt and inspire younger generations to follow a similar path. We launched the first edition of 'the Chevening in Tunisia: Mentoring Programme' in January 2021, and concluded the programme in March.
Who was involved in this project and who was it aimed at?
In order to engage our Chevening Alumni, BE Tunis applied for CAPF funding to carry out a mentoring programme. We launched calls for applications to recruit volunteer mentors among our Chevening Alumni community and we published calls for applications (through BE Tunis social media channels) to select mentees to participate in the programme. Eight Chevening Alumni volunteered to participate as mentors in this programme. Each mentor was matched with a mentee based on shared studies and career interests. The mentees are undergraduate students aged between 19 and 24, coming from various fields including journalism, entrepreneurship, and education.
Tell us a bit about what did the project aim to achieve. Did it meet the expectations?
Fully implemented by BE Tunis, this scheme aims to contribute to bridging the gap in Tunisia between education and employment, providing professional mentoring to young ambitious Tunisians by connecting them with Chevening Alumni. The alumni can pass on valuable skills, knowledge, and insights to help the mentees develop their career objectives and acquire new skills. At the same time, the scheme was an opportunity for the Chevening Alumni to share their experiences with the mentees, enhance their own leadership skills, and gain new insights.
How did you and the participants find the shift to online activities due to the pandemic? How did the pandemic impact the mentoring programme overall?
The C-19 health context meant that we had to adjust our plans accordingly. While the initial plan was to organise a series of in-person events to bring together the mentors and the mentees, most of the programme activities had to be conducted remotely. The improving health situation in Tunisia and relaxed government measures in late March eventually enabled us to organise the closing ceremony of the event in person at the UK Ambassador's residence. This was a great opportunity to celebrate the success of the scheme and bring participants together to network and share experiences.
What did this spark? (ideas, meaningful conversations, stronger relations among the alumni)
The programme sparked insightful conversation between the mentors and the mentees. Most participants have fedback that they benefited from the programme in different ways. One of the mentors said:
I enjoyed connecting with a fresh mind who gave me perspective of the new generation of young leaders and how they perceive Tunisia and life
Another alumnus commented that their role as a mentor in the programme helped them "refocus on their own personal development".
One mentee commented: "my mentor helped me build strong and convincing resume and cover letter, and guided me through my job search". One mentee was excited that their mentor invited him to his work place, giving him an insight into professional life in his area of interest. Another mentee said "I have gained useful practical advice, helping me to be more self-confident".
We are positive that the relationships built during this mentoring experience will continue beyond this three-month scheme.
What is next? Did you plan to take this further and maybe run something similar again?
We are grateful for the enthusiastic responses from our Chevening Scholars in the first iteration of the programme. We intend to use the feedback received from both mentors and mentees to develop this mentoring programme in the future. For instance, some suggested extending the programme to six months and including workshops and trainings. Beyond this scheme, we are keen to create further opportunities for alumni engagement, inspired by ideas and proposals shared by our alumni on what they activities they would like to engage in.