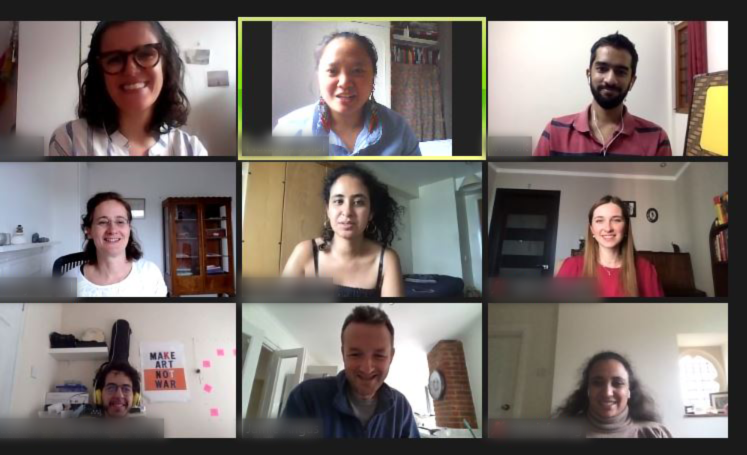 Yasmin El-Beih's BBC Chevening placement taught her to invoke readers' curiosity about the world, just as international tourism ground to a halt.
Find out about applying to the BBC placement programme
Travel writing might conjure images of jet-setting to far-off destinations, a fraying journal in hand, jotting down notes of otherworldly places; but the life of a travel writer resembles anything but that, particularly in the midst of a global pandemic.
My BBC placement was a time of creativity, intellectual growth, and learning to thrive under unusual circumstances. I worked with BBC Travel, having long admired their compelling storytelling through unexpected angles. As a nomadic soul who had worked as a freelance feature writer prior to my Chevening journey, I have a sense for well-crafted stories, and I was keen to learn more about how the BBC Travel vertical had succeeded in sparking readers' interest in far-away places, despite ongoing travel constraints.
I joined in September 2020, eager to immerse myself in tackling experiential, transformative travel journalism as the industry rapidly adapted to the changing global landscape. As it turns out, working with an award-winning team to produce inspiring stories is more about sourcing voices close to home than globe-trotting. In reviewing and discussing incoming pitches, I learned that a winning idea has more to do with being able to apply a keen eye on what's in front of you, than dramatizing a departure from the beaten path. I had previously spent an entire semester in my undergraduate program critiquing the orientalist scholar Edward Lane, but it was only during my BBC Travel placement that I learned what decolonising travel writing meant in practice.
In internalizing the BBC Travel's 'love-the-world' mandate, I also came up with unexpected stories of my own. I was able to turn my passion for indie Arabic music into an exploration of its foundations in Aleppo, Syria. I had the opportunity to write about Tarab, a traditional genre that is likely birthed in Aleppo, for a piece on how emotive music is the city's "secret" to happiness. I was also able to support the BBC Travel team by coming up with headline ideas and writing up pitches for some of their new series, such as Nature's Curiosities, which highlights location-specific ecological anomalies.
One of the most rewarding aspects of the internship was the close mentorship of world-class travel journalists. I received regular, thorough feedback on my writing, whether I was working on little-known wellness trends or drafting a piece on the history of coffee in Britain. I also met several BBC colleagues during an intensive, five-day online training course as well as on occasional outdoor walks in London.
The BBC Chevening placement is not only a remarkable opportunity to learn about impartiality and the mechanics of a good story. It's also an experience that helps scholars hone almost every aspect of their craft, with support from some of the world's most recognised reporters, writers and producers.