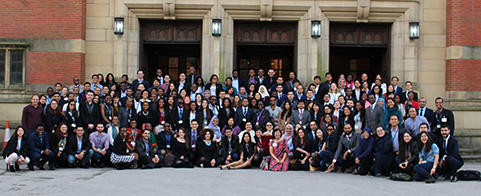 More than 160 scholars attended the third annual Chevening Conference, hosted by the University of Birmingham, on Friday 8 April.
Our annual conference gives scholars the opportunity to present their research to their peers on a chosen theme, which this year was 'Global Ambitions'.
The day was opened by Professor Adam Tickell, Provost and Vice Principal at the University of Birmingham, followed by Professor Paul Jackson, professor of African Politics at University of Birmingham. Professor Paul Jackson then conducted a Q&A session which allowed scholars to interact and discuss how they can each make a positive impact within their field after Chevening.
Scholars were then able to choose one of four scholar-led, themed sessions to attend, on Policy & Good Governance, Gender, Health and Communities & Citizenship. After the presentation, the floor was opened up so that scholars, and session chairs, could have their say and link their own research and ideas where possible.
From solving the water crisis to how climate change is affecting the world of coffee, the afternoon sessions saw an extensive range of topics discussed within the final four themes; Economic development, Media & communications, Development and Human rights & Empowerment, once again followed by a lively Q&A session. These debates were enjoyed by all and some presenting scholars actually commented on how some of these questions and discussions had sparked new ideas for their research and future career paths.
Chevening Scholar and Social Media Ambassador, Tamara Mathias, made the following remark about the day: 'It was heartening to see fellow scholars take the stage and present their own work with admirable passion and expertise. The event allowed the entire cohort to stay connected with each other's work as well as remain informed on the latest in fields far removed from their own areas of study.'
A Chevening and University of Birmingham Alumna, Ebru Altinors, gave a motivating talk to the whole group in the afternoon, explaining how the 'Global Ambitions' that were discussed throughout the day could become a reality. Scholars then had the chance to ask Ebru, somebody that has been through the Chevening experience, exactly what they can expect upon returning home.
The closing session was conducted by Her Majesty's Ambassador to Kuwait, Matthew Lodge who is also a University of Birmingham alumnus. His inspiring speech really brought home the fantastic position that Chevening Scholars are in, and the importance of forging connections whilst here in the UK and maintaining them upon their return home.
The day was a huge success and a great opportunity for networking, sharing ideas and showcasing the fantastic facilities that Birmingham has to offer to scholars who had travelled from all across the UK.
If you are interested in hosting the next Chevening Conference in 2017, please get in touch with your designated programme officer.