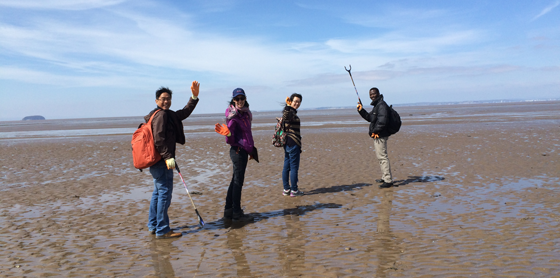 Want to gain new skills and get to know your local area while helping others? In 2017/2018 more than 200 Chevening Scholars from 61 universities across the UK volunteered over 5,000 hours of their spare time for good causes across the UK, and this year we want to do even more to make a difference.
As part of our Community Outreach and Volunteering programme Chevening offers one-off volunteering opportunities throughout the year, working with different organisations across the UK. We also promote other volunteering opportunities and encourage you to get involved in projects in your own community.
Our Volunteering Log lets you keep track of the hours you've contributed, and at the end of the year you could be invited to our annual volunteering awards, last year hosted by the Foreign and Commonwealth Office, where we celebrate the work of our volunteers over the year.
Read about some of our 2017/2018 scholars' volunteering experiences during Student Volunteering Week 2018 (#SVW2018) for some inspiration.
 
Why volunteer? Five reasons:
Volunteering your time brings huge benefits to you as the volunteer, and of course to those you are supporting. Here are our top five reasons:
1. Improve your skills
Volunteering is a great way to gain experience in your field alongside your studies and improve your employability, and of course gives you the chance to contribute your talent and knowledge to worthy causes.
2. Try something new
If you're wanting to explore a different career path, pursue a new interest, or simply do something different, volunteering offers the flexibility to try out something new and develop new skills.
3. Get to know your community
With so much on offer on campus it can be easy to get caught in a bubble. Volunteering is a great way to take some time away from your studies while doing something worthwhile and discovering your local area.
4. Meet other people
Volunteering activities give you the chance to meet people you might not otherwise meet, such as students from other departments, Chevening Scholars from other universities, and members of the wider community. It can be a great way to make new friends through a shared activity, as well as building new networks and contacts.
5. Give back
In offering your time and skills for free, volunteering gives you the chance to give back to your community and make a lasting impact. Research has shown that volunteering can have a positive impact on your wellbeing, helping to relieve stress and providing a feeling of satisfaction in knowing that you have done something worthwhile.
Volunteering takes lots of different forms, and there are all sorts of different things you can do depending on how much time you have and what you want to do, from one-off activities to more regular projects, and even things you can do from home.
How do I get started?
There are plenty of ways to get involved with volunteering. Most universities or students' unions will have a dedicated volunteering team and this is a great place to start. They will likely have contacts in local organisations, and they will organise projects and activities throughout the year.
There are also some great regional and national organisations which promote all kinds of volunteering opportunities. These include Do-It, Team London, and Volunteering Matters, and your local Voluntary Service Centre will have details of things you can get involved with in your area.
We'll also be organising our own volunteering events for Chevening Scholars throughout the year, so keep an eye out for these in the Scholargram.
Whatever you do, remember to keep a record of your hours in our Volunteering Log.
When taking on any volunteering role, please remember to be mindful of the work restrictions on your visa.