All over the world, Britain is well known for having an abundance of incredible castles to transport people back through history. From traditional castles to some that are more… unique, our adventurous scholars have travelled both miles and centuries and now share with you five castles that truly took them back in time:
1. EDINBURGH CASTLE

Edinburgh Castle is the most famous of Scottish castles and has a history dating back to the 12th century.
Cecilia Chiphwanya (Malawi) and Kefen Budji (Cameroon)
'What a way to experience Edinburgh Castle with friends. The castle is breath-taking and the stories so outstanding. The most interesting experience was viewing the crown jewels and reading the story behind the history of it all.'
---
2. DUNNOTTAR CASTLE

Another Scottish entry, this cliff top fortress was once the home of one the most powerful families in Scotland. William Wallace, better known as Braveheart, captured the castle in 1297.
Frida Rica (Albania)
'This castle took me back in time then, and its pictures take me back in time now as it reminds me of travel, adventure, friendship, and all things that make my Chevening journey special. Our host in Aberdeen suggested that we go to visit, "the most beautiful castle in Scotland". We did and I believe it is one of the most magical places I have ever been.'
Analucía Bolaños (Guatemala)
'I have been able to visit many castles in Scotland and my favourite one so far has been Dunnottar Castle. I had previously seen many pictures of it and was really excited for my trip there. It took my breath away.
Although what you see are mostly ruins, standing in front of it and close to the edge of the cliff, you begin to think of how ancient Scots built it. As I stood there in wonder, I remembered Ed Sheeran's song, 'Castle on the Hill'.'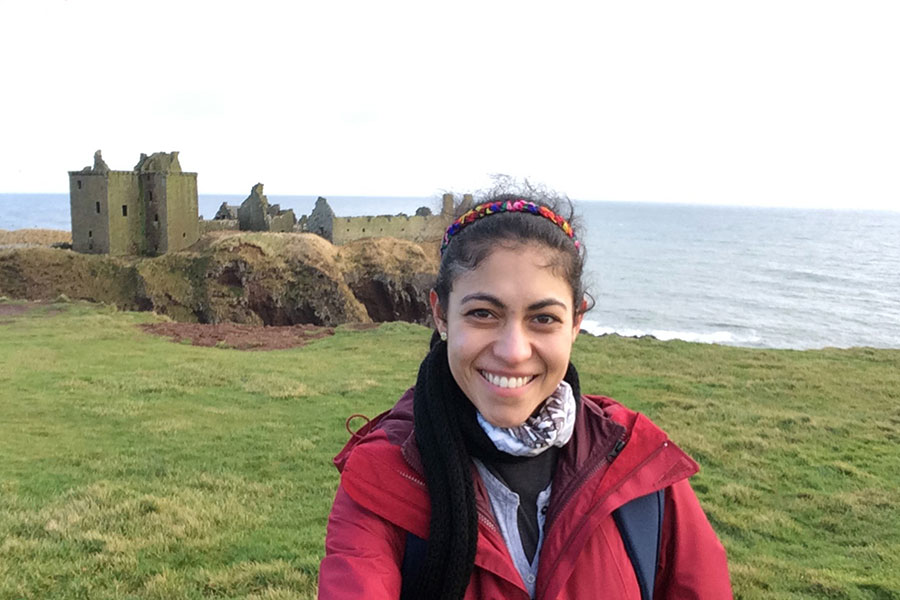 ---
3. BLAISE CASTLE

Standing at 250ft above sea level, Blaise Castle was built in 1766 for a grand old cost of £3,000. In recent years it has survived the threat of demolition but was saved – and is now conserved – by a local community group.
Abdellah Iraamane (Morocco)
'Have you heard the song 'Castle on the Hill' by Ed Sheeran? It's one of my favourites. I knew there was a real castle on a hill in Bristol, and during this year's Chevening Conference I set out to find it.
Using Google Maps, I climbed this hill for about an hour for the fascinating view at the top. Even more fascinating was the hundreds of years old Blaise Castle standing right at the top. Blaise Castle used to be a summer house. A summer house on top of a hill, because near the beach was too mainstream.'
---
​4. ST MAWES CASTLE

Built by King Henry VIII between 1539 and 1545 to defend against the threat of invasion from France and Spain, St Mawes Castle remains one of the most elaborate and best-preserved coastal fortresses of that era.
Laura Simonyan, Armenia
'Situated in Cornwall which I visited thanks to the Chevening event "Best of British Presents… Cornwall", we enjoyed the warmth of the sun and saw two historical Tudor castles built by Henry VIII; St Mawes and Pendennis. I liked St Mawes Castle more as, being smaller, it enjoyed a very picturesque view and a very strategic location and function. After the audio-guided tour I was inspired by the stories and by the breath-taking views of the Carrick Roads so wanted to fly back in time.'
---
5. ST FAGANS NATIONAL MUSEUM OF HISTORY

St Fagans is an open-air museum in Wales that showcases the Welsh history, lifestyle, culture, and architecture spanning centuries.
Abiola Ilupeju, Nigeria
'I was taken to St Fagans by my host through the HOST UK programme. The museum consists of more than 40 original buildings from all over Wales which show how the Welsh historically lived, worked, and spent their lives.
According to history, during the Iron Age, people lived in houses like this with roofs made of thatched materials, walls of stones and some (like this one) made from 'clom' – a mix of clay, stone and straw.'