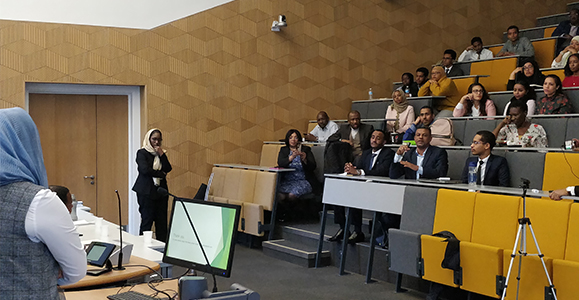 Every day, thousands of people around the world leave their countries in search of new opportunities. Some individuals will thrive in the diaspora but this prosperity is not always shared by the community as a whole. The success of diaspora communities largely depends on their systems of support, yet, too often, these support groups are guided by political agendas. This can create a barrier for youth engagement, resulting in a weakened and disconnected diaspora community.
As Chevening Scholars, we are committed to returning to, and developing, our communities. The creation of strong networks between scholars from our home country forms an essential part of that goal, but this is not always easy during our time in the UK. Depending on where you are studying, you might lose the opportunity to connect with diaspora groups who have similar interests to you, or who are working on similar projects. In light of these challenges, the 2017 Chevening Alumni cohort from Sudan came up with an idea: a conference to gather Sudanese Chevening Scholars to share some of their professional and academic research on Sudan with a wider audience. This audience would include the wider Sudanese diaspora community living in the UK, as well as members of the international community who might have an interest in the topics presented.
Following the success of these discussions, we had the idea to bring together recent Sudanese graduates from all UK universities to present their professional projects or dissertations, as long as they had direct relevance to Sudan.
This idea came to fruition on 3 November 2018, when four Chevening Alumni hosted a conference in partnership with Sudan Knowledge on the theme of 'Youth Leaders Exploring Challenges and Opportunities for Sudan'. Ten speakers, three of whom were Chevening Alumni presented on a variety of topics relating to challenges and opportunities facing Sudan across a range of sectors, including agriculture, development, entrepreneurship, education, microfinance, politics, and aviation.
The keynote speech was delivered by Faris Elnur, winner of one million Emirati Dirham from Arab Hope Makers in recognition of his work with street children, and other children who are not in school. The event was attended by around 50 Sudanese, including many young people, achieving one of our goals to increase the participation of youth in diaspora activities. In addition, several Sudanese professionals working for international organizations attended due to their current work on Sudan and their interest to learn more about issues facing the country. 
The Sudanese Graduate Conference is not a project but rather an idea that can be replicated, modified, and customised by anyone who wishes to facilitate collaboration between multidisciplinary experts with a passion for their community. The goal is not to find a single answer for your challenges, but start asking more challenging questions that strike at the root of the issue. It is this approach that will help you to create impactful opportunities and solutions for your community anywhere in the world, and even for other communities facing similar challenges.
As Chevening Alumni, we can play an important role in developing our communities by utilizing our skills and experiences. If there is no available platform for our ideas, passions, or professional discipline, then we should seize the initiative to create that platform ourselves.