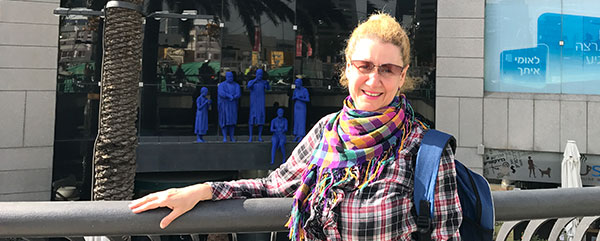 I am Elena Pruvli, a lecturer, consultant, public speaker, and trainer. During my Chevening Scholarship I studied for an MA in Communication at the University of Westminster in 1997/1998. My professional competency is intercultural communication and related fields.
In 2015 I achieved a PhD in Management from the Estonian Business School (EBS) in Estonia, where I'm originally from. My research topic was 'The Effectiveness of Intercultural Persuasive Communication in an Organisational Context: Influencing Factors.' Part of what I do now is to instruct speakers on how to construct effective persuasive messages in different cultural styles, depending on various settings.
In the last two decades I have undertaken training sessions worldwide for multinational companies, government officials, academic staff, entrepreneurs, and members of international organisations. I meet a lot of very interesting people from different paths and journeys of life. This enables me to see a multidimensional picture of reality instead of a shallow representation of it through the lens of a single culture. More importantly, when I contribute to developing diversity in different communities I can observe how specialists in a variety of areas benefit and find new perspectives in their activities.
Elena Pruvli at the Asian Art Festival 
My intercultural practical abilities are based on my own experiences: on the International Board of Directors of FIJET (World Federation of Travel Journalists and Writers), and as a business journalist, travel writer, and researcher. My learning process never stops and I share my time between Europe and Israel.
I see my main mission as bringing stress reduction and a more harmonious life to everyone through teaching, training, and coaching. As a result, people I work with improve efficacy in their work and become more productive in their professional activities. I always associate smooth and effective communication with wellbeing and have contributed to 'The World Book of Happiness' (2011, sent by the President of the European Council, Herman Van Rompuy, to the world's 200 most influential leaders) and 'The World Book of Love' (2013).
Whilst in Helsinki teaching intercultural communication and business behavior, I received a request from Chevening to contribute to their alumni blog, in connection with World Day for Cultural Diversity for Dialogue and Development. My work at the moment is intense and to unwind I usually relax in a traditional Finnish sauna (actually this appellation is unfair, identically it could be called an Estonian sauna). This includes jumping from its heat straight into the cold water and then returning to the hot steam again. While many people find it healthy and stimulating, the majority of those who are not used to the custom don't see jumping into the unknown waters of a new culture as challenging and refreshing. I see my mission as encouraging people to enjoy challenges like this, rather than feeling threatened and estranged. There are so many important tips and insights I can share. Here are few of the most important:
Be curious but not judgmental about other cultures: Embrace difference and learn more about it, compare other customs to your own but do this free of opinion on which is better or worse.
Learn from professionals:  Trust the people who are informed of other cultures and listen to their views, don't be influenced by clichés or negative stereotypes.
Concentrate on similar points (but don't ignore the differences): There are points of commonality across even the most disparate of cultures. Find what you have in common with other people and use these to form connections. However, remember to appreciate that gestures, body language, and customs may differ – don't be offended if someone doesn't do what you expect of them.
Finally, remember that harmonious diversity is a journey not a destination!