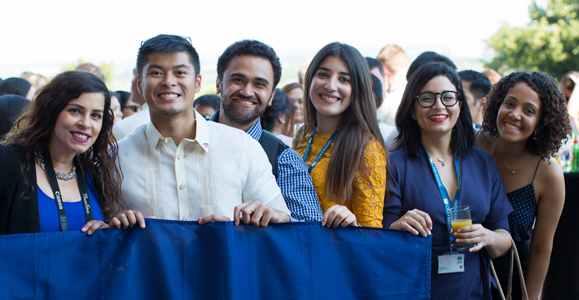 1,890 Chevening Scholars came together to celebrate a successful year as part of the programme on Wednesday, 5 July at London's historic Alexandra Palace.
It was a chance for scholars to say goodbye to one another, look back on a year of study and cultural activities in the UK, and also to open up new opportunities as the scholars become part of the global Chevening Alumni network.
They were joined on a beautiful sunny day by Chevening Alumni, representatives from partner organisations, and staff from the Foreign and Commonwealth Office (FCO), and the Chevening Secretariat.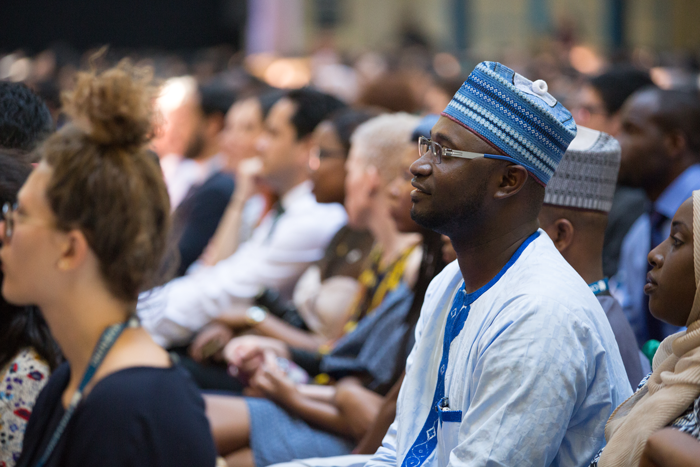 Presentations
Scholars were welcomed to Farewell 2017 by Helen Bower-Easton CBE, Director of Communication at the FCO. Previously the spokesperson for former Prime Minister David Cameron, Bower-Easton congratulated the class of 2016 on their achievements.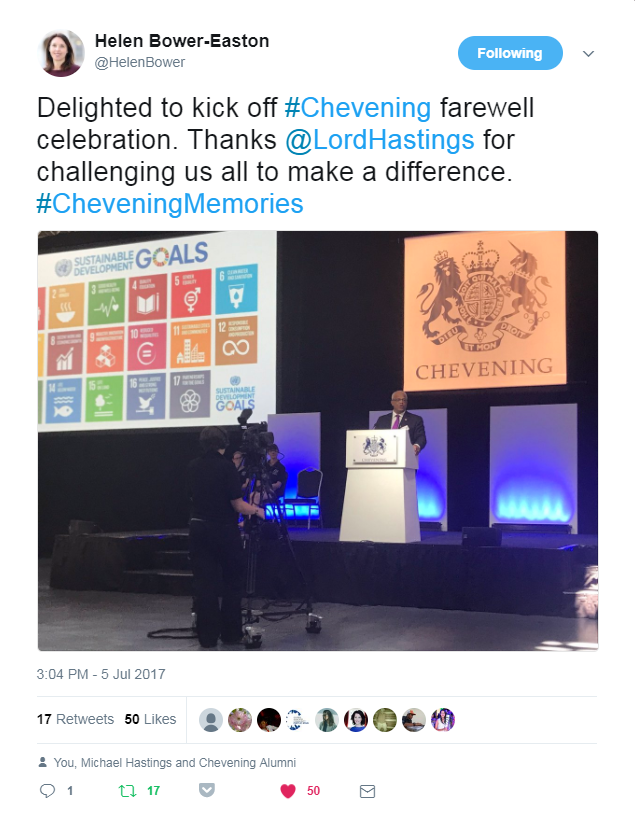 Scholars then received a video message from the Rt Hon Mark Field MP, appointed in June as the Minister of State for the FCO, who described Chevening as 'a truly global and diverse programme'.
He said that this was a year where scholars will have studied at 'some of our finest universities' and 'learned what Britain is about – our culture, our values, our institutions, and our way of life in the best possible way: through living, studying, and making lifelong friends here'.
Keynote speech
Farewell's keynote speech was delivered by Michael Hastings, Lord Hastings of Scarisbrick CBE, Global Head of Citizenship at KPMG. Lord Hastings based his speech on the United Nations' Sustainable Development Goals, setting a challenge to all assembled that each should find out and act on their life's purpose, and to use their position of privileged circumstance to help others.
Lord Hastings highlighted sustainable development goal number 17, to 'revitalise the global partnership for sustainable development'. Hastings said that this is represented by Chevening in the spirit of 'partnerships, relationships, coming together, and fighting for the future'.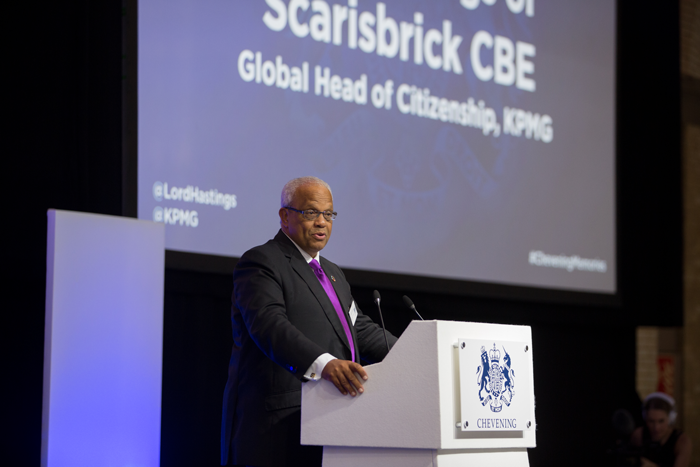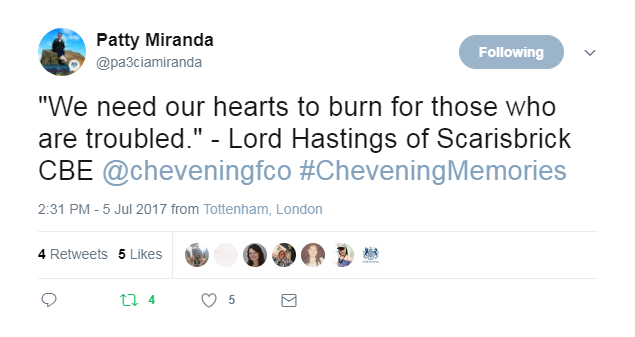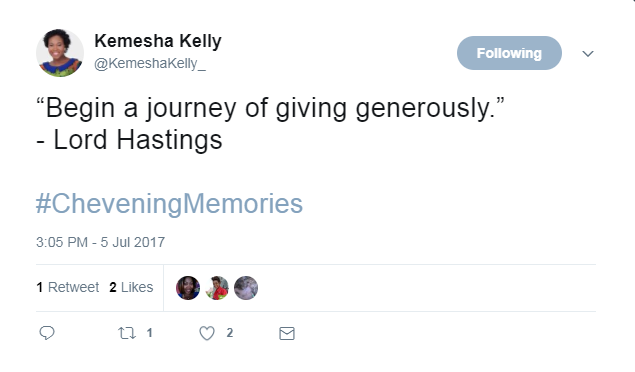 Scholar achievements
The Chevening programme team followed Lord Hastings with a presentation recognising and celebrating a variety of scholar achievements throughout the year.
The programme team awarded the prize for 'Social Media Ambassador of the Year 2016/2017' to Nicolette Bryan from Jamaica for showing dedication, a contagious spirit of adventure, and enthusiasm in documenting her life in the UK online throughout the year.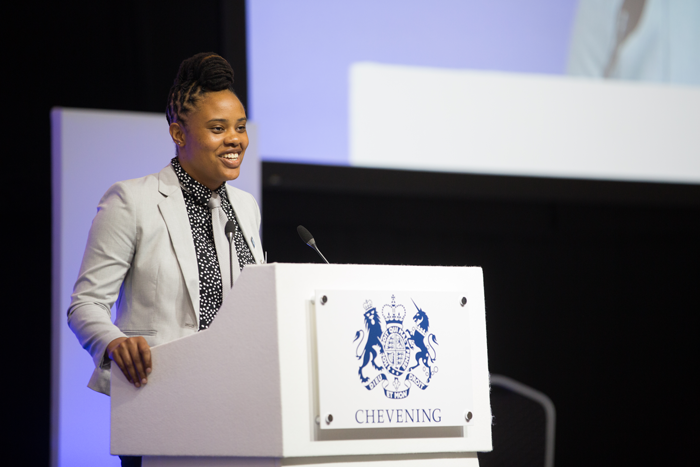 Nicolette is studying an MSc in Social and Public Policy at Cardiff University. She spoke about the huge number of events and volunteering opportunities that she had attended and taken part in, with her favourite being a trip to Stonehenge and Salisbury Cathedral, one of the Scholar Events Competition events.
Volunteering came next, with 144 scholars from the 2016/2017 cohort having contributed more than 3,000 hours of volunteering in the UK this year. The audience heard from the winner of Chevening's 'Volunteer of the Year Award', Kudzai Midzi from Zimbabwe, who is studying an MSc in Organisational Change at the University of Manchester.
Kudzai undertook more than 220 hours of volunteering this year. He set up the Tugwi Trust (UK) and organised Chevening Scholars from Manchester to sponsor a Zimbabwean child for a year.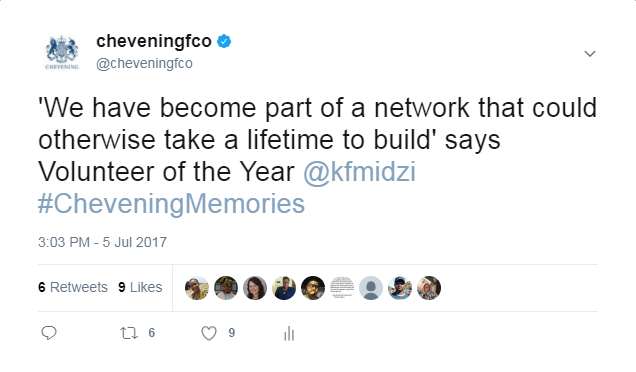 Chevening Alumni
Although Farewell 2017 marks the end of the year for the class of 2016, it also heralds scholars' entry into an exclusive and influential community. Chevening Alumni is a global group of over 48,000 leaders, influencers, and successful people.
Aba Quartey, Senior Alumni Relations Officer at the Chevening Secretariat, talked scholars through what they could expect when they become Chevening Alumni, with video messages from Chevening Officers at British embassies and high commissions in Bogota, Colombia, and Nairobi, Kenya.
Aba highlighted the opportunities available to alumni, including Chevening's online platform, Chevening Connect, which is now available as an app. She also spoke about the mentoring available to alumni through more experienced members of the community, a key part of being involved in this global group.
Cheveners then heard from Brazilian Chevening Alumnus Gui Silva. Gui studied at the University of Reading in 2000/2001 and is now Managing Director for Global Banking and Markets at HSBC. He spoke about how studying in the UK with a Chevening Scholarship has given him knowledge and strength that has helped him throughout his career.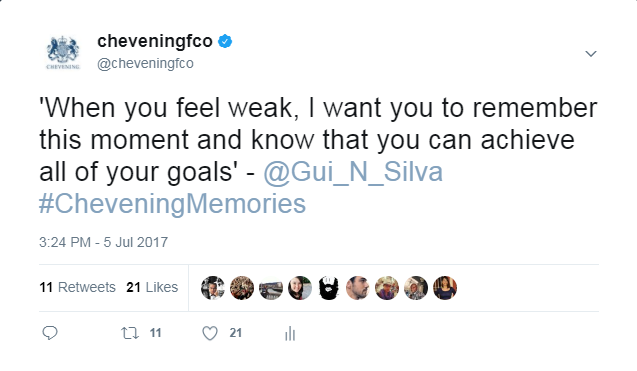 End of the #CheveningRelay and final remarks
The Chevening Scholar Relay started in November and has been taking place throughout the year, with the aim of encouraging scholars to collaborate, network, travel, be creative, and take collective responsibility for a common goal.
Scholars were set the challenge at the start of the year of taking the batons to 52 locations around the UK, receiving points for ticking places off the list. The blue baton won this challenge, gaining nine more points in the relay than the red baton.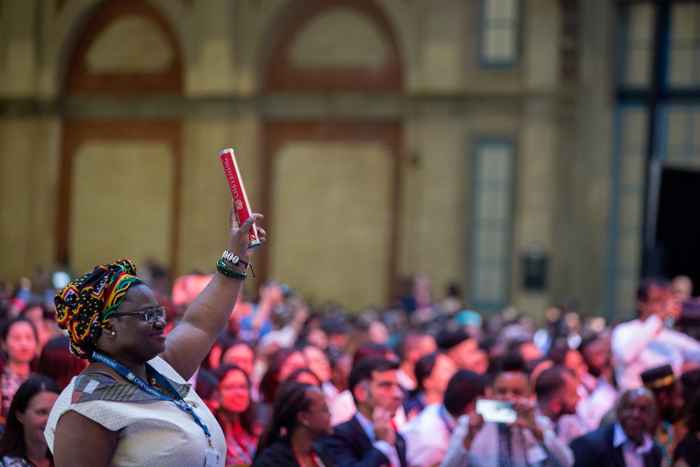 Rita Zaumu from Cameroon, Chevening Scholar at the University of Aberdeen and Jamshid Hashimi, an Afghan scholar at Bournemouth University returned the batons to the stage accompanied by the Chariots of Fire theme, officially ending the baton relay for 2016/2017.
Andrew McHallam, Head of the Scholarships Unit at the FCO, then delivered his closing remarks, congratulating scholars on their achievements and thanking Chevening Partners for their involvement in extending the reach of the programme.
The event finished with a networking reception on the terrace of Alexandra Palace, with spectacular views of London. Chevening Instagram boards and #IAmChevening were laid out for scholars to capture their final UK-based #CheveningMemories.