As a Chevening Alumnus, you are part of a 50,000 strong network of global leaders, influencers and change-makers. We often celebrate outstanding individual alumni who are leading in their country or sector, but today we'd like to introduce you to two alumni who have pooled their skills and talents together to make a positive change in Turkey. They are Ali Ercan Özgür (2003, Turkey) who studied Governance and Development Management at the University of Birmingham; and Güler Altınsoy (2008, Turkey), who studied the MSc in Development Studies at SOAS. We hope you'll be inspired by their story!
---
When did your partnership begin?
We met at Marmara University, in the Political Science and International Relations Department, before both going on to volunteer for the same NGO, Youth for Habitat. I (Ali) encouraged Güler to apply for Chevening!
During our work, we were always discussing creating a structure that brings development solutions to global needs and challenges.
In early 2010, Güler went to Iraq to work for Save the Children, and whilst she was there, she had the idea to establish an international development company. I led the establishment process and designed the strategy, and together we named our brand IDEMA, meaning International Development Management.
IDEMA is an enterprise that provides development solutions and fosters socio-economic development on our planet. It aims to establish ecosystems; develop social innovation projects; and provide a development perspective for public and private entities. IDEMA works on three main areas: Corporate social development, humanitarian development, and development finance.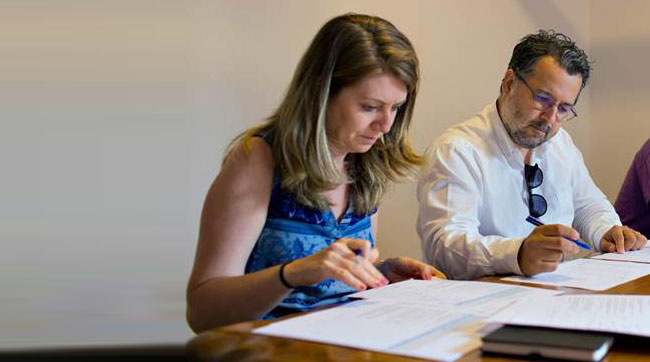 Amazing! What is IDEMA doing at the moment?
Today, IDEMA, is an official vendor for the World Bank and runs CSR projects for top firms such as Google, UPS, and the US Chamber of Commerce. We also implement humanitarian projects with many political organisations (such as the EU and UNICEF), and with many other partners. Recently, we created the first social innovation incubator in Turkey, a six-storey building where we also host an industrial test kitchen for a food entrepreneurship programme for refugees. Since launching IDEMA seven years ago, we have reached 50,000 beneficiaries and trained 2,000 institutions in a development perspective. 
You both studied development during your year in the UK. How did this go on to impact your work?
Our time in the UK was the cradle and the gateway to a broad perspective of development studies. The literature, online and library resources, scholars, and students we met were all selected and motivated development workers, who had come to the UK from diverse parts of the word. We had classmates from Ethiopia, Bolivia, Pakistan, India, the UK, Portugal, and from all other continents. The open and enriching environment of discussions, workshops of different country cases with diverse development problems, and focusing on solutions made us feel part of an international development community. Most importantly, this year gave us the experience to be courageous to take further responsibility for global development.
What else have you achieved?
Through IDEMA, we've experienced the importance of collective working, and shown how innovation and social problems can meet. With five other founders, we developed NeedsMap, an online platform that matches development needs in Turkey with donors who are able to meet those needs financially. Since it began, we've enabled more than 500,000 transactions in the basic maps data system, with a total value of over ten million pounds. By focusing on participatory and collective eco-system building (something we learned during our master's studies in UK), we were inspired us to focus on and find solutions to our local problems. With the help of technology, we hope to see this become a global solution!
What's next for you both?
We hope that our local solutions from Turkey can go global, something we believe is only possible through global partnerships. We're planning to establish the UK office for IDEMA in 2019, and launch our NeedsMap platform in the UK as its global site. We hope to connect with other Cheveners, do more business together, and develop collective solutions for global development challenges.
---
Thank you to Ali and Güler for taking the time to talk to us! If you have a Chevening partnership story that's worth sharing, email us at [email protected]