Chevening Scholars come from 140 countries, bringing local dishes with them to the UK from around the world.
We invited our current Cheveners to send in their favourite recipes from their home country. We put our Chevening chef's hat on and cooked five of our favourites!
Join Chevening on our food journey around the world, and why not make one of these at home for your friends or family?
Thanks to Manoj Paudel, Chevening Scholar from Nepal, for sending in this recipe.
---
Manoj says: 'It is believed that a few hundred years ago, Newari traders from Kathmandu, Nepal, travelled across Mustang to Tibet and brought this recipe to Nepal.
'Today, 'momo' is the most popular food that thousands of Nepalis and Nepal-lovers abroad eat. Although popular as fast food, cooking and eating momos at home is the most rewarding.
'Making 'momo's can be a great group bonding activity.'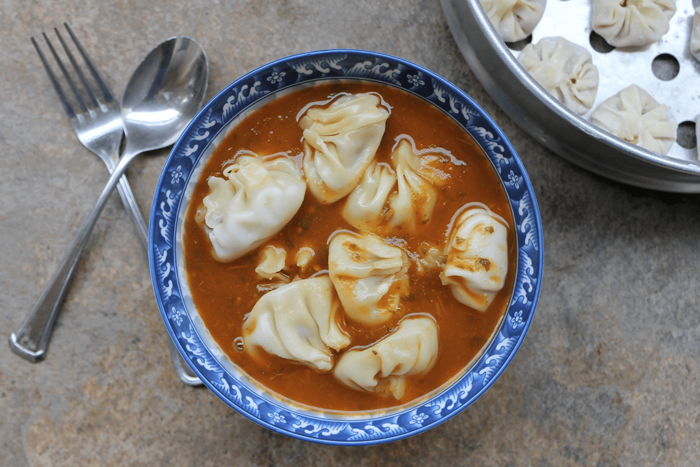 Programme officer Helen tried out this meal for us and said: 'The recipe was a little tricky. I had to improvise with a vegetable steamer in order to cook the dumplings but the results were delicious.
'It would be a great dish to impress your friends and share with them.'
Here's what Helen made. We can almost taste the tang!
Serves three to four
Ingredients
For the momo dumplings
1 packet gyoza wraps
0.75 lbs ground chicken
5 green onions, chopped (use both green and white part)
3 garlic cloves, minced
Bunch of coriander leaves, chopped
2 tablespoons of cumin
2 tablespoons of coriander powder
1 teaspoon red chilli powder
3-4 tablespoons hot water
Salt, to taste
For the soup
3 tomatoes, chopped
2 green onions, chopped
2 green chillis, chopped
2 garlic cloves, sliced
1/4 cup water
Scant 4-5 tablespoons tamarind water
4 coriander leaves, chopped
Salt, to taste
Instructions
For the 'momo' dumpling packing/wrapping
Mix together the chicken, onions, garlic cloves, coriander leaves, cumin, coriander powder, chilli powder, hot water and salt in a bowl.
Start your steamer and begin packing/wrapping your momos.
Hold the wrapper in one palm and fill with a tablespoon of the filling mixture.
With the other hand bring all edges together to the center while making pleats.
Pinch and twist the pleats to ensure that the stuffed dumpling (momo) is absolutely closed.
Arrange the prepared momo packs in a well-greased steamer basket.
Once the basket is full and the steamer is ready, steam it for about 12 to 15 minutes. The dough usually puffs up with a nice gloss.
For the soup
Heat a pan, pour in a tablespoon of sunflower oil. Add two dry chillies for spice.
Put the first five ingredients (tomatoes, green onions, chillis, garlic, and water) into the pan and cook on a low to medium heat.
Cook for about 15 minutes, stirring occasionally. Remove from the heat and let it cool.
Put the remaining ingredients (cilantro and tamarind water) in the blender and blend until they are smooth.
Mix in the tomatoes and the tamarind water mix.
Pour the soup into a bowl, add steaming hot dumplings and enjoy the delicious momos with wholesome and tangy soup together with your friends.
 
Polaroid image by lured2stock