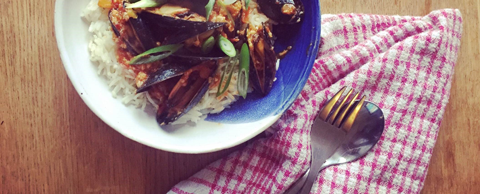 Chevening Scholars come from 140 countries, bringing local dishes with them to the UK from around the world.
We invited our current Cheveners to send in their favourite recipes from their home country. We put our Chevening chef's hat on and cooked five of our favourites!
Join Chevening on our food journey around the world, and why not make one of these at home for your friends or family?
Thanks to Agustina Kadaristiana, Chevening Scholar from Indonesia, for sending in this recipe.
---
Agustina says: 'Kerang saos padang is one of my favourite seafood dishes from Indonesian street food. The combination of spicy, fresh, and sweet tastes make this food a really popular choice for dinner.
'As a student, I often miss food from my home country. So, I tried to make it in London and, surprisingly, the ingredients are very affordable and easy to find in any supermarket.'
Chevening Programme Officer Noeme tried out the dish at home and said: 'It took some effort to find clams for the recipe. So, I substituted clams for mussels, which worked well in terms of seafood options for this dish.
'I cooked the dish for me, my housemates and some other friends. The consensus was that this dish was fantastic – everyone asked for the recipe and it's now on our fridge door.
'Super tasty, quick and simple!'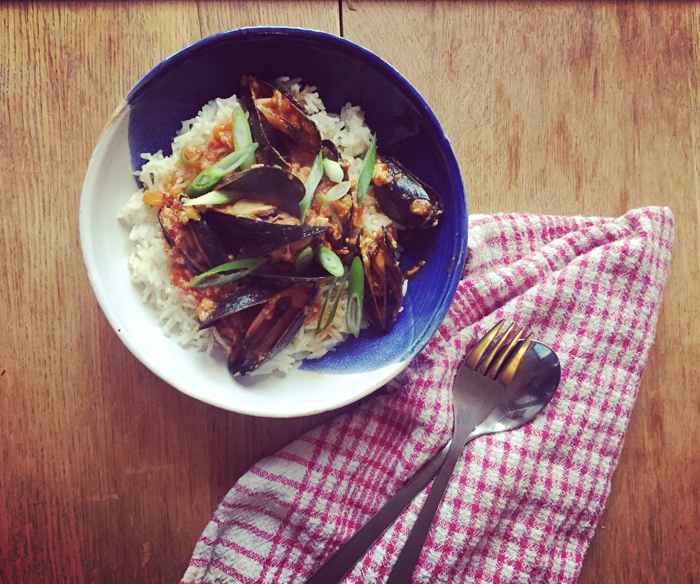 Serves two generously, or four appetiser portions.
Ingredients:
200g clams, cleaned with running water. Check that the shells are still undamaged and tightly shut just before cooking commences.
3 tomatoes, cut into small pieces
Half teaspoon of vegetable stock dissolved in 100ml water
1 egg, lightly whisked
1 large shallot
Half teaspoon of ginger powder
1 tablespoon of oyster sauce
Half teaspoon of fish sauce
Olive oil for stir-frying
1 green onion to garnish
3 cloves of garlic
3 red bird's-eye chilli peppers
1 tablespoon tomato puree
Salt and sugar to taste
Method:
Grind the garlic cloves and bird's-eye chilli peppers together.
Heat the olive oil in a pan and stir fry the ground spices until the aroma arises.
Add the diced tomatoes and cook until they soften.
Add tomato puree, vegetable stock water, oyster sauce, fish sauce, ginger powder, salt, and sugar.
Add clams and cook for these for three to four minutes, until the shells open. Any clams that don't open during the cooking process should be discarded.
Stir in and cook the whisked egg.
Garnish the dish with green onion and serve with rice.
Polaroid image by lured2stock