Chevening Scholars come from 140 countries, bringing local dishes with them to the UK from around the world.
We invited our current Cheveners to send in their favourite recipes from their home country. We put our Chevening chef's hat on and cooked five of our favourites!
Join Chevening on our food journey around the world, and why not make one of these at home for your friends or family?
Thanks to Sharon Orero, Chevening Scholar from Kenya, for sending in this recipe.
---
Sharon says: 'This is a simple meal for dinner or lunch that serves two to three people.'
Chevening Programme Officer Sam made this meal at home and said: 'The ingredients were easy to obtain, the dish was easy to make. It was filling and tasty.
'I didn't know what was meant by 'boiled beans' so I went with chickpeas.'
Here's what Sam made: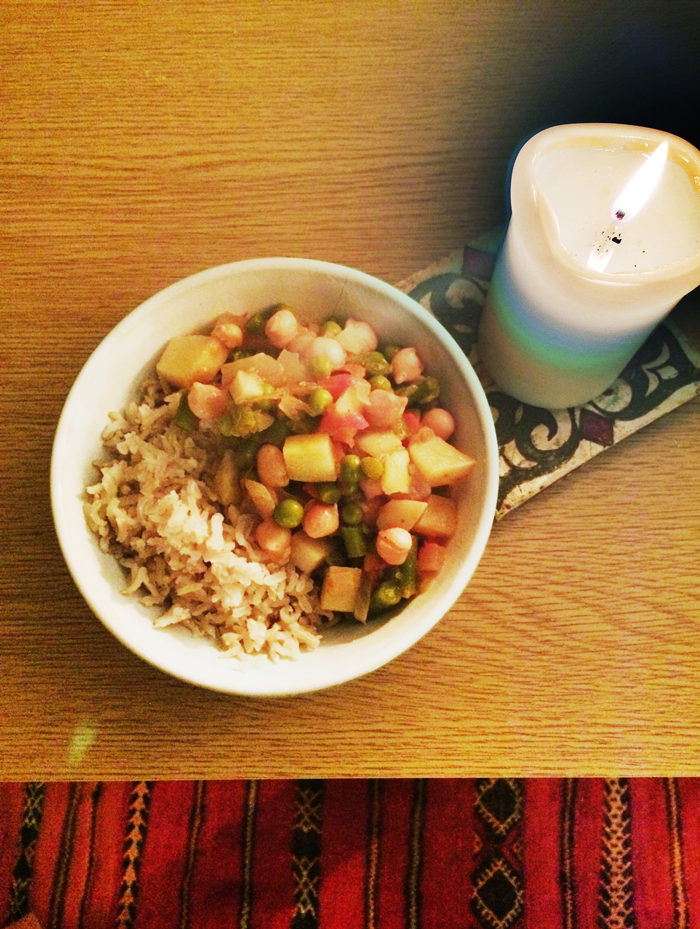 Serves three to four
Ingredients
1 cup boiled beans
Half cup green peas
Half cup French beans, topped, tailed, and chopped
Half carrot, sliced
Half cup diced potatoes
1 green capsicum pepper, chopped
Bunch of coriander, chopped
Half teaspoon garlic paste
Half teaspoon ginger paste
1 teaspoon salt
Half cup water
3 tablespoons oil
1 medium onion, finely chopped
2 medium tomatoes, finely chopped
1 teaspoon red chilli powder (optional)
Instructions
Heat the oil in a pan, add the onions and fry them until lightly golden.
Stir in the ginger and garlic pastes, followed by the capsicum pepper and chopped tomatoes. Sprinkle on the salt, cook for a few minutes until the tomatoes soften and forms a paste.
Add the potatoes, peas, and French beans. Stir fry until everything is well combined. Let the mixture simmer but do not cover the pan.
Add half the water and allow it to steam until the potatoes are soft.
Add the beans and the chopped coriander.
Add the remaining water and let it simmer over a very low heat to form a thick sauce.
Serve with rice or chapatti.
Enjoy!