Andrea San Gil is an environmental engineer and sustainability expert from San José, Costa Rica, who is passionate about cities. She is the founder of the Centre for Urban Sustainability, a non-profit organisation that seeks to improve quality of life for people living in cities in developing counties. Andrea was recently appointed as Advisor to Costa Rica's First Lady on issues of urban mobility and sustainable transport.
When you think about Costa Rica, or if you Google my country's name, you will probably come across beautiful images of our rainforest, beaches, waterfalls, and wildlife. For years, most of our sustainability efforts have been focused on the conservation of these precious natural resources. I was initially motivated to study environmental engineering because I wanted to acquire the necessary tools to prevent, manage, and mitigate potential negative impacts on our natural ecosystems. I could not have predicted back then that, years later, I would end up focusing on sustainability, and quality of life, in our urban ecosystems instead.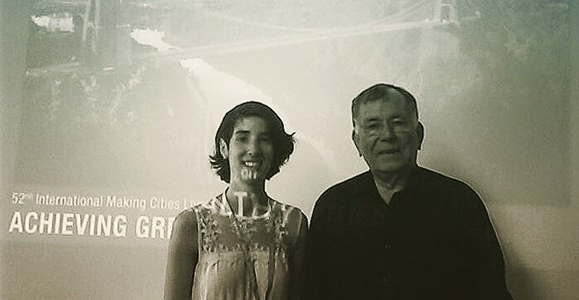 Protecting urban ecosystems
Why focus on cities? First, because this is where most of the world's population actually live. In Costa Rica, almost 80% of our total population live in urban areas. Cities are where 75% of the world's resources, such as food, water, and energy, are consumed, and, consequently, this is where most of our environmental impact and degradation is concentrated. Seventy percent of the world's greenhouse gas emissions, which come from waste, fossil fuel consumption, and chemical use, are generated in cities. After working in climate change for several years, I realized that cities were the best place to focus if I wanted to contribute to improving the future prospects of my country and the wider world. I also came to realise that, in pursuit of true sustainability, our work would need to go beyond 'green' initiatives and conservation, to find a workable balance between social well-being, environmental quality, and economic development, especially in the context of cities.
An international perspective
I was lucky to be awarded a Chevening Scholarship to complete an MSc Sustainability, Planning and Environmental Policy at Cardiff University in 2014. I wanted to learn more about how to develop sustainable cities, and I felt that the UK was an excellent point of reference, as well as a great link to other European cities that I hoped to learn from. My master's programme covered the main urban sustainability challenges in Costa Rica, such as sustainable transport, land use planning, and urban regeneration. Studying in the UK meant that any topic of interest, missing from my own programme, could easily be explored elsewhere, in conferences, courses, or lectures that were constantly being held in my own university, and in other universities around the country. It was an amazing opportunity to have this exposure to eye-opening discussions, innovative ideas, and cutting-edge research about urban planning and sustainability. Perhaps even more inspiring was the ability to connect with the people behind these exciting ideas, allowing me to develop friendships, projects, and professional collaborations that are ongoing, years later.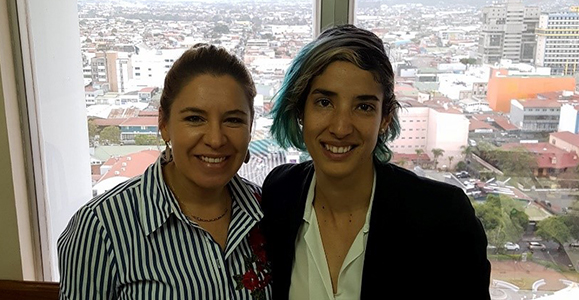 Shaping policy
During the time I spent in the UK, I incubated and strengthened my ideas for the Centre for Urban Sustainability (CPSU), a non-profit organisation that I had founded before leaving for my master's. The organisation was officially launched upon my return to Costa Rica, and many of the projects we developed, the subjects we introduced in policy discussions, and the knowledge we applied, were inspired by what I had seen and learned during my Chevening year, both inside and outside of the classroom.
Recently I left my position as Director of CPSU, and started work as an Advisor in the First Lady's Office in Costa Rica, supporting projects and policies linked to sustainable transport, mobility, and sustainable urban planning. In this new position, I continue in my mission to work towards transforming Costa Rica's cities into places that are safe, just, equal, enjoyable, clean, dense, vibrant, and that provide a better quality of life to all who inhabit, work, study, or visit there.