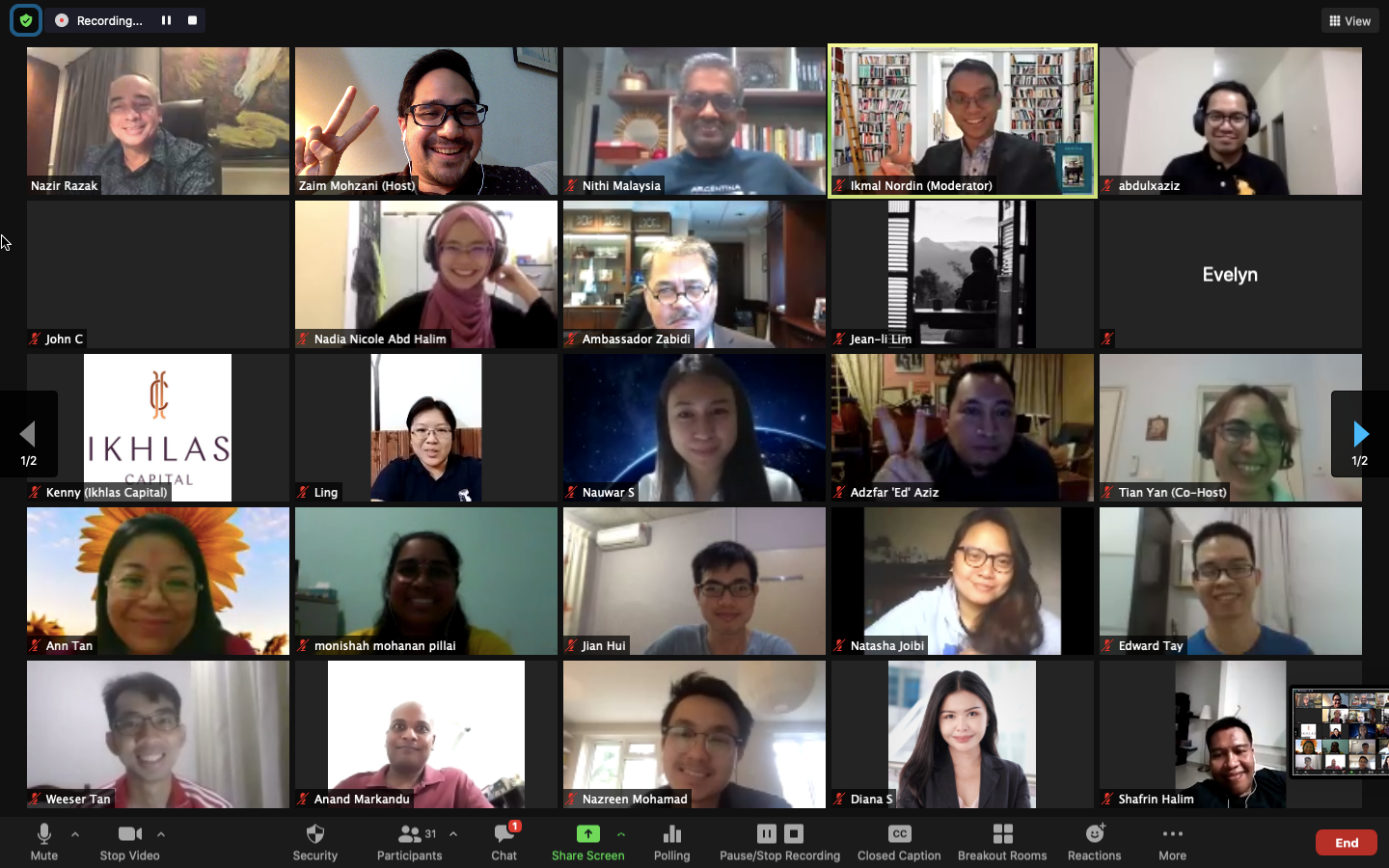 Akil Yunus, 2017 Chevener from Malaysia, shares his experience as a member of the Chevening Alumni Malaysia association and how the CAMaraderie concept came to life.
I attended my first Chevening Alumni event just three days after returning from the UK in October 2018. It was a public forum to discuss Malaysia's political and economic trajectory, as well as the future of youth in science and technology. In every sense, the forum embodied the aspirations of Chevening Alumni Malaysia (CAM) – to serve as a platform for emerging leaders to drive social impact and contribute directly to nation-building.
Fresh off a deeply enriching master's degree in International Relations (Terrorism and Political Violence) from the University of Birmingham, I was eager to apply my knowledge and experience to give back to the society. I realised the best way to do that was through CAM. I was proud to find out that the association gained recognition for developing a capacity-building manual to assist alumni groups worldwide.
Fast forward to today, I am CAM's Vice-President and part of a vibrant team of leaders who are passionate about effecting change. Despite our different fields and demanding careers, we share a desire to amplify the role of the Chevening network in grooming future leaders and addressing complex issues.
One of those areas is unquestionably the promotion of human rights and democracy, which has come under renewed threat following the COVID-19 pandemic. Malaysia was not spared in experiencing increased social and economic polarisation as a result of the virus, which ultimately gave rise to hate speech, xenophobia, and discrimination against certain races and religions.
With this in mind, CAM felt it was timely and relevant to have an interfaith dialogue that would further dissect the problem of societal division amidst the pandemic. Featuring a prominent religious leader, politician and an academic as panellists, the primary aim of the dialogue was to further the role of faith-based organisations and religious leaders. The event was meant to promote shared values and a common identity, which are essential characteristics for a cohesive society. The session also served as a vital platform for Malaysians to constructively discuss sensitive topics like freedom of religion and expression.
Although originally planned as a physical event, we found that resorting to a virtual format, due to lockdown restrictions, had its own advantages. The session was broadcast live on CAM's Facebook page and attracted plenty of feedback and questions from the audience, which consisted largely of fellow alumni. What was quite remarkable was that audience interaction with the 90-minute dialogue stretched on for days after the event was over, eventually reaching a total of more than 10,000 people and directly engaging 1,100 Facebook users.
We were pleasantly surprised to see that the event was also popular among an extensive number of stakeholders that included social activists, faith-based entities, and grassroots politicians. We were pleased to have a former Cabinet Minister as one of our speakers, and this was certainly a pull factor.
At the end of the day, perhaps the biggest takeaway from the session was that it provoked an honest yet respectful conversation about controversial issues that most Malaysians have long shied away from. And it is not far-fetched to suggest that this is attributed to the 'Chevening factor' and CAM's own DNA – to push the envelope of social discourse while simultaneously benefiting our 1,700-strong alumni network.
Under the leadership of its current President Zaim Mohzani, 2019 Chevening Alumnus, CAM aims to spend the next year further expanding its alumni engagement and outreach, both regionally and globally.
For instance, our association and Chevening Alumni of the Philippines are spearheading the revival of the ASEAN Network of Chevening Alumni (ANCA) that was initially conceived in 2015. We have also discussed collaboration with alumni chapters from Mexico and Colombia, with plans to organise a webinar together later this year. 
Meanwhile, CAM recently launched the Chevening Leadership Series (CLS) exclusively for alumni – one-hour fireside chats (virtual for now) with distinguished leaders on pertinent topics like healthcare, institutional reform, and the economy. In the future, CAM intends to continue exploring projects along similar themes as before – those that directly complement our efforts to build a strong network of leaders for a deservedly better nation.
I won't lie. Being a part of CAM has at times felt like a full-time job. But it also ensures that the thrill and excitement of being a Chevening scholar never quite goes away!