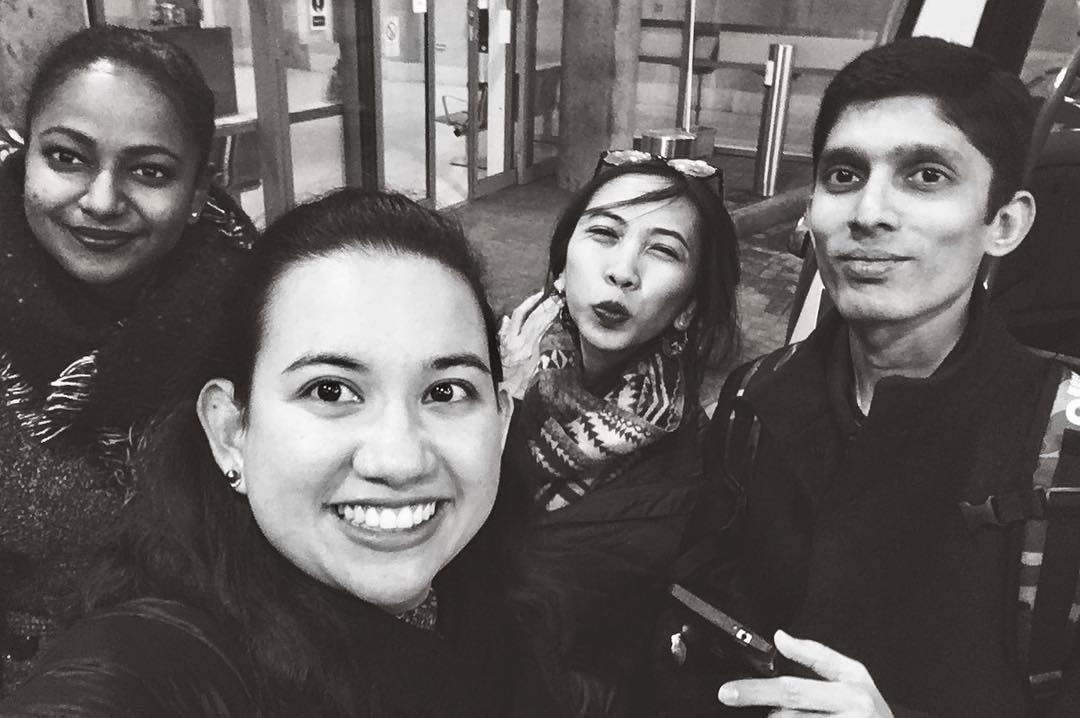 On Thursday, 26 January, Chevening Scholars flocked to the historic Queen Margaret Union building in the University of Glasgow to celebrate the life and poetry of the Scottish poet Robert Burns. Burns Night or, as the Scots call it, Rabbie Burns Nicht, has always been a festive occasion. This event usually involves a formal toast and a reading of selected poems by Burns, followed by a sumptuous spread of haggis, neeps and tatties (mashed up turnip and potato), and cèilidh dancing.
The Burns Night dinner and cèilidh organized by the Chevening Secretariat gave us an unparalleled opportunity to deepen existing friendships and create new connections through our shared experience of uniquely Scottish arts and culture. It was a night of many 'firsts' for me and the Cheveners who attended.
The evening started out with a meet-up at the Edinburgh bus station for our quick trip to Glasgow. It was Chevening Scholar Zuhail Thatey's first time to visit the city and he looked forward to the journey, particularly riding the subway. Zuhail, who studies MSc Ecosystem Services at the University of Edinburgh, volunteered to be my default dance partner for the evening. We later twirled across the dance floor through sets of the Highland Reel, Strip the Willow, and Dashing White Sergeant.    
Upon arrival, we were welcomed by a bagpiper playing traditional Scottish folk tunes and songs by Burns. It was such a sight to see that we couldn't help but take a spontaneous snap beside him. 
The evening began with a welcome speech from Professor John Briggs, Clerk of Senate and Vice Principal of the University of Glasgow. Professor Briggs gave a brief introduction about the university and Burn's impact on Scotland and the world. He was followed by Professor Duncan Ross, Dean of Graduate Studies and Senior Lecturer on Economic and Social History, who read a selection of Burns' most famous poems and talked about the timeless appeal of poetry, 'about humanity and who we are'. Wassem Alward who studies MSc Petroleum Engineering at Heriot-Watt University said, 'it sounded nice even if (he) did not understand most of it'. It was his first time to listen to Scottish poetry. He added that 'it feels amazing to experience the cultural aspects of Scotland' and found his Burns Night dinner 'incredible'.
After the introductions, Cheveners helped themselves to generous servings of haggis, neeps, and tatties smothered in white peppercorn sauce. Neeps are diced turnips, although rutabaga may also be used, while tatties are mashed potatoes. Haggis is a beloved Scottish pudding made out of sheep offal, onion, oatmeal, and savory spices. While it may not sound appealing initially, especially for those who find offal an acquired taste, one brave bite is all it takes to appreciate the creamy texture and distinctly nutty flavor of haggis. I personally enjoy haggis and have cooked it several times over the holiday season – my version is haggis baked in foil, so that the outside is slightly crispy, and served with a splash of scotch bonnet whisky sauce for that fiery kick. I even served haggis to visiting Filipino Cheveners during Hogmanay, or the Scottish New Year festival, and many of them brought some haggis back to London. The consensus is that haggis reminded us of a well-loved Filipino dish called sisig, which is stir-fried pig face and offal mince, mayonnaise, onions, and chili peppers.