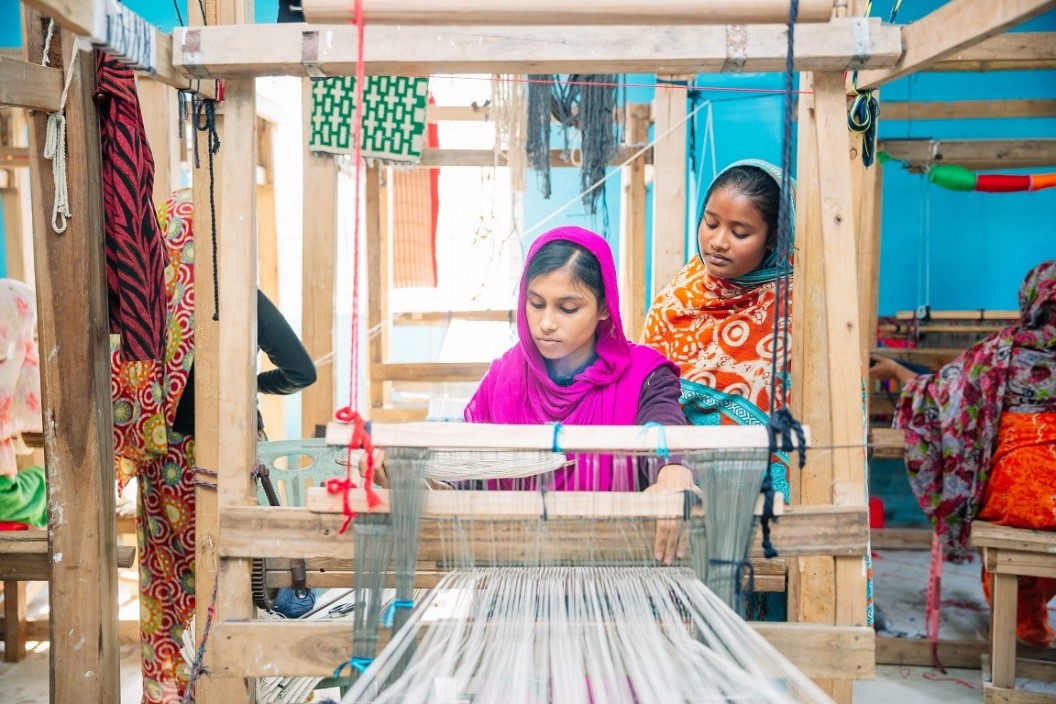 Mashiat Mahbub Chowdhury and Sayan Muhammad Rafi, two Chevening alumni from Bangladesh, are now making an impact in the development sector of their home country. Either by providing mechanization for agricultural activities or improving women's knowledge and abilities in business, their work empowers rural Bangladeshi communities to come out of poverty and challenge social and cultural norms.
Graduating in 2020 and 2019 respectively, both Mashiat and Sayan work for International Development Enterprise (iDE), aiming to support the people of Bangladesh become the entrepreneurs of tomorrow.
With her MA in Governance, Development and Public Policy from the Institute of Development Studies (IDS) and previous experience in the agriculture field, Mashiat took her career forward with the Cereal Systems Initiatives for South Asia – Mechanization Extension Activity, CSISA-MEA project at iDE Bangladesh. The project's goal is to further the mechanization of agriculture in Bangladesh.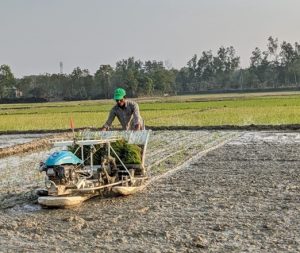 It focuses on developing the capacity and expanding the businesses of machinery service providers who offer their solutions to small farmers; as well as micro, small, and medium-sized enterprises (MSMEs) engaged in the agriculture machinery market. Thus, improving food security and rural livelihood. The COVID-19 pandemic struck in the middle of Mashiat's work, making impact harder to assess and support more difficult to give to farmers and enterprises. Although Bangladesh faced several lockdowns due to the pandemic, along with social distancing rules, her project was able to assess that over 40K farmers purchased mechanized services from over 1.5K providers. Women and other minority communities' farmers make up a majority of the world's small farmers – out of the 40K farmers impacted by CSISA-MEA (meaning receiving support for automated agriculture), 13% were women. The project also supported enterprises with the preparation of their business plans, along with gaining better access to raw materials and finances.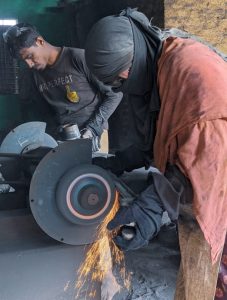 Aiming to build up the Bangladeshi rural society by empowering them to take charge of their own future, the work Mashiat does through the CSISA-MEA project intertwines with Sayan's efforts in supporting women through economic and business support.
When selected for the Chevening award in 2018, Sayan was already working in the development sector. After pursuing an MSc degree in Management with Business Strategy and the Environment at Birkbeck, University of London, he continued his work at the same organisation, maximising its impact through his Chevening learnings.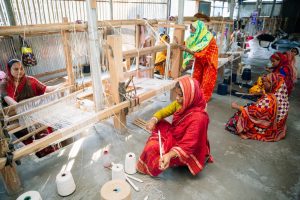 WEESMS, the Women's Economic Empowerment through Strengthening Market Systems project, came to life from a strong need of support for rural women to be an active part of their local economic community. Faced with endless household chores, along with the cultural belief that going to the markets is a man's job, women find it difficult or nearly impossible to create and sustain economic stability. The idea of Women SMEs- women-led/owned and women-oriented Small and Medium Enterprises was born out of the need for access to products, services and markets, without depending on male family members. Women SMEs would act as agents of change, providing home-based employment opportunities for scores of underprivileged women in their communities, while generating a source of income for themselves. Through WEESMS, several advocacy and social policy activities took place, along with financial services support, market engagement and entrepreneurship training.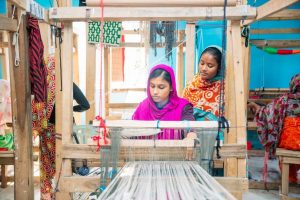 Started in 2016, this project implemented by Sayan's team, saw great success 5 years running. Not only over 2,500 workers had their market-oriented skills developed, but also almost 10,000 people were reached through gender advocacy activities, promoting a more equal distribution of unpaid household work between men and women. The impact studies also showed that 60 factories implemented better work practices, creating decent conditions for female workers.
Either part of the agriculture or business sectors, people impacted by the work Mashiat and Sayan perform in Bangladesh are given the opportunity to build their way out of poverty through entrepreneurship empowerment.