In the heart of Edinburgh, amidst its iconic historical structures, statues, and signature hilly backdrops, stands a uniquely modern building.
This fine work of architecture is the Scottish Parliament. Commissioned through an international design competition in 1999 and completed in 2004, this building is a manifestation of Scottish identity that reveals abstract expressions of icons at all levels.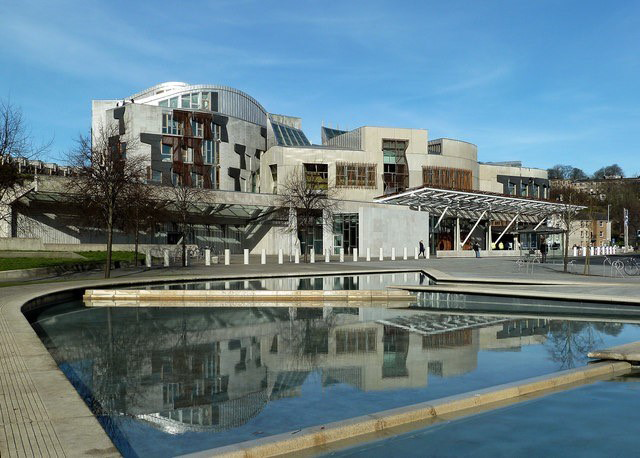 Scottish Parliament Frontage and adjacent water feature (Photograph by Mary and Angus Hogg, CC BY-SA 2.0)
The richness of the architect's vision shines through from its overall plan and form to every minute detail in structure and finishes. The lightness and openness of this structure gives its occupants a warm and welcoming feeling, unlike some of the majestic but cold ancient structures that make their towering presence felt at all times.
It would take more than a day and a thousand pictures to capture all the nuances that make the Scottish Parliament the rich experience that it is. The landscape incorporates traditional Scottish knot gardens and, interestingly, there is also a zone where bees are housed within the Members' Garden. The beeswax produced onsite has been used to fill the Great Seal of Scotland and seal every act of the Scottish Parliament since its inception!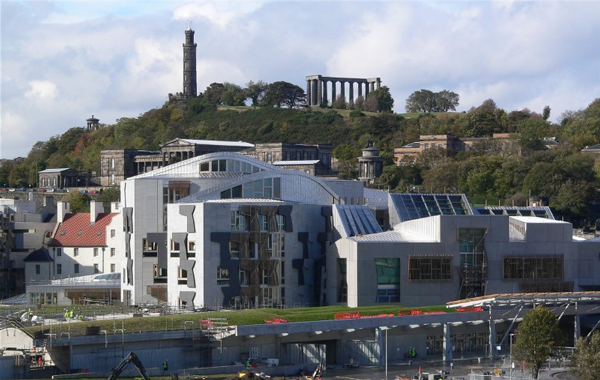 The Scottish Parliament Building and Calton Hill  from Salisbury Crags (Photograph by Lee Kindness, CC BY 2.5)
Unfortunately, with the exception of the debating hall, no photography was permitted inside. A guided tour of this place with fellow Chevening Scholars was an exhilarating experience. 
Armed with fresh knowledge about the formation of the Scottish Parliament and the powers it holds, we moved to the University of Edinburgh, where Dr. Alan Convery enlightened us with more on Scottish identity. Here, we learnt about the declaration of Arbroath (1320), the act of Union (1707), and the White paper on Scottish Independence (2014).
We learned that what sets Scotland apart from other countries in the British Empire is that the union was one of independent states via treaty rather than conquest. It was beneficial on economic, military, and religious grounds, and it also allowed the preservation of distinct Scottish institutions, especially universities. This resulted in the foraging of a new 'Britishness' and opened new trade opportunities. The people of Scotland retain a duality of identity, with a majority identifying as both Scottish and British.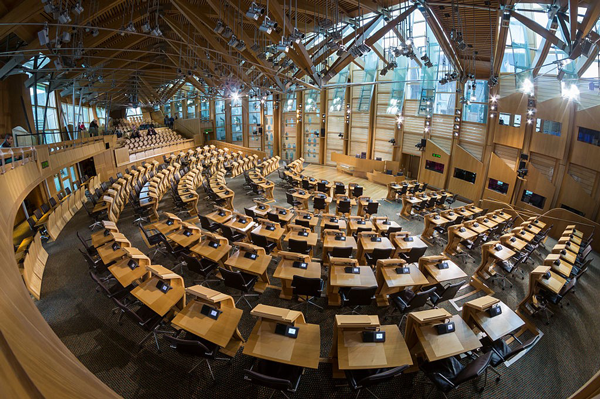 The debating chamber with a hemicycle seating arrangement (User:Colin / Wikimedia Commons, CC BY-SA 4.0)
The evening ended with a fun workshop on the Gaelic language with Professor Wilson McLeod. Once the dominant language in Scotland, it is now spoken by only 1.1% of the population.
We were introduced to the linguistic characteristics and grammatical structures of Gaelic, and also got to learn a few words and phrases. I personally struggled with pronouncing the sounds but found it an enjoyable experience even so!
Tapadh leibh (thank you)!