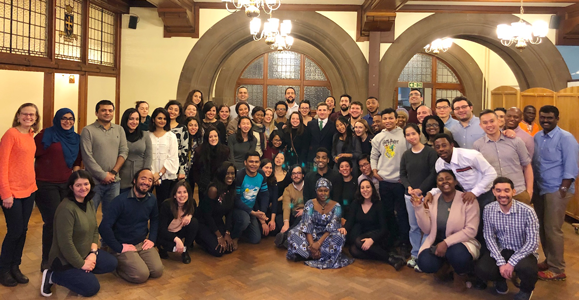 Best of British Presents: Burns Night Ceilidh and Future Glasgow Scavenger Hunt
On January 25, Scotland and the United Kingdom celebrates the poet Robert Burns. More than 70 Chevening Scholars from all around the UK gathered at the University of Glasgow for an introduction to Scottish culture: Robert Burns' poem, haggis, and a fun evening of ceilidh dancing.
Arriving at the University of Glasgow on January 21, we could hear the iconic sounds of the bagpipe welcoming us.
Robert Burns, a famous Scottish poet
Famous 18th century Scottish poet Robert Burns' life and birthday is celebrated every year on January 25. It was with great enthusiasm that we were keen to learn more about Robert Burns and experienced our first traditional Burns supper. 
We were welcomed by Dr Duncan Ross from the University of Glasgow, who after introducing Robert Burns as a man of letters but also love, performed the reading of one of Burns' famous poem: 'Address to a haggis'.
Continuing our exploration of Scottish culture, we were to taste haggis, tatties (potatoes) and neeps (turnips). Known as the national Scottish dish, haggis is made of sheep's pluck (lungs, heart, liver) minced with suet, oatmeal and seasoning. A vegetarian option was also available and although some Cheveners were a little reluctant to try it, others found it tasty and finished their plate with a satisfied expression on their faces.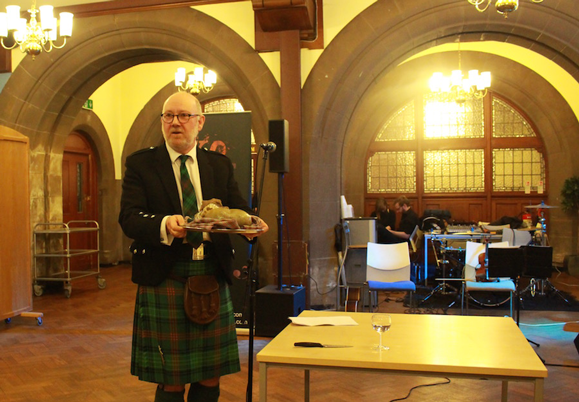 Ready to dance?
Following the performance of Dr Duncan Ross, we were invited to the dance floor for the ceilidh. From its Gaelic origins, a ceilidh means 'gathering' or 'party' and for us it was a memorable event as part of our Chevening journey. In pairs or in groups we were taught different Scottish dance routines, starting with the easiest one and practiced until we could somewhat master them. It was unquestionably a lot of fun!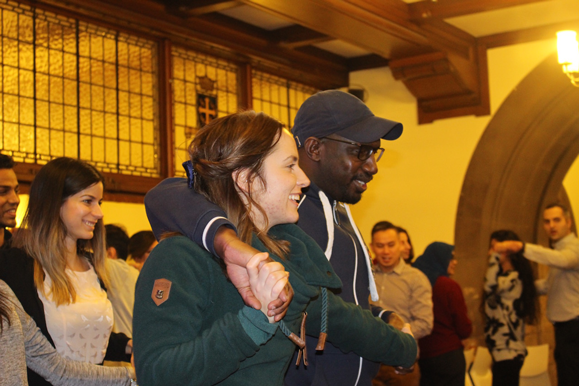 Future Glasgow scavenger hunt
On day two of the Best of British Presents event we headed to the Technology & Innovation Centre at the University of Strathclyde. After being briefed about the activity of the day, about 15 Chevening Scholars were out and about in the city of Glasgow.
Divided into groups of three, our mission was to find some of Glasgow's iconic places while answering questions and completing challenges along the way.
After the hunt, which lasted about 1 hour and 30 minutes, Dr Robert Rogerson – Deputy Director of the Institute for future cities at the University of Strathclyde, presented the history of the city of Glasgow along with the major steps the city undertook to become the vibrant city that it is today!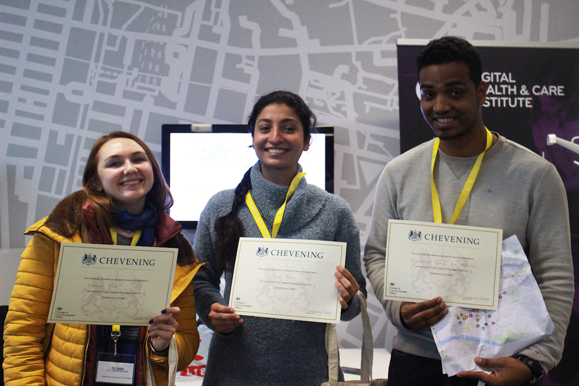 After two days of learning, laughter, dancing, and teamwork, we left Glasgow with smiles on our faces, our mind filled with pleasant memories and our feets still tapping to the music, ready to dance our way through our Chevening journey.