April started off on a high.
It's hard to believe it has been seven months since I packed up my life in two weeks, left the digital and broadcast industry in Kuala Lumpur, Malaysia, and moved to London to pursue an MA in Multimedia Journalism at the University of Westminster.
As staff from the Foreign & Commonwealth Office have forewarned at welcome events: the year will fly by — and it certainly has.
The month predominantly played host to some of my most memorable events in the UK and here were the highlights:
Freedom of Religion & Belief programme at Cumberland Lodge
I was one of the 25 Chevening Scholars selected for the first ever Cumberland Lodge Freedom of Religion and Belief programme (FoRB), a new initiative between Cumberland Lodge, Chevening, and the Commonwealth Scholarship Commission. The ongoing programme takes place across three weekends from April until July.
With no expectations, FoRB turned out to be an exceptional opportunity to get to know scholars from both the Commonwealth and Chevening programmes. It served as an opportunity to collaborate and discuss with scholars from various areas of study and from countries that I have yet to visit. This was a useful transition from March's Chevening Conference, themed on collaborative leadership in Bradford, which provided an introduction to the idea of inter-disciplinary potential between Cheveners.
FoRB also set the gears in motion with a safe space for discussion that would not have been possible in certain countries due to censorship laws. The programme did more than stimulate and inspire, it created a space for conversation and connection.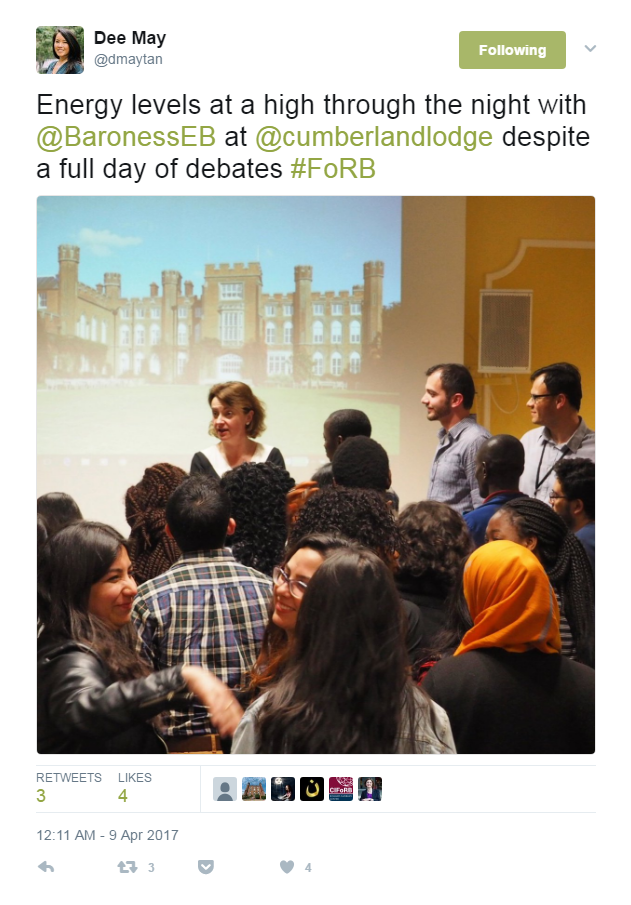 The end of the semester
April also marked the end of the semester. For the first time in the longest time, I felt extreme sadness that one of my modules, investigative journalism, came to an end. It was an honour to spend several weeks workshopping stories with lecturers from the BBC, John Waite and Helen Briggs, as well as their guest speakers. Through this module, I experienced what made exceptional teachers. Their imprint in class, I believe, could not have been attained elsewhere.  
Learning to code and pitching to Sky News
I turned another year older in the library. (Fun fact: I share the same birthday with the Queen!)
April was also my first time staying overnight in the library, coding a personal website and an online group project, a bite-sized multimedia news website which I had to design earlier in the year — while in hospital, nonetheless!
We pitched our website's concept and business plan to the technology and design staff at Sky News for industry feedback. The insight we received was tough, but necessary, and most importantly constructive. We had a full tour of the premises, from the control rooms to the new Sky Centre where its live news broadcast centre, filmed by only robots, tape archives to the online platforms.
#OKtosay
While there were highs, there were also lows. In an era whereby 'if it's not on Instagram, it didn't happen,' I strongly believe it's important to realise that not everything is Insta-perfect.
April also served as the month of future plan shakeups with swift rejection letters for my One World Media production grant and the BBC World Service Chevening internship applications. (Now, onwards with Plan B!) To those who were successful in their applications, I wish you all the best and look forward to the updates from the BBC World Service newsroom!
Coincidentally, Prince William launched the #OKtosay mental health awareness campaign with Lady Gaga in late April. The timing I thought was rather apt knowing that in this particular time of the year (post-winter blues), stress levels run high for some university students. And based on conversations and observations, the topic of mental health still holds a stigma and should be addressed from the get-go, particularly among international students adjusting to life in the UK. I hope with the new intake in the coming year, for mental health to be treated as just as important as physical wellbeing.
What's next in my Chevening journey?
From now until the Chevening Farewell in two months (already?!), in between assignments and my final project, I'm hoping to attend a few more Chevening events to meet more Cheveners in a more intimate setting. I have experienced this previously at the Collaborative Leadership event at Bradford University, the Sadaqa Day volunteering event in London, and the Women in Leadership workshop at Durham University. I look forward to maintaining the relationships that I have built so far, as well as connecting with as many of the other Cheveners who I have yet to meet in person.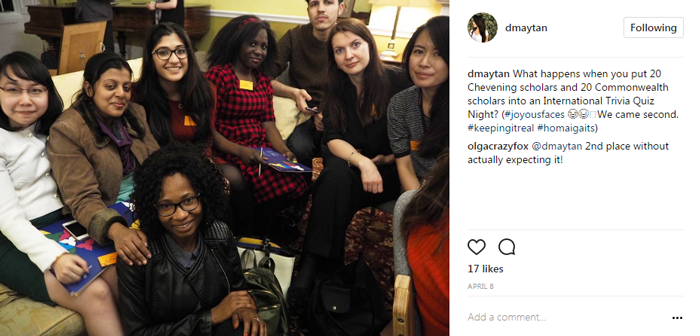 I am also looking forward to seeing a bit more of the UK with Oxford, Snowdonia, the Scottish Highlands, and Belfast on the bucket list. (To those who have a travel bug like myself, get the student railcard if you haven't already!)
Do stay in touch via LinkedIn, Twitter or Instagram (@dmaytan)! And if you're keen to get in touch, plan a hike around the UK, or just fancy a foodie sightseeing trip, let's do it!
I wish everyone the very best and I wish for you to make the most out of your time and resources to your personal level of comfort in the UK.
See you all at Farewell!