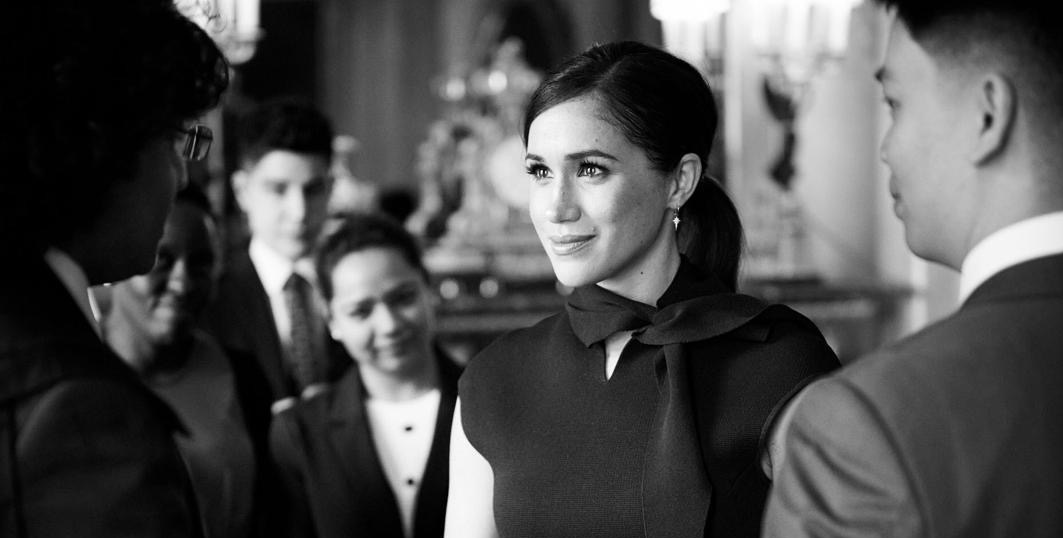 I was one of four Chevening Scholars that was invited to share my research with HRH Meghan Markle at Buckingham Palace on Commonwealth Day.
Just like anything in the digital age today – it all started with an e-mail.
The invitation came from the Association of Commonwealth Universities (ACU) to join HRH the Duchess of Sussex Meghan Markle at Buckingham Palace for a spot of tea on Commonwealth Day.
At the time, I was carrying out legal research at the Institute of Advanced Legal Studies at Russell Square and had to fight hard to contain my excitement (it was meant to be a quiet place!). As I was already slated to attend the Commonwealth Day Service at Westminster Abbey in the afternoon on the same day, I could not have thought of a better way to make it a day by kicking it off at the Royal Palace.
The day was 9 March 2020. I excitedly suited up in my Sunday best and made my way towards the Palace. Upon arriving at the palace gates, I was met by several Commonwealth and Chevening Scholars who had travelled from all over the UK just to be here for this reception – all dressed to impress!
We were then joined by Joanna Newman, the Secretary-General of the ACU, and her team who warmly greeted us and briefed us on the reception. As the Duchess is the Patron of the ACU, we were asked to showcase our work to her. It was only then that we were told that the 20 or so of us (from 11 Commonwealth countries!) were chosen due to the research subjects that we work in.
These are all aimed at tackling the global challenges we all face, namely – climate and the environment; sustainable cities; health; and innovation and technology. I was grouped in the innovation and technology category, and we were able to be quickly acquainted with one another given the commonalities in our field of research.
After passing the burly policemen and into the Palace proper, we were led to a majestic private room through a series of ornately decorated hallways, all flanked with large portraits of regal looking individuals at every couple of feet or so. The term 'grandeur' could barely come close to how the interior was decorated. As I walked along corridors, I spotted two adorable dogs through the window panes. I think these were the royal 'corgis'!
While networking over tea and biscuits, the sudden look of surprise of the scholar I was talking to signalled the arrival of the Duchess of Sussex through the door behind me. She made her way from group to group, speaking to every single scholar that was in the room. When it came to my group, she was able to quickly but meaningfully engage with what we had to say, illustrating her deep and wide understanding of current issues.
Upon noticing that I was the last scholar she would speak to, she assured me that I will have my time notwithstanding the limited time at hand. When it came to my turn to speak with the Duchess, I shared my work as a lawyer back home and my research relating to the effective use of data protection laws to protect the privacy of users of voice-enabled technologies that are becoming more and more embedded in our daily lives.
The Duchess recognised that this was an important aspect of the increasingly digital world we are living in and wished me all the best in my work. Before the Duchess left, we huddled together as she addressed us all to keep on doing the necessary and important work that we are doing.
The engagement with the Duchess could only be described as motivational and inspiring, and it meant a lot to us that she would take time out of her busy schedule to meet with all of us. It was truly amazing hearing the work that my fellow scholars across the Commonwealth are working on and to know that I belong among this esteemed network.
It also made it that much more meaningful to myself personally, that it was the Duchess' last private engagement as a working royal. This memory would certainly go down as a cherished memory that would make for a great story to tell back home in sunny Malaysia.
I would like to extend my gratitude to the ACU and the Chevening Scholarship for this opportunity. They made my pre-departure quips and jokes about meeting the royal family when studying in the UK a reality!