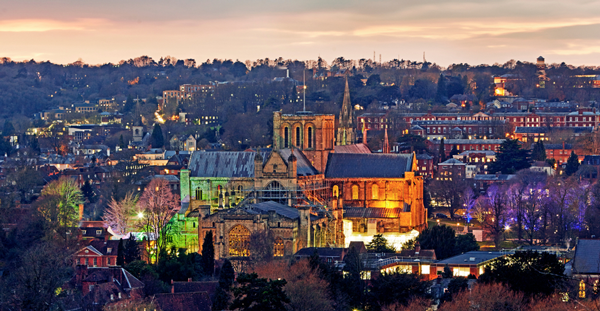 Walk through an ancient capital town with a mythical past. For this post, we'll be sauntering along part of the 'sunset' walk below – a self-guided circular trail through beautiful and historic parts of Winchester.
1) You could start your walk at Broadway, dominated by a bronze status of King Alfred the Great, erected in 1901.
King Alfred made Winchester his seat of power, introduced laws, stimulated scholarship and encouraged use of a new language which became 'English'.
2) Walk towards the Eastern Hill, pausing at City Bridge with the River Itchen flowing fast beneath you
Here you'll find the City Mill, owned by the National Trust, which was built in 1744. There has been a mill on this site since the 10th century.
(Membership to the National Trust trust gives you free access to hundreds of unforgettable places and protects sites for future generations.)
3) On the way to St Giles Hill Viewpoint, you'll find one of Winchester's oldest parish churches: St John the Baptist. It was built in the 12th century and retains a medieval air with wall paintings inside on the north wall.

Photo © Chris Talbot (cc-by-sa/2.0)
4) Cross over Joyce's Garden and busy Magdalen Hill, entering St Giles Hill a few metres further down. Ascend the hill and make your way across the wide green space at the top. On the lower side you will find the viewpoint.
At the St Giles viewpoint there are seats to enjoy spectacular panoramic views of Winchester.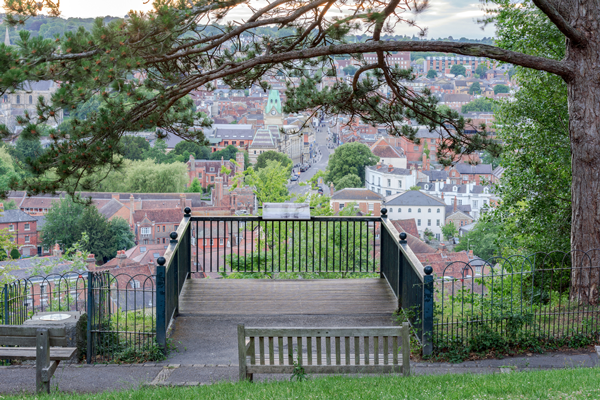 5) The find the full comprehensive sunset walk, take a look from the Visit Winchester guide which guides you back to the starting point.
 
Must visits in Winchester
College Street house where celebrated novelist Jane Austen lived and died in 1817.
A visit to the Cathedral, where you can explore 1,000 years of English history. See the beautifully illuminated Winchester Bible, 12th-century wall paintings, medieval carvings and the awe and wonder of this magnificent building and crypt with their fine Early English and Perpendicular Gothic architecture.
Enjoy a visit to The Great Hall – famed as the finest surviving aisled hall of the 13th century, and hear about King Arthur's Round Table.
Happy exploring.