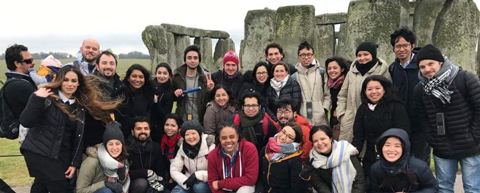 A Day of Mystery and History: A trip to Stonehenge and Salisbury Cathedral
Scholars enjoyed an historic trip to Stonehenge and Salisbury Cathedral on 5 February. The event was organised by Muhammad Asim Zeb, who was the winner of round one of Chevening's Scholar Events Competition in December.
Chevening social media ambassador Nicolette Bryan was there and sent us this blog post…
---
Over 40 Chevening Scholars met at the station in the quaint town of Salisbury, well-known for its serenity and rural charm. We were whisked away by bus to the first stop of the day – Stonehenge. We arrived around midday, ready to take on the day.
Upon our arrival at one of England's most visited historical sites, we gathered, collected our audio-guides and made our way to Stonehenge, approximately a mile away from the entrance. We braved freezing temperatures and high wings to take advantage of the picturesque backdrop provided by the stones. Single shots, selfies and group photos were the order of the day amidst the milling tourist crowd. We were simultaneously entertained by walking to different locations at the site and learning of the significance of each spot (much of which remains unknown) as per the audio guide explanations.
The site visit was followed by a tour of the exhibitions that gave more in-depth historical insights into the mystery of Stonehenge's formation. We learned interesting details such as how the formation of the stones was aligned with the movements of the sun and how sections of the site are built on an ancient burial ground. Exploring the structures outside of the exhibition room added to the fascination of the attraction.
Lunchtime brought us back to the town centre to Baroushka restaurant to indulge in Middle-Eastern delights – soups, falafel, and kebabs being the scholars' favourite items on the menu.
The day ended with a walk to Salisbury Cathedral, the town's architectural gem that was built in 1220. Upon entering the grounds of the cathedral, it was immediately evident why it was chosen as a place to visit. It stands majestically a short way from the city centre, triggering the snapping of photographs as we entered its grounds. Inside was even more enthralling – high ceilings, stained glass windows, and a really old clock which has been ticking since 1306 – the oldest one in the world! We wove about the pews, listened to interesting facts as told by the staff, and lit candles. Some scholars even stayed back for Mass at the end of the tour.
Bidding farewell to each other, we trekked to the train station to return to our towns and cities across the UK. The exchange of contact information among scholars was a testament of new friendships forged, fulfilling one of the purposes of why we are here – to create and strengthen lasting networks.
Cheers to Asim for a trip well planned.