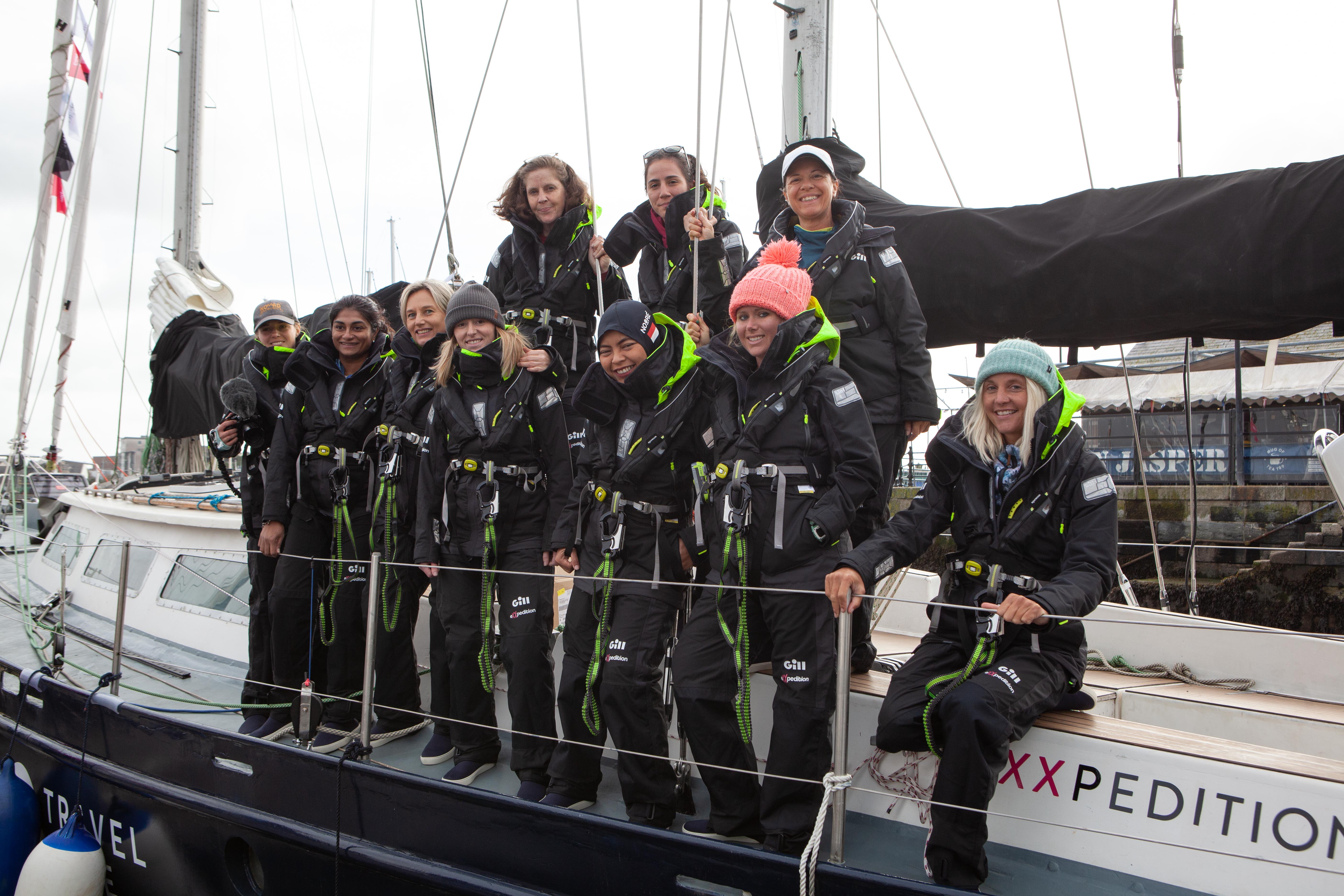 Chevening Alumna Kirana Augustina was chosen to be one of 300 women taking part in a cross Atlantic voyage to raise awareness of plastic pollution. Here she gives her account of the journey.
It sounds unreal at first. How can an all-women crew be so brave in the middle of open seas and face all the challenges in the ocean? Engine off, sail broken, storms, and with nobody but a bunch of strangers in limited space. Yet, when you have purpose greater than your excuses, you just get on with it.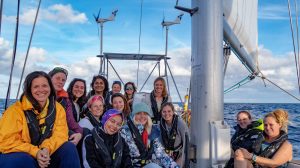 In early October 2019, just after I handed in my dissertation at UCL, I was fortunate enough to be the first Indonesian female who joined the eXXpedition Round the World, an all-female crew sailing voyage and scientific research mission studying ocean plastic pollution. Even better, I received a full bursary from the International Maritime Organization (IMO), one of the UN agencies based in London.
Plastic pollution in the ocean has become a global threat. The impact of this pollution is not only jeopardising the health of the ocean and its biodiversity, but also that of humanity generally.
In total, there are 300 hundred women participating in this two-year epic 'Round the World' scientific expedition, which is divided into 30 legs. I joined the inaugural leg with ten other women, whose professions ranged from police officer, to filmmaker, to archaeologist, to yoga instructor. We sailed across the Atlantic Ocean from Plymouth, United Kingdom to the Azores, Portugal over the course of two weeks with the intention to raise awareness about the damage of plastic pollution, as well as gather scientific data.
This event was certainly an indicator of the growing interest and passion that people from different backgrounds and ages have for the marine environment. The event was successful in spreading awareness among the general public and has facilitated citizens to engage in a meaningful way.
Life on Board
The boat is working 24/7 when offshore. Crossing the Atlantic kept us busy. All of us have duties to attend: four hours day watch and four hours night watch. Whenever we have calm seas, we use the opportunity to do scientific activities, hold workshops to consider solutions, or simply get to know our fellow crew members better.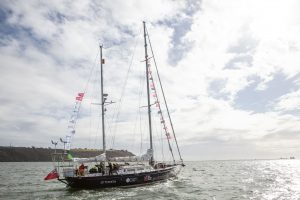 By contrast, bad weather means we need to adjust the sail more often, even in the middle of night or at 03:00, which is a lot of exercise. In preparing for this voyage, nobody had ever mentioned that there was a chance the sail could break in the middle of the ocean. As it turns out, it could, which means we needed to bring the 100kg weight of the sail down and fix it. Like I said, exercise.
I remember on my fourth morning, I started my day by jumping out of my bunk. I was trying so hard during the nights to keep my balance while tilted at 45 degrees. Yes, we lived on a 45 degree slant. I started to learn that SV Travel Edge had new orientations. This had unfortunate side effects; when I tried to open the fridge to take milk for my coffee, the boat changed direction again and the entire fridge decided to attack. As a result, the food supplies depleted, and eggs cracked. I was feeling incredibly guilty until a fellow crew member said 'Kirana, do not be too hard on yourself, we are all trying our best here'.
The food on the boat is vegetarian (and a lot of it is chocolate…). It was not at all easy to cook at 45 degrees, we were always needing to find something to lean on. Indeed all the crew enjoyed comparing and contrasting the bruises picked up along the way by living on a slant. We did manage to cook lots of delicious dishes from Malaysian and Thai curries, to vegetarian sushi and pesto pasta – we even managed an unbaked cake when a member of the crew had a birthday.
Takeaway message from the sea
Being in the middle of a vast ocean without connection to land also helped me to understand myself better. Covering 1,617 nautical miles accompanied by strong winds, waves and storms was not my only achievement on this trip. I also broke my own record for minimising time in front of my phone screen, with 25-50 seconds daily on average. Truly living in the moment like that is rare.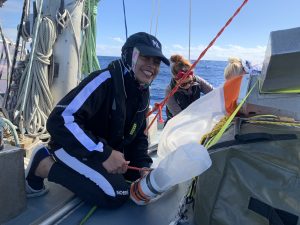 We encountered a lot of storms over the 14 days at sea, but in the last few days while approaching Azores, we had good weather. Well, if you want to see hundreds of rainbows in a day, you'll need to get through a whole week of stormy days first. As well as the rainbows, we saw the full moon, shooting stars, bioluminescent animals during the nights, and dolphins during the days. Nature is truly magical.
This trip also made me realise that regardless of race, gender, religion – some issues affect us all. The plastic polluting our oceans has no borders, it is the responsibility of everyone. Travelling the boundless sea has been the most rewarding way to understand the issue. It is clear how plastic has overwhelmed the ocean ecosystems, affecting all marine biotas even in the middle of the Atlantic Ocean.
It is time to shift our mindset. Be more mindful of every daily choice you have and make sure it's not just good for you but for the earth too.
As a final note, one hour before I set sail, I received my dream job offer – to help the Indonesia Government address the ambitious target in reducing 70% ocean plastic pollution by 2025. After the sailing I only had a few days to move my belongings home after a year of study in London in time to start my new job. What an amazing way to close my Chevening journey in the UK. Thank you Chevening!