Annual report 2020/2021
We celebrate some of the remarkable achievements of Chevening Scholars and Alumni this year.
Chevening Awards draw the best and brightest from across the globe to study in the UK. This annual report celebrates the breadth and depth of talent and skill within the Chevening programme.
Cheveners bring fresh perspectives, a determination to learn, and a commitment to creating lasting positive impact when they return to their home countries. We're so very proud to share just some of their successes.
We welcomed the cohort of Chevening Scholars who came from all corners of the world.
Download transcript for 'Where do Chevening Scholars come from?' video here (please note clicking here will start an automatic download of a Word Document 12.7KB)
They studied a diverse range of courses and subjects across UK universities.
Download transcript for 'What do Chevening Scholars study?' video here (please note clicking here will start an automatic download of a Word Document 12.6KB)
Two distinctive themes run through this report. One is COVID-19.
Chevening Scholars showed tremendous strength and resilience in successfully navigating the challenges brought about by the COVID-19 pandemic this year.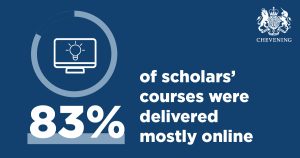 We're proud of how quickly scholars adapted to online learning. It was no easy feat, with some reporting greater difficulty in connecting with each other, and others expressing frustration about the impact of ongoing restrictions. Despite these challenges, 91% of scholars were satisfied with their course overall.
The second theme running through this report is COP 26.
COP 26 was a driver for the largest cross-government scholarship scheme campaign in recent years.
We spotlight just some of the achievements of Chevening Scholars in driving sustainable change.
Thanks to our partners
All that's left is to give a heartfelt thanks to all our partners for their generous support this year. With their help, more scholars have been given the opportunity to experience a world-class UK education, make lifelong memories, and achieve lasting impact in their work.
Find out more about becoming a Chevening Partner.